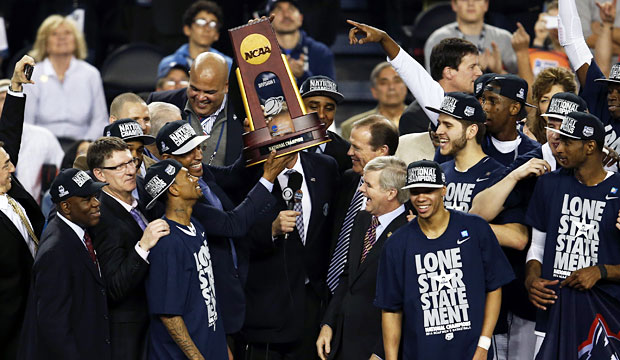 Connecticut earned 200 points for winning the men's basketball tournament. (USATSI)
Solomon: Stanford balances athletics, academics | Norlander: Izzo guides Spartans
Once again, the world of college athletics provided a wealth of excitement during the 2013-14 season.
Florida State ended the SEC's run by winning the national title in college football, UConn won both the men's and women's basketball championships, and Vanderbilt won its first baseball national title, to name but a few major highlights.
So how did all FBS schools compare when it came to the major college sports? Once again, we sought to find out with our own custom formula.
The National Association of College Directors of Athletics (NACDA) has been ranking athletic programs for years, but weighs every sport equally, meaning a football national title is worth the same number of points (100) as a women's water polo title. But the CBSSports.com Best in College Sports Award is more reflective of those sports that generate the broadest base of fan and media interest. We rated five sports -- football, men's basketball, women's basketball, baseball and a "wild card" sport.
2013 Flashback: Louisville's dominating season leads to top spot
The wild-card spot went to the most successful among the school's following spectator sports: softball, men's lacrosse, men's ice hockey, men's soccer, wrestling, women's soccer or women's gymnastics.
For our formula -- which takes into account only schools that field FBS football programs -- we weighed football three times as much, while men's basketball is worth twice as many points as the other sports that are part of the formula. General fan and media interest in those sports, relative to the others that were part of our survey, informed that part of the formula.
The Seminoles received 300 points for winning the football national title (100 points times three). Auburn finished 2nd in the AP poll for football and was awarded 270 points. Football teams that finished with a winning record or went to a bowl game, but didn't rank in the final AP Top 25, received 75 points (25 points times three). Teams that were bowl-eligible, but didn't play in the postseason were awarded 30 points.
For all titles that were settled via a bracket, point totals were based on via how many teams filled out the bracket. UConn's national title in men's basketball was worth 200 points. Florida's Final Four appearance was worth 166 points, Michigan State's Elite Eight appearance was worth 146, and so on. Teams that made the NIT, CBI or CIT were given 20 points (10 points times two).
All champions in the other sports we surveyed received 100 points for a national title. -- J. Darin Darst
| | | | | | | | |
| --- | --- | --- | --- | --- | --- | --- | --- |
| Rank | School | Football | Men's BB | Women's BB | Baseball | WC | Total |
| 14 | Connecticut | 0 | 200 | 100 | 0 | 73 | 373 |
| 19 | Notre Dame | 162 | 0 | 90 | 0 | 100 | 352 |
| 1 | Stanford | 198 | 128 | 83 | 64 | 68.25 | 541.25 |
| 26 | Maryland | 75 | 0 | 83 | 64 | 90 | 312 |
| 3 | Louisville | 180 | 128 | 73 | 73 | 50 | 504 |
| 5 | Baylor | 189 | 128 | 73 | 0 | 83 | 473 |
| 13 | Texas A&M | 168 | 20 | 73 | 50 | 64 | 375 |
| 20 | North Carolina | 75 | 100 | 73 | 25 | 73 | 346 |
| 7 | Oklahoma State | 171 | 50 | 64 | 64 | 85 | 434 |
| 8 | South Carolina | 240 | 0 | 64 | 50 | 50 | 404 |
| 9 | LSU | 184.5 | 20 | 64 | 50 | 85 | 403.5 |
| 15 | Kentucky | 0 | 180 | 64 | 50 | 78 | 372 |
| 35 | Penn State | 75 | 20 | 64 | 0 | 100 | 259 |
| 36 | Tennessee | 0 | 128 | 64 | 0 | 64 | 256 |
| 42 | BYU | 75 | 50 | 64 | 0 | 50 | 239 |
| 2 | Michigan State | 255 | 146 | 50 | 0 | 73 | 524 |
| 4 | Florida State | 300 | 20 | 50 | 25 | 90 | 485 |
| 16 | Texas | 75 | 100 | 50 | 83 | 50 | 358 |
| 18 | Duke | 153 | 50 | 50 | 0 | 100 | 353 |
| 21 | Florida | 0 | 166 | 50 | 25 | 100 | 341 |
| 22 | Arizona State | 159 | 50 | 50 | 25 | 52.5 | 336.5 |
| 33 | Nebraska | 75 | 50 | 50 | 25 | 73.5 | 273.5 |
| 37 | Iowa | 75 | 50 | 50 | 0 | 80 | 255 |
| 38 | Oregon State | 75 | 20 | 50 | 50 | 59.25 | 254.25 |
| 41 | Syracuse | 75 | 100 | 50 | 0 | 25 | 250 |
| 55 | California | 0 | 20 | 50 | 0 | 73 | 143 |
| 68 | West Virginia | 0 | 20 | 50 | 0 | 50 | 120 |
| 87 | Purdue | 0 | 0 | 50 | 0 | 35 | 85 |
| 11 | Oklahoma | 220.5 | 50 | 25 | 0 | 95 | 390.5 |
| 32 | Vanderbilt | 150 | 0 | 25 | 100 | 0 | 275 |
| 44 | Iowa State | 0 | 128 | 25 | 0 | 64.5 | 217.5 |
| 47 | Georgia | 75 | 20 | 25 | 0 | 75 | 195 |
| 49 | USC | 165 | 0 | 25 | 0 | 0 | 190 |
| 63 | NC State | 0 | 50 | 25 | 0 | 55 | 130 |
| 64 | Georgia Tech | 75 | 0 | 25 | 25 | 0 | 125 |
| 68 | Fresno State | 75 | 20 | 25 | 0 | 0 | 120 |
| 74 | Western Kentucky | 75 | 0 | 25 | 0 | 0 | 100 |
| 74 | MTSU | 75 | 0 | 25 | 0 | 0 | 100 |
| 82 | Akron | 0 | 20 | 25 | 0 | 50 | 95 |
| 107 | Army | 0 | 0 | 25 | 0 | 24 | 49 |
| 118 | Idaho | 0 | 0 | 25 | 0 | 0 | 25 |
| 6 | Oregon | 207 | 100 | 10 | 50 | 83 | 450 |
| 23 | Auburn | 270 | 0 | 10 | 0 | 50 | 330 |
| 25 | Missouri | 225 | 20 | 10 | 0 | 61.5 | 316.5 |
| 27 | Michigan | 75 | 146 | 10 | 0 | 73 | 304 |
| 31 | Washington | 147 | 0 | 10 | 50 | 73 | 280 |
| 47 | Minnesota | 75 | 20 | 10 | 0 | 90 | 195 |
| 51 | Mississippi State | 75 | 0 | 10 | 50 | 25 | 160 |
| 56 | Old Dominion | 30 | 20 | 10 | 25 | 50.5 | 135.5 |
| 57 | Navy | 75 | 0 | 10 | 0 | 50 | 135 |
| 57 | Miami (Fla.) | 75 | 0 | 10 | 50 | 0 | 135 |
| 62 | Boise State | 75 | 0 | 10 | 0 | 46.25 | 131.25 |
| 64 | Rutgers | 75 | 0 | 10 | 0 | 40 | 125 |
| 71 | Indiana | 0 | 0 | 10 | 50 | 50 | 110 |
| 72 | Tulane | 75 | 20 | 10 | 0 | 0 | 105 |
| 72 | East Carolina | 75 | 20 | 10 | 0 | 0 | 105 |
| 81 | Central Michigan | 30 | 0 | 10 | 0 | 59.25 | 99.25 |
| 86 | TCU | 0 | 0 | 10 | 78 | 0 | 88 |
| 87 | Arkansas State | 75 | 0 | 10 | 0 | 0 | 85 |
| 87 | Ball State | 75 | 0 | 10 | 0 | 0 | 85 |
| 87 | Bowling Green | 75 | 0 | 10 | 0 | 0 | 85 |
| 87 | Colorado State | 75 | 0 | 10 | 0 | 0 | 85 |
| 93 | Northwestern | 0 | 0 | 10 | 0 | 69 | 79 |
| 100 | Washington State | 30 | 0 | 10 | 0 | 25 | 65 |
| 102 | Colorado | 0 | 50 | 10 | 0 | 0 | 60 |
| 102 | Hawaii | 0 | 0 | 10 | 0 | 50 | 60 |
| 102 | South Florida | 0 | 0 | 10 | 0 | 50 | 60 |
| 108 | Texas State | 30 | 0 | 10 | 0 | 0 | 40 |
| 110 | Eastern Michigan | 0 | 0 | 10 | 0 | 26.5 | 36.5 |
| 111 | UTEP | 0 | 20 | 10 | 0 | 0 | 30 |
| 111 | Southern Miss | 0 | 20 | 10 | 0 | 0 | 30 |
| 111 | SMU | 0 | 20 | 10 | 0 | 0 | 30 |
| 9 | UCLA | 175.5 | 128 | 0 | 0 | 100 | 403.5 |
| 12 | Wisconsin | 156 | 166 | 0 | 0 | 58.5 | 380.5 |
| 17 | Alabama | 216 | 0 | 0 | 50 | 90 | 356 |
| 24 | Ohio State | 193.5 | 50 | 0 | 0 | 73.5 | 317 |
| 28 | Virginia | 0 | 128 | 0 | 90 | 83 | 301 |
| 29 | Arizona | 75 | 146 | 0 | 0 | 64 | 285 |
| 30 | Clemson | 211.5 | 20 | 0 | 25 | 25 | 281.5 |
| 34 | UL-Lafayette | 75 | 50 | 0 | 64 | 73 | 262 |
| 39 | San Diego State | 75 | 128 | 0 | 25 | 25 | 253 |
| 40 | UCF | 202.5 | 0 | 0 | 0 | 50 | 252.5 |
| 43 | Pittsburgh | 75 | 100 | 0 | 0 | 52 | 227 |
| 45 | Ole Miss | 75 | 0 | 0 | 83 | 50 | 208 |
| 46 | Texas Tech | 75 | 0 | 0 | 73 | 50 | 198 |
| 50 | Houston | 75 | 0 | 0 | 64 | 25 | 164 |
| 52 | Virginia Tech | 75 | 0 | 0 | 0 | 83 | 158 |
| 52 | Boston College | 75 | 0 | 0 | 0 | 83 | 158 |
| 54 | Kansas | 0 | 100 | 0 | 25 | 25 | 150 |
| 59 | Arkansas | 0 | 20 | 0 | 50 | 64 | 134 |
| 59 | Ohio | 75 | 20 | 0 | 0 | 39 | 134 |
| 61 | New Mexico | 0 | 50 | 0 | 0 | 83 | 133 |
| 64 | Kansas State | 75 | 50 | 0 | 0 | 0 | 125 |
| 64 | Cincinnati | 75 | 50 | 0 | 0 | 0 | 125 |
| 70 | Utah State | 75 | 0 | 0 | 0 | 39 | 114 |
| 74 | Western Michigan | 0 | 50 | 0 | 0 | 50 | 100 |
| 74 | UNLV | 75 | 0 | 0 | 25 | 0 | 100 |
| 74 | Tulsa | 0 | 50 | 0 | 0 | 50 | 100 |
| 74 | Rice | 75 | 0 | 0 | 25 | 0 | 100 |
| 74 | Memphis | 0 | 100 | 0 | 0 | 0 | 100 |
| 82 | Toledo | 75 | 20 | 0 | 0 | 0 | 95 |
| 84 | Utah | 0 | 20 | 0 | 0 | 68.25 | 88.25 |
| 84 | Illinois | 0 | 20 | 0 | 0 | 68.25 | 88.25 |
| 92 | South Alabama | 30 | 0 | 0 | 0 | 50 | 80 |
| 94 | Kent State | 0 | 0 | 0 | 25 | 52.5 | 77.5 |
| 95 | Northern Illinois | 75 | 0 | 0 | 0 | 0 | 75 |
| 95 | Buffalo | 75 | 0 | 0 | 0 | 0 | 75 |
| 95 | Texas-Antonio | 75 | 0 | 0 | 0 | 0 | 75 |
| 95 | North Texas | 75 | 0 | 0 | 0 | 0 | 75 |
| 95 | Marshall | 75 | 0 | 0 | 0 | 0 | 75 |
| 101 | Wake Forest | 0 | 0 | 0 | 0 | 64 | 64 |
| 105 | Massachusetts | 0 | 50 | 0 | 0 | 0 | 50 |
| 105 | New Mexico State | 0 | 50 | 0 | 0 | 0 | 50 |
| 108 | Wyoming | 0 | 20 | 0 | 0 | 20 | 40 |
| 111 | Troy | 30 | 0 | 0 | 0 | 0 | 30 |
| 111 | La.-Monroe | 30 | 0 | 0 | 0 | 0 | 30 |
| 111 | San Jose State | 30 | 0 | 0 | 0 | 0 | 30 |
| 111 | FAU | 30 | 0 | 0 | 0 | 0 | 30 |
| 118 | Air Force | 0 | 0 | 0 | 0 | 25 | 25 |
| 118 | UAB | 0 | 0 | 0 | 0 | 25 | 25 |
| 121 | Georgia State | 0 | 20 | 0 | 0 | 0 | 20 |
| 121 | Louisiana Tech | 0 | 20 | 0 | 0 | 0 | 20 |
| 123 | Miami (Ohio) | 0 | 0 | 0 | 0 | 0 | 0 |
| 123 | Nevada | 0 | 0 | 0 | 0 | 0 | 0 |
| 123 | FIU | 0 | 0 | 0 | 0 | 0 | 0 |
| 123 | Temple | 0 | 0 | 0 | 0 | 0 | 0 |