Mets reconsider extra workload for R.A. Dickey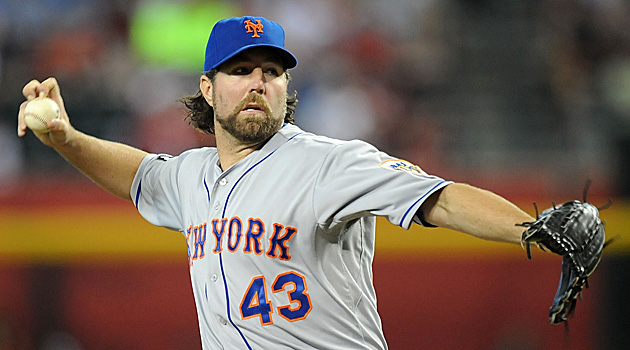 Check out the grip! (Getty Images)
Earlier this season, the Mets considered pitching knucklerballer R.A. Dickey every fourth game instead of the now-traditional every fifth. The idea never came to fruition, but now it's back on the table.
"It's going to happen," manager Terry Collins said (MLB.com). "I think there's going to be a time when we are going to try it. When that is, I don't know yet."
To those unaware, this is possible because the knuckleball puts far less strain on an arm than other pitches. Then you have to consider that Dickey is the Mets' best pitcher, weighing that against how it affects the staff as a whole.
"It's possible the more often we get him out there, the better we're going to do," general manager Sandy Alderson said (MLB.com). "But we've got to take into account what effect that would have not just this year on R.A. and on the rest of the pitching staff, but also what effect that would have on R.A. going into next year. So that's very much just in the discussion stage at this point."
And, of course, there's the individual achievement factor. As the MLB.com article mentions, the Mets haven't had a 20-game winner since Frank Viola did so in 1990. Of course, I'm looking for more history than that. Dickey can get to 20 wins without an increased workload.
The big fish here is the Cy Young Award. No Mets pitcher has won the award since Dwight Gooden did so in 1985, but there's more ...
No knuckleballer has ever won the Cy Young. The 37-year-old Dickey is 14-2 with a 2.83 ERA, 1.03 WHIP and 147 strikeouts in 146 1/3 innings. In the NL, Dickey ranks first in wins, sixth in ERA, second in WHIP, second in strikeouts, third in innings pitched, second in fWAR, third in bWAR, first in complete games and first (tied) in shutouts.
So, yes, please increase Dickey's workload soon. He could dominate the counting categories -- assuming he continues to pitch well -- and become a shoo-in to win the first Mets' Cy Young since Doctor K and first ever for a knuckler.
For more baseball news, rumors and analysis, follow @EyeOnBaseball on Twitter, subscribe to the RSS feed and "like" us on Facebook.