Don Mattingly calls Matt Kemp's ejection 'unacceptable'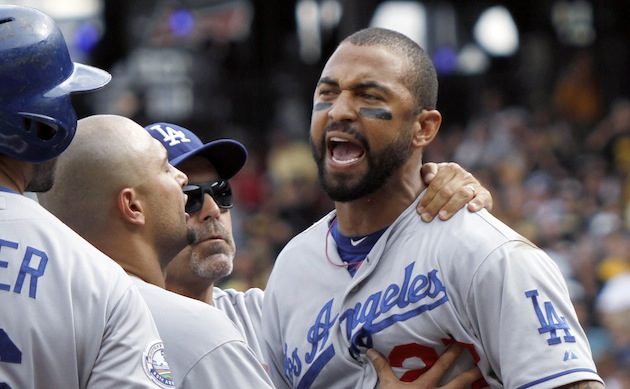 Matt Kemp was ejected in the second inning of Thursday's game in Pittsburgh. (Associated Press)
Dodgers star Matt Kemp said he was ejected from Thursday's loss to the Pirates for cheering on his teammate.

According to Kemp, he yelled, "Let's go, Dre," toward teammate Andre Ethier in the second inning of the game at PNC Park.

The Dodgers admit they complained earlier about the strike zone of home plate umpire Angel Campos. After a called strike from A.J. Burnett, Campos said he had had enough.

"Then Angel said, 'That's enough, I don't want to hear another word,'" Mattingly told reporters (via the Los Angeles Times). "Moments later, Matt said, 'Let's go, Dre,' and [Campos] looked over and threw him out the game."

Kemp, who hadn't been tossed from a game this season, ran out on the field to confront Campos and then Mattingly took over and was ejected by first base umpire Tim Tschida. After the game, Mattingly was still unhappy.

"The league should look at it," Mattingly said (Times). "We're in a pennant race. I've got a guy who was second in the MVP last year. You can't get thrown out for cheering for your teammate. That's unacceptable."

Starter Joe Blanton was also ejected after he said something to Campos in the fifth inning. He refused to comment on the ejection, according to the Times.

For more baseball news, rumors and analysis, follow @EyeOnBaseball on Twitter, subscribe to the RSS feed and "like" us on Facebook.