Pirates announce they will retain GM Neal Huntington, other front office personnel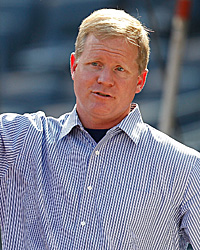 Neal Huntington and his Pittsburgh cohorts have received a vote of confidence. (Getty Images)
The Pittsburgh Pirates were once 63-47 this season. Heading into play on Wednesday night against the Mets, the Pirates were 76-78. Unless they go 5-3 or better the rest of the way, it will mark an unprecedented (in all of professional sports) 20th straight losing season. And they need to go at least 6-2 to actually have a winning record, something they haven't done since the days of Barry Bonds, Andy Van Slyke and Jim Leyland (1992, that is).
Considering this, considering the crazy training techniques the Pirates employ on prospects and considering that general manager Neal Huntington has been on the job since 2007, there were some reported whispers that Huntington was on the hot seat.
In an effort to quiet those whispers, the Pirates have released a statement to declare that Huntington and several other front office personnel -- in addition to manager Clint Hurdle -- will retain their jobs.
Here is the statement, which was released by Pirates president Frank Coonelly (hat-tip to Dejan Kovacevic of triblive.com):
For the second consecutive year, we put ourselves in an excellent position to meet our objective of winning our division but did not play nearly well enough during the last two months of the season to accomplish it. Our fans are understandably disappointed and frustrated, as is every individual in the organization.

As soon as we finish this season as well as we possibly can, we will turn our full and total attention to evaluating why were unable to finish the job and what we must do differently to take the next step to becoming a championship team. There will unquestionably be changes made to the way in which we operate as a result of this thorough critical self-evaluation, but we will not be making personnel changes at the very top of our baseball operations department. Neal (Huntington), (assistant general manager) Kyle (Stark), (assistant general manager) Greg (Smith) and (manager) Clint (Hurdle) are dedicated and intelligent baseball men in whom I have great confidence.

Confidence in and support of Neal, Kyle and Greg should not be misunderstood with acceptance of another poor finish at the Major League level. We must understand why the quality of our execution and play deteriorated so markedly in August. Finishing was the focus from spring training but it certainly was not achieved.
For more baseball news, rumors and analysis, follow @EyeOnBaseball on Twitter, subscribe to the RSS feed and "like" us on Facebook.