NLDS Giants-Reds Game 5 preview: Matt Cain vs. Mat Latos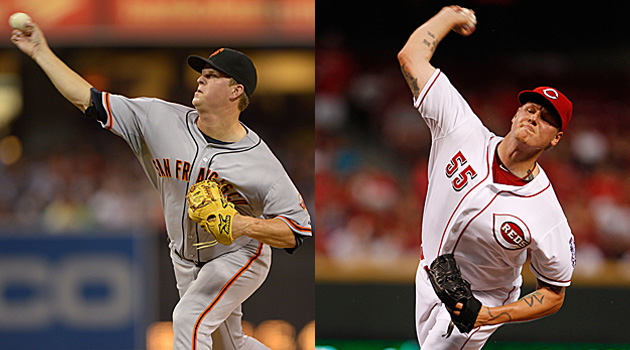 These two kind of squared off in Game 1, but this time both get the start. (US Presswire)
After hopping from the Pacific time zone to the Eastern time zone facing a 2-0 deficit in the best-of-five NLDS against the Reds, the Giants have now tied things up, 2-2. They did so by thumping the Reds, 8-3, Wednesday afternoon.
Now, all of a sudden, the Reds are reeling while the Giants have all the momentum.
Regardless, neither team will have much time to harp on the Game 4 result, because our attention now must turn to a do-or-die Game 5 of this five-game series. That will take place at 1:07 p.m. ET in Cincinnati's Great American Ball Park. We have a great pitching matchup, too, as it'll be Matt Cain (16-5, 2.79 in regular season) against Mat Latos (14-4, 3.48 in regular season).
Latos vs. Giants
It must be said before anything else that Latos made his first career postseason appearance under tough circumstances in Game 1. He wasn't scheduled to start but the Reds needed to lean on him for four innings in light of Johnny Cueto's early injury. And Latos delievered by allowing only four hits and one run (a solo homer).
Latos was better than good against the Giants in the regular season, too. In two starts, he was 2-0 with a 0.56 ERA and 0.50 WHIP in 16 innings.
The only time Latos saw the Giants in Cincinnati this season resulted in a complete-game victory where he only allowed one run on two hits.
Considering what a hitter's yard -- specifically home-run park -- GABP is, it's shocking to see how much better Latos has been at home this season. But he has. In Cincinnati this year, Latos was 8-3 with a 3.18 ERA and 1.12 WHIP.
As far as the Giants' hitters on an individual basis, Latos is holding the current roster to a .208/.251/.301 line. Eight players have seen him at least 10 times and only Buster Posey (.267/.313/.667) and Brandon Belt (.273/.333/.545) have good triple-slash lines. Angel Pagan's line (.176/.176/.176 in 17 plate appearances) is especially ugly.
So while the Reds are reeling right now, they should at least feel good about the chance Latos appears ready to give them to win Game 5.
Cain vs. Reds
As we saw just a few days ago, Cain didn't fare overly well against the Reds in Game 1 of the series at home. He allowed five hits and three earned runs in five innings while taking the loss. The Reds had Cain's number in the regular season, too, as he was 0-2 with a 5.54 ERA and 1.46 WHIP in two starts (13 innings) against them.
And now Cain is headed to the road, where he was a run and a half worse (2.03 ERA at home, 3.56 ERA on the road) in the regular season.
He hasn't been bad in GABP in his career, as he is 2-2 with a 3.44 ERA and 1.44 WHIP in five career starts in the hitter-friendly venue.
Including postseason plate appearances, the Reds roster is collectively hitting .260/.323/.491 against Cain in his career.
A few notables? Brandon Phillips is only hitting .242 with no walks but has three homers in 33 plate appearances. Ryan Ludwick (.333/.414/.750 with three homers in 29 PA) and Jay Bruce (.533/.632/.933 with three doubles and a homer in 19 PA) own Cain.
So, on paper, the Reds have an advantage in this game's pitching matchup, but the Giants have momentum and Cain gets bonus points for spelling his first name correctly (I kid, I kid).
It should be a great battle.
For more baseball news, rumors and analysis, follow @EyeOnBaseball on Twitter, subscribe to the RSS feed and "like" us on Facebook.