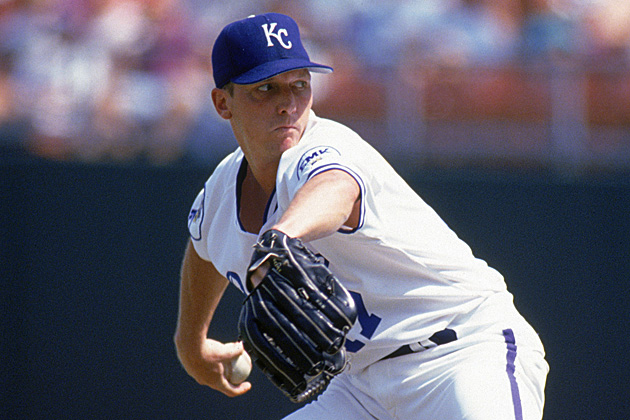 OMG! Look at that nerd! (Getty Images)
One of the amusing things our "best stat" series brings out -- especially on the heels of the ugly AL MVP debate -- is name-calling, particularly accusations of being a "nerd" or "geek" who "probably never played the game" if one dares to acknowledge stats other than the traditional mainstream variety.
Well, guess what, here's another geek for you stat-haters to pile on.
Eye on Baseball
Offseason stat series
"Won-lost records, or even ERA, don't tell the whole story, and I guess that's the idea behind a lot of the metrics," David Cone said to Fangraphs.com. "There's just so much more, but for a lot of years, that's solely how we were judged. It was also how we were compensated. I've always thought there was a better way to judge -- a better way to look at things -- and I think a lot of pitchers have felt that way."
Wait, "we?" He was a pitcher and actually believes numbers other than W-L and ERA matter?
Point of fact, Cone was a damn good pitcher. He had a career 3.46 ERA, 1.26 WHIP and 2,668 strikeouts. He has an impressive 121 career ERA-plus and piled up 58.2 bWAR. Oh, and he was 194-126 if you're into that sorta thing. Not that Cone is.
"When I started looking deeper into my own career, I thought 1993 was interesting," Cone said to Fangraphs.com. "Jack McDowell was with the White Sox and I was with the Royals. He won the Cy Young award and I went 11-14 with the lowest run support in the league. I was in the top 10 in innings pitched and ERA. Some of my other metrics were good as well, including strikeouts. If you look at the two lines -- Jack McDowell's numbers and my numbers -- you'd have a hard time picking out which one of us won the Cy Young award."
And what about those two AL Cy Young winners recently with low win totals?
"I was happy to see Zack Greinke win the Cy Young award," Cone said. "The same goes for Felix Hernandez when he won it. There have been major breakthroughs. It's great to see so many baseball writers buying into it, and how that affects the voting. It would be interesting to go back and have a re-vote on certain years."
Gasp! What a nerd!
Cone joins Max Scherzer and Brandon McCarthy, among a few others, as pitchers (either current or former) who have embraced advanced metrics.
Now back to your regularly-scheduled name-calling.
For more baseball news, rumors and analysis, follow @EyeOnBaseball on Twitter, subscribe to the RSS feed and "like" us on Facebook.