Woman involved in Aroldis Chapman robbery pleads guilty to misdemeanor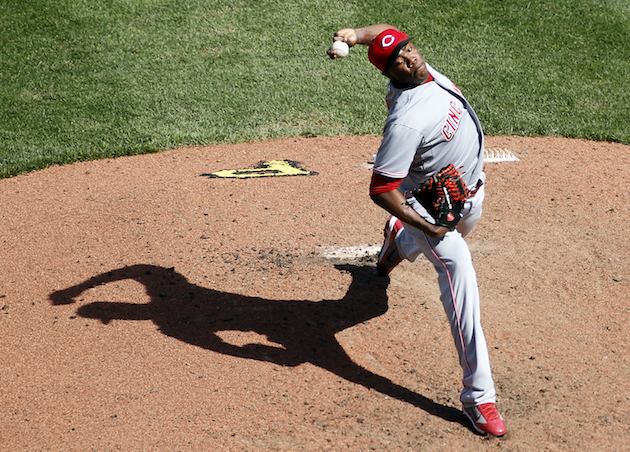 Aroldis Chapman was the victim of a robbery in Pittsburgh in May. (Getty Images)
The woman who was charged with making false reports in a robbery against Reds pitcher Aroldis Chapman in May has pleaded guilty to a reduced charge of misdemeanor disorderly conduct, according to the Pittsburgh Post-Gazette.
Claudia Manrique, 27, traveled with Chapman to Pittsburgh in May and was found tied up in Chapman's room at the William Penn Hotel. She told police she was tied up and robbed by someone dressed as a hotel maintenance worker, who took a bag with $200,000 worth of jewelry in it. She later changed her story and failed a polygraph.
The result? A $164 fine, according to the newspaper.
Chapman, who was at PNC Park when the alleged robbery took place, was never a suspect in the crime.
Also on Wednesday, the Commonwealth of Massachusetts Appeals Court reinstated a case against Chapman brought by former agent Carlos Thompson that had previously been dismissed by a judge. That suit, brought by Thompson, claims Chapman signed a contract promising him 3 percent of Chapman's professional baseball earnings, 15 percent of any bonus payments and 3 percent of marketing deals for seven years. It was initially dismissed because of federal regulations prohibiting transactions with Cuban nationals. The appeals court ruled that case was dismissed prematurely. Thompson has also filed a suit in federal court against Chapman's agency, Hendricks Sports.
For more baseball news, rumors and analysis, follow @EyeOnBaseball on Twitter, subscribe to the RSS feed and "like" us on Facebook.