Ichiro's agent unhappy with Yankees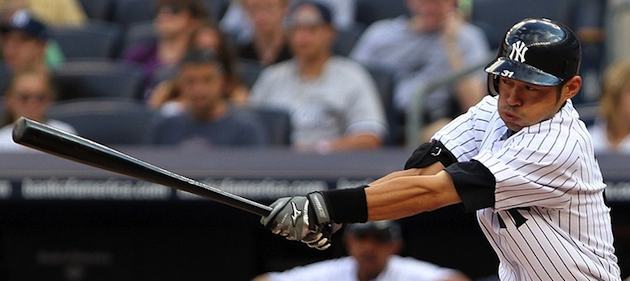 Ichiro Suzuki will still probably end up with the Yankees. (US Presswire)
The first thing I thought last week when I saw that Ichiro Suzuki's agent said the 39-year-old free-agent outfielder would prefer to stay in New York was that it was an odd bargaining position.
The agent, Tony Attanasio, must have thought the same thing when he saw the comments in print.
Attanasio spoke to the same reporter -- George A. King III of the New York Post -- on Friday and was singing a different tune. Now his client is listening to other offers.
"At the beginning, we talked a lot. But since that time, zero," Attanasio told King. "As far as we are concerned, we don't care what the Yankees do. We have had conversations with multiple clubs. If we see something we like, he will go through with it."
If Yankees GM Brian Cashman is worried about those comments, he's doing a good job of hiding it.
"Now that our pitching has been settled, which was our priority on the front end, we'll move from the defense to the offense and engage all the players we have interest in and have interest in us," Cashman told the New York Daily News on Saturday. "We've been very open and honest with everyone about the process we're going through and how we're going through it. We can control our line of communication and or decision-making. We certainly don't control anybody else's decision-making. I respect everyone's ability to make choices.
"Free agency is a free choice. It seems like I'm saying that a lot lately."
It's a good point Cashman makes: Not only does the free agent have a choice, but the Yankees have been far from shy about what their offseason plans were. Attanasio said it himself in the first article, that he knew the Yankees were focusing on pitching first. The team has recently re-signed Andy Pettitte, Hiroki Kuroda and Mariano Rivera. Now it's time to move to the position players. It seems Ichiro would be at the top of that list.
But with Suzuki's comments, stance and options, it's likely he will want a short-term contract worth more than many teams can afford. He's the exact type of gamble the Yankees can afford and many other teams might not be able to. It also seems like he might limit himself to certain metropolitan areas, if you will. And since Los Angeles is packed with outfielders by both the Dodgers and Angels and the Mets aren't exactly flush at the moment, it seems the Yankees are the best fit.
CBSSports.com Insider Jon Heyman says Ichiro's camp has likely reached out to the Phillies, but there's a belief the outfielder really does want to return to the Yankees. Cashman knows this, Attanasio knows this and sometime in the next couple of weeks you can expect the two sides to hammer out a deal and appear smiling at a news conference talking about how everyone's happy. Until then, well, it's all posturing and negotiations.
For more baseball news, rumors and analysis, follow @EyeOnBaseball on Twitter, subscribe to the RSS feed and "like" us on Facebook.