Best No. 12 ever: Roberto Alomar or Wade Boggs?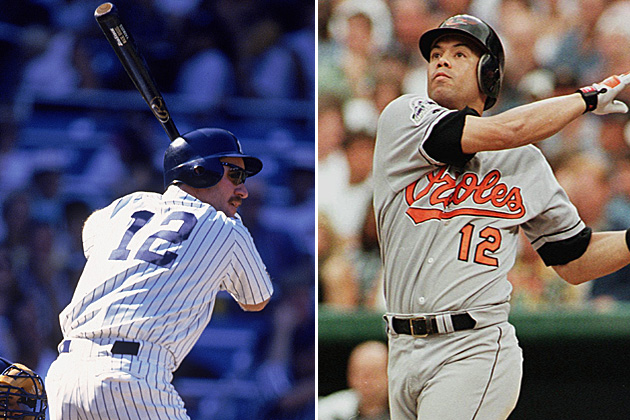 Boggs and Alomar each have a No. 12 jersey retired for their accomplishments. (Getty Images)
It's Dec. 12, 2012. Or, more succinctly, 12/12/12. And though it may be a tad lame, it's also topical to check out the best players who ever wore No. 12 on a baseball diamond.
In sorting through all the retired jersey numbers in baseball, one will find only two men who have a No. 12 retired in their honor. Both are Hall of Famers -- so also topical considering it's Hall of Fame season! -- and both played relatively recently: Wade Boggs and Roberto Alomar.
So who is our top dog among the wearers of No. 12? Let's check 'em out.
[Note: Boggs didn't wear No. 12 with the Red Sox, but that's not really the point here ... we're just trying to have a little fun.]
Boggs
Over the course of 18 seasons, Boggs hit .328/.415/.443 with 3,010 hits, 1,014 RBI, 1,513 runs, 578 doubles, 61 triples and 118 homers. He compiled a career 88.3 bWAR. Boggs went to the All-Star Game 12 times, won two Gold Gloves and eight Silver Sluggers, finishing in the top 10 of AL MVP voting four times.
Perhaps most impressive with Boggs was his patience at the plate. We know he won five batting titles, but he also led the majors in on-base percentage six times and -- get this -- led the AL in intentional walks six consecutive seasons from 1987-92. That's a non-power hitter (except in '87, where out of nowhere he hit 24 bombs) being feared by the opposition. Talk about respect.
Not only that, how about the walks compared to strikeouts? Boggs routinely walked far more times than he struck out. Take, for example, 1988, when Boggs walked 125 times and struck out only 34 times. For his career, Boggs walked 1,412 times and struck out 745 times.
Alomar
In 17 seasons, Alomar hit .300/.371/.443 with 2,724 hits, 1,134 RBI, 1,508 runs, 504 doubles, 80 triples and 210 homers. He compiled 62.9 career bWAR, went to the All-Star Game 12 times, won 10 Gold Gloves and four Silver Sluggers.
Alomar has a huge advantage over Boggs on the base paths. Boggs only had 24 stolen bases in his career. Alomar stole at least that many in a season 10 times, ending with 474 total.
Also, Alomar won two World Series rings to Boggs' one and it's not like Alomar was being carried by teammates, as he hit .313/.381/.448 with 17 doubles, 20 stolen bases, 33 RBI and 32 runs in 58 career postseason games. For purposes of comparison, Boggs hit .273/.337/.383 in 39 career postseason games.
---
So who ya got? Boggs or Alomar?
For more baseball news, rumors and analysis, follow @EyeOnBaseball on Twitter, subscribe to the RSS feed and "like" us on Facebook.