New divisional foes Rangers, Astros to open season on ESPN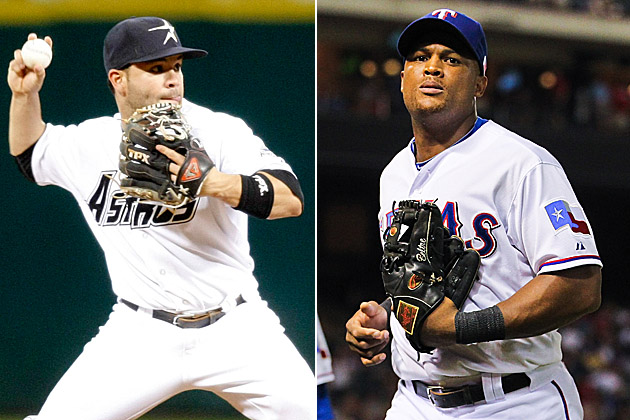 Jose Altuve and Adrian Beltre will lead their respective ball clubs in the 2013 season-opener. (US Presswire)
As has been the case in recent memory -- aside from when the season opens in Japan -- the 2013 Major League Baseball season will open with one prime-time game before a second "opening day." And this season, two new AL West foes will square off in the season-opener.
Fresh off their move to the American League, the Houston Astros will play host to their intrastate rival Texas Rangers at 8:00 p.m. ET on March 31 in Minute Maid Park on ESPN.
The following day will be opening day for many teams, with ESPN again picking up the national TV coverage. Shockingly (please note dripping sarcasm), the first game is Red Sox at Yankees,at 1:00 p.m. ET.
Maybe it's the Midwesterner in me, but I'm a bit annoyed ESPN isn't going with the Cincinnati game. The Reds host the Angels -- hardly a game no one would want to watch -- and opening day is a huge deal in Cincinnati. There's a parade and many downtown businesses close up shop early that day. It was long a tradition in baseball that the first game of the season took place in Cincinnati -- as the Reds were baseball's first professional team -- until ESPN started doing prime-time games the previous night.
But hey, it's the Yankees and Red Sox, so it's not shocking in the least that this was the route they took.
The rest of the national TV slate on "opening day," April 1:
For more baseball news, rumors and analysis, follow @EyeOnBaseball on Twitter, subscribe to the RSS feed and "like" us on Facebook.