Core Values: Minnesota Twins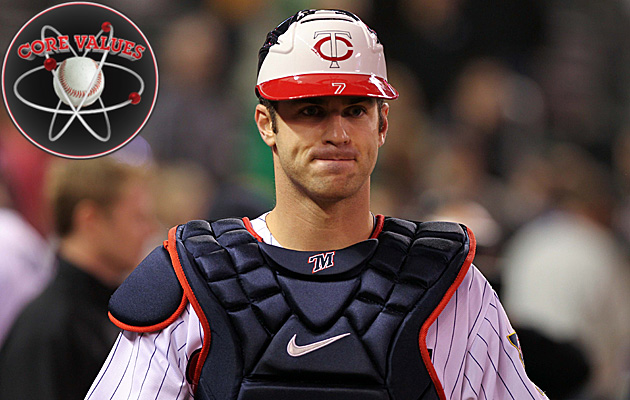 Mauer is still the man in Minnesota, for better or worse. (US Presswire)
As our "Core Values" series continues, we will now venture into the AL Central and examine a team that won six of nine division championships before finishing dead last in 2011 and 2012. It's the Minnesota Twins.
To see what we're doing here, feel free to check out any of our previous 11 entries, which are linked up in this handy little box directly below.
Core Values series
Previous posts
Let's check out those Twins.
Cornerstone player: Joe Mauer
He's already a five-time All-Star, three-time batting champion, three-time Gold Glover and four-time Silver Slugger. Mauer won the 2009 AL MVP and has finished in the top 10 of MVP voting four times. And he still hasn't turned 30 (he will in April).
Mauer isn't going anywhere, either. He's going to make $23 million per season through 2018, when he'll be 35, so it appears Mauer is a Twin for life.
Also, beyond Mauer, there isn't much more tied up here. The only other player signed through 2014 is closer Glen Perkins, who is only set to make $3.75 million in 2013.
Face of the franchise: Mauer
Including all of the above, Mauer was born and raised in St. Paul. So when the Twins took him first overall in the 2001 draft -- ahead of huge names at the time in Mark Prior and Mark Teixeira -- he was already a hometown hero. He then arrived on the scene in 2004 and hit. And he hit, hit and hit some more, leading the majors with a .347 average in 2006 at age 23.
As things stand, Mauer has an absurdly impressive .323/.405/.468 triple slash line, especially since he's a catcher. He had an off year in 2011 but was back to his old self in 2012, even if not many noticed as the Twins finished last. Mauer led the AL with a .416 on-base percentage while driving home 85 runs (tied for second-most RBI in a season in his career).
Throw in the commericials, the fact that he's tall (6-foot-5), sports those boyish good looks and never gets in trouble -- and it's easy to see why Mauer is your classic face of a franchise. He was made to be the face of the Twins; that it came to fruition seems perfect.
Face of the future: Mauer/young position players

Remember when we could have said Mauer and Justin Morneau here? I'm guessing Twins fans would say something like, "Those were the days." Well, there's an obvious shift taking place after two last-place finishes. Some of the problem in 2011 could have been attributed to major injuries, but 2012 made it obvious the window of opportunity with the previous nucleus is now closed.
Mauer remains the centerpiece, but some young studs will determine how far the Twins go in the near future. And the two big names are Byron Buxton and Miguel Sano.
Buxton won't be around for a bit, as he was the second overall pick in the 2012 draft out of high school. He played just 48 games in Rookie Ball last year, but he's a potential All-Star, five-tool outfielder.
Sano, a third baseman, is closer to the bigs but not a ton closer. He's only 19 but had 28 homers and 100 RBI in 129 Class A games last season.
Minor-league outfielders Oswaldo Arcia and Aaron Hicks are also pretty well-regarded.
Grading the Twins' core: D-

Things are going to come to a head with Mauer. If the Twins wish to preserve his bat, they'll need to move him away from catcher. But if they move him to first base, he doesn't have near enough power to profile as a great offensive first baseman. So his offensive value will have been mitigated.
As for the young prospects, they're prospects -- Sano and Buxton in the lower levels of the minors. We don't know if they'll pan out. There's also the fact that we haven't even mentioned a single pitcher yet. Vance Worley, Scott Diamond and Liam Hendriks are young starters at the big-league level who could be helpful while prospect Kyle Gibson isn't far away. Still, this isn't exactly star-studded and the system is in desperate need of pitching depth.
Put simply, the Twins' near future does not appear bright -- especially as the Tigers thrive and the Royals and Indians appear poised for improvement.
For more baseball news, rumors and analysis, follow @EyeOnBaseball on Twitter, subscribe to the RSS feed and "like" us on Facebook. Also, individually interact with us on Twitter: @MattSnyder27, @daynperry and @mikeaxisa.