NBA fines J.R. Smith $25,000 for inappropriate photo of woman on Twitter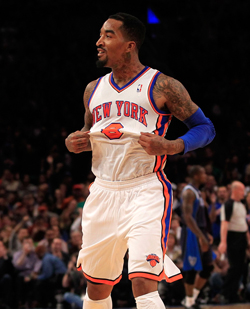 J.R. Smith has been fined for posting an inappropriate photo on Twitter.
(Getty Images)
The NBA apparently has a dress code when it comes to Twitpics: pants are mandatory.
That's the lesson we learned on Saturday, when the NBA
announced
that it had fined New York Knicks guard J.R. Smith $25,000 for posting a photograph of his girlfriend, who was not wearing pants at the time, on his Twitter account. The two were apparently watching a basketball game at a hotel.
Smith later removed the photograph from his account.
On Friday, Smith
told the Associated Press
that he regretted posting the photo.
"I didn't know it was going to be as big deal as it is now," Smith said after the Knicks' loss at Milwaukee on Friday. "I definitely regret it. It takes away from our team. Anytime I do anything that takes away from our team, I'm definitely going to regret it."

"A few people talked to me about it," Smith said. "It's not the smartest move. I understand that now. I just have to be smarter in my decisions."
Smith signed with the Knicks in February, after returning from a stint in the Chinese Basketball Association during the lockout.
Smith, 26, is averaging 8.9 points, 2.4 rebounds, 1.3 assists and 1.6 steals per game off of New York's bench this season.