Predators struggling with turnovers, puck management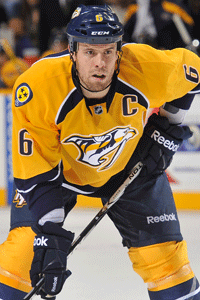 The Nashville Predators have always been built around playing tight, sound defensive hockey, and over their past two games they think they've been getting away from that recipe, resulting in 11 goals against, including six goals against Edmonton earlier in the week and five against the streaking Pittsburgh Penguins on Thursday night.
"We're just not committed enough defensively right now," said captain and Norris Trophy frontrunner
Shea Weber
following Thursday's loss.
"I think we're too worried about scoring goals. We need to figure out that our main priority is playing defense. We're talented enough that we'll be able to score those, but right now we're thinking offense first and not defense."
Expectations and excitement seem to be at an all-time high around the Predators right now, especially after getting Alexander Radulov back on Thursday, adding what should be a big-time goal-scorer to a team that already has a pretty deep, balanced offensive attack. But they clearly still don't want to (and can't) get away from playing smart hockey. They have to control and protect the puck better than they've been in recent games.
Even though they held the Penguins to a season-low 23 shots on Thursday night, a pretty impressive accomplishment given the way Pittsburgh is rolling right now, the majority of them (18, by my count) were in the home plate-shaped scoring chance area between the faceoff dots and in toward the net, which was asking quite a bit of goaltender
Pekka Rinne
.
On the shots that came from outside that area the breaks didn't seem to be going their way, either. The first goal of the night came on an
Evgeni Malkin
slap shot from outside the circles that appeared to knuckle in on Rinne, bounced off his glove and landed in the back of the net to open the scoring just two minutes in. Another goal took an unfortunate bounce off of Weber's skate and also found it's way past Rinne.
Going back to Tuesday's game against Edmonton it was a similar story.
Darcy Hordichuk
scored a goal on a flukey bounce from behind the net, and the first of
Ales Hemsky
's three goals came when Rinne was run over on what appeared to be a missed goaltender interference call.
But it's not all bad breaks and fluke bounces right now. The other problem has been a growing number of turnovers and the scoring chances (and goals) against that they're leading to. The most glaring of which came on a Francis Bouillon giveaway deep in his own end on Thursday that essentially served as an assist on a
Matt Cooke
goal.
"It's about puck management," said coach Barry Trotz after Thursday's game. "All of their goals were coming off turning the puck over. The first one was a turnover in the neutral zone, they came back, shot it, I think it went off a stick, then Rinne's glove. The second one was a turnover. Third one definitely was a turnover. Fourth one was a turnover.
"Against a team like this you have to manage the puck better," Trotz continued. "You have to play a certain way. There were times we did a great job in terms of getting them out of their comfort zone, we had some point blank chances in the second period, and even in the first period, but we just didn't capitalize, so it was 2-0, then we're still in the game, and then we turn the puck over a couple minutes into the second period."
That last point has been another problem recently, as six of the 11 goals over past two games have been scored in the first five minutes of a period, including four of the five goals they allowed on Thursday. Early goals like that are tough ones to take, especially when they're coming off turnovers like the ones mentioned (and shown) above, not only because if they happen early in the first period you're instantly forced to play from behind, but any momentum built up at the end of a period, and any adjustments made during an intermission, can be instantly erased.
"Last two games it starts every period," said Trotz. "You give up a goal, minute-and-a-half, two minutes in you're giving up goals. You're hoping for some momentum, then you don't get any. It's a hard way to play. You're always chasing the game. Just manage it better and you won't have to chase it."
For more hockey news, rumors and analysis, follow @EyeOnHockey and @agretz on Twitter and like us on Facebook.