NHL lockout: Claude Giroux, Danny Briere headed to German league, will remain teammates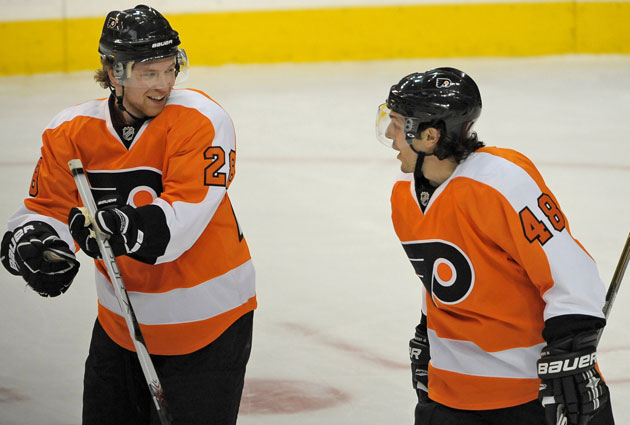 Giroux and Briere will still be teammates in Germany. (US Presswire)
They say Germany is lovely this time of year, particularly with Oktoberfest. Flyers teammates Claude Giroux and Danny Briere are going to find out as they are headed to the German league for their lockout hockey.
Agent Pat Brisson says clients Claude Giroux and Daniel Briere are both Berlin-bound in German league

— Pierre LeBrun (@Real_ESPNLeBrun) October 4, 2012
It seemed to be only a matter of time before Giroux headed somewhere to play. All of the other big-time scorers across the league seem to have found homes away from home while the NHL remains locked out. Along with Sidney Crosby, Giroux was one of the remaining big names to make such a decision.
The two Flyers forwards will be joining up with Germany's Eisbaren Berlin, which sadly means neither will be playing with the Wolfsburg Grizzly Adams or the Hamburg Freezers (yes, those are real team names in Germany).
Giroux had been talking for a while about going overseas; he just couldn't decide which league to play in. The KHL didn't seem to be a serious contender for Giroux, but many expected him to head to Switzerland where guys like Rick Nash, Joe Thornton, Logan Couture and Tyler Seguin are biding their time. Instead, he's headed to Germany where another Flyers teammate -- Wayne Simmonds -- is playing.
It probably makes the move easier to go with a teammate, as Giroux and Briere are doing. It keeps some sense of familiarity in an otherwise unfamiliar situation. Oh, and like we mentioned, Oktoberfest might be a pretty nice draw, (particlarly for Giroux).
Whatever the reason, it's quite clearly a boon for German hockey to get a player like Giroux along with Briere. Giroux is coming off an excellent season that earned him a nomination for the Hart Trophy and garnered him enough fan votes to make the EA Sports NHL 13 cover. In total, Giroux had 28 goals and 65 assists in 77 games last season, missing five games with a concussion. The 35-year-old Briere had 16 goals with 33 assists in Philly last season over 70 games.
With Giroux and Briere gone, joining the aforementioned Simmonds as well as Ilya Bryzgalov in the KHL and Matt Read in Switzerland, you wonder how long it will be before the next high-scoring Flyer might look to head to foreign soil. That, of course, would be Scott Hartnell, who hasn't decided to play overseas yet.
Oh, and by the way, if you're trying to read anything into these signings, Sam Carchidi of the Philadelphia Inquirer doesn't think it's good news.
Briere heading to Germany is a clear sign this lockout will last a LONG time; he mulled it over because didn't want to leave his 3 sons.

— Sam Carchidi (@BroadStBull) October 4, 2012
For more hockey news, rumors and analysis, follow @EyeOnHockey and @StubitsCBS on Twitter and like us on Facebook.