Red Wings' Holmstrom expected to retire; Zetterberg to wear C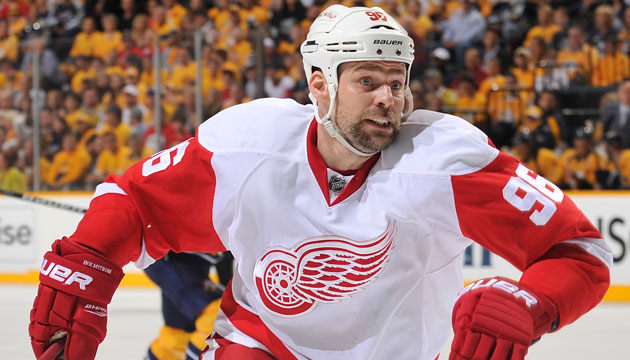 Holmstrom is expected to make his retirement official soon. (Getty Images)
Season Preview: Team previews | Expert picks | 50 things to watch | Top 50 players
The Detroit Red Wings already said goodbye to one long-time Red Wing in the last year, and it sounds like they're going to make it two.
Tomas Holmstrom, 39, spent the last 15 seasons with the Red Wings after they made him a 10th-round draft pick back in 1994. After last season his contract expired, making him a free agent. He was left to ponder the possibilities of playing elsewhere or returning for another season with the Wings. Because of the lockout he had even longer to think it over, but it appears now his mind is made up.
According to Ansar Khan of MLive.com, the expectation is that Holmstrom will be joining Lidstrom in hanging up his skates.
Tomas Holmstrom, the best net-front presence in the NHL over the past 15 seasons for the Detroit Red Wings, is expected to announce his retirement soon, now that the lockout is over.

Holmstrom, who turns 40 on Jan. 23, informed the club of his intentions a while ago. The team did not want to make an announcement during the work stoppage. It will hold a news conference at Joe Louis Arena, likely before the start of the season.
If that's the case, then the Red Wings have had plenty of time to think about what they're going to do sans Holmstrom. It's not like they had much of an opportunity to actually do anything, but there was ample time to prepare.
Holmstrom, who played his 1,000th game last season, had 243 goals with 287 assists in his career with the Wings. Almost exactly half of those 243 goals came on the man advantage (122 even strength, 121 on the power play) as Holmstrom could always be found in the dirty areas. Last season, for example, Holmstrom had 11 goals, 10 via the power play. He had double-digit power-play goal seasons in seven of this the last nine seasons.
So Holmstrom joins Lidstrom on their way out as Red Wings, ushering in a new era in Detroit. Since Lidstrom had been wearing the C these past years, the Wings are in need of a new captain. Khan says the nod will go to Henrik Zetterberg, as expected.
Now that the NHL lockout has ended, the Red Wings soon will announce that Henrik Zetterberg will be their next captain.

Zetterberg has served as an alternate captain since 2006-07, following longtime captain Steve Yzerman's retirement. The Swedish star has been groomed for the captaincy for years.
It's going to be a season of transition in Detroit, something we're not terribly used to seeing. It would appear to be out with the old and in with the new. No matter, though, it seems the faces change but the success more or less stays the same in Detroit.
For more hockey news, rumors and analysis, follow @EyeOnHockey and @StubitsCBS on Twitter and like us on Facebook.