Kentucky Derby Viewing and Betting Guide
The Greatest Two Minutes in Sports is back for the 138th time. The Kentucky Derby will air Saturday on NBC with the post time set for 6:24 p.m. EDT.
Three horses stand out as favorites among the field. According to Bovada, Bob Baffert's Bodemeister checks in as the field's overall favorite at 4-1, but Bodemeister has to break a long-standing jinx to win the Derby.
"Bodemeister has never raced as a two-year-old and that's trying to break about a 130-year-old jinx in the sense that no horse who hasn't raced as a two-year-old hasn't won the derby since 1882," Derby expert Cary Fotias said. "The last 60 or so have failed and most have failed miserably."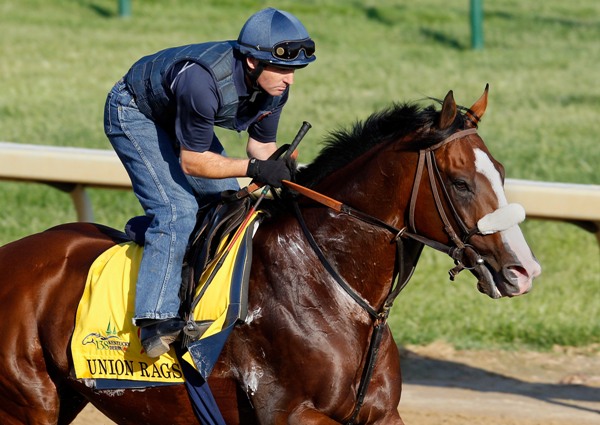 Falling in behind Bodemeister as favorites are Union Rags (5-1 odds) and Gemologist (6-1 odds).
"Union Rags finished second at Churchill Downs last year," Fotias said. "In my gut, he's the best horse in the race. He's a big, big horse. Having to negotiate through a field of 19 other cranked up three-year-olds won't be easy."
Fotias, who is the
President of Equiform.com
which specializes on the speed of the horses, isn't as optimistic about Todd Pletcher's Gemologist.
"Even though he's undefeated, the quality of his competition hasn't been that great. His numbers aren't as good as some of the other horses in the race so don't let his undefeated record fool you."
Turning a profit isn't about picking the favorites though. Fotias says it's about value and value usually comes with horses in the middle of the pack.
"It wouldn't shock me if any of 10 or 12 horses won this race," Fotias said.
He added there are several horses that he likes as value picks. Creative Cause at 11-1 odds ran frequently as a two-year-old against "the toughest competition." Fotias says at 11-1, Creative Cause is just a good a pick as the top three horses.
Alpha at 15-1 odds could fall into the same neighborhood as Creative Cause in terms of value.
"He is owned by the Maktoum family of Dubai who has been trying to win the Derby for years," Fotias said. "They used to train their horses in the Middle East and then bring them over here. That didn't work. So they brought one of their best horses over here to be trained. He's certainly competitive."
If you're looking for a long shot, Fotias gave two names: Optimizer and Trinniberg at both 50-1 odds.
"The horse has always shown potential, but has never put it together," Fotias said of Optimizer.
As for Trinniberg, Fotias described him as a sprinter who might have trouble keeping it all together in a race of this length. Trinniberg could at least command an early lead.
Overall, Fotias expects a close finish.
"I'd be shocked if anyone wins this race by more than a couple lengths. Too many are too close in speed."
With horse racing, you don't have to bet on just the winner in order to cash in. Fotias explained several other forms of betting that could make you a big winner.
Parlay:
Fotias says you can't bet a parlay on a ticket at most tracks. You usually have to bet a parlay at a casino. You bet your winnings from one race onto the next race and so on. You're basically reinvesting your winnings.
Win:
The horse you bet on has to win to collect. If a horse has 4-1 odds and you bet two dollars, your payoff will be $10.
Place:
The horse you bet on has to finish first or second to collect, but you get a lower price in return. Fotias says a horse with 4-1 odds and a place bet of two dollars will return about five dollars if the horse finishes first or second.
Show:
The horse you bet on has to finish in the top third to collect, but you get an even lower price in return. Fotias says a horse with 4-1 odds and a place bet of $2 will return about $3.50 if the horse finishes in the top three.
Exacta:
You must pick the first- and second-place horses. If they finish in that order, you collect. You can "box" them (either order) for double the bet or add other horses to your possible combinations for more chances (and a bigger bet).
For more Derby coverage, check out our pals at
NTRA.com
-- By Jameson Fleming