Finding the Fits: If legal troubles behind him, Patriots got a steal in Dennard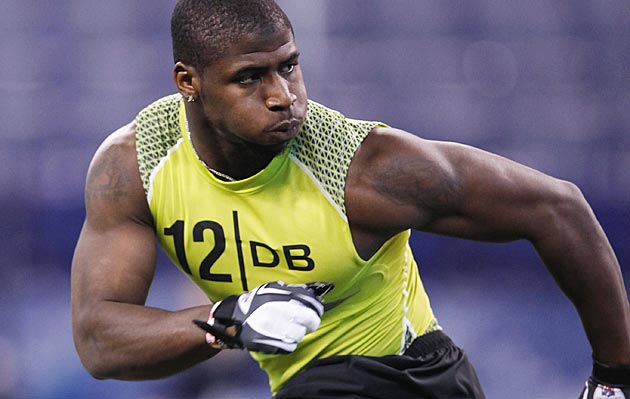 Alfonzo Dennard, an all-Big 12 cornerback at Nebraska, plummeted to Round 7 after his arrest in April. (Getty Images)
Over the next several weeks,
NFLDraftScout.com
will be reviewing some of the more intriguing picks made during the 2012 NFL draft through a series called
Finding the Fits
The goal of the series is to identify one relatively unheralded player per team who appears to be a good schematic fit and therefore more likely to be a surprise contributor early in his pro career.
---
New England Patriots' head coach
Bill Belichick
is as respected a defensive mind as there is the NFL and yet make no mistake about it, his team reached the Super Bowl a year ago due to an unstoppable offense starring quarterback
Tom Brady
, tight end
Rob Gronkowski
and slot receiver
Wes Welker
.
The Patriots finished 31st in the NFL a year ago in total defense, allowing an average of 411.1 yards per game. They were particularly vulnerable to the pass, finishing 31st in the NFL in this statistic as well. Only the
Carolina Panthers
(8.4),
Tampa Bay Bucs
(8.2) and
Minnesota Vikings
(8.1) allowed more yards per reception than the Patriots (8.0).
After years of accumulating extra picks with a seemingly annual trade down in the first round, Belichick and Co. may have realized that the window of opportunity with Brady at the helm was closing and therefore the Patriots aggressively moved up twice in the first round to land Syracuse defensive end
Chandler Jones
and Alabama inside linebacker
Donta Hightower.
The selection of two defenders in the first round served as an appropriate preview of what was to come. Six of the Patriots' seven selections in the 2012 draft went to defenders.
The 6-5, 266 pound Jones was one of the hottest names in scouting circles as the draft approached. In a year in which many of the top pass rushers came with questions regarding work ethic, consistency or size, Jones stood out. While not explosive off the snap, Jones' long-arms, strong use of hands and ability to make plays against both the pass and run made him a highly regarded prospect by 4-3 and 3-4 teams, alike. That type of versatility, of course, is precisely the kind of thing that Belichick is looking for. Considering that the Patriots were looking to replace their two starting defensive ends (
Andre Carter
,
Mark Anderson
) from a year ago, the pick not only made sense from a scouting perspective and fit, Jones also filled a significant hole.
Inside linebacker wasn't necessarily viewed by those outside of the club as a significant need, considering the solid (if relatively unspectacular) play from
Jerod Mayo
and
Brandon Spikes
. Hightower is a greater athlete than Spikes, however, and as an accomplished pass rusher, himself, also should help the Patriots' defense early in his career. Like Jones, Hightower is athletic, instinctive and physical enough to play multiple positions in multiple schemes.
And yet, while the Patriots' aggressive moves on the draft's first day will generate all of the headlines, it was the gamble they took late in Day Three that serves as today's highlighted "Fit."
Nebraska cornerback
Alfonzo Dennard
entered the 2011 season rated by some scouts as a possible first round pick. Frankly, he'd played better in 2010 than his more heralded teammate
Prince Amukamara
, who was selected 19th overall by the New York Giants in the 2011 draft.
Dennard's senior season, however, reads like something out of a horror movie -- at least when it comes to terrifying results for a prospective NFL rookie.
Dennard missed the first three games of the 2011 season with a pulled leg muscle (reportedly his quadriceps) and appeared less than himself for the first few games in which he played. In a high profile matchup against South Carolina's
Alshon Jeffery
(now a
Chicago Bear
), Dennard was not only beaten deep, he was arguably beaten up as both he and Jeffery were thrown out of the Capitol One Bowl for fighting. That, of course, was after Jeffery had caught four passes for 178 yards and touchdown while primarily being covered by Dennard.
Hoping to make a better impression on scouts in the last game in which he'd wear the familiar red "N" on his white helmet, Dennard competed in the Senior Bowl. There, however, he was asked by
Minnesota Vikings'
coaching staff to play a great deal of off-man coverage -- something he was very rarely (if ever) asked to do while at Nebraska. Not surprisingly, he struggled.
Dennard, then, measured in slightly shorter (5010), heavier (204) and slower (4.55) than some had hoped at the Scouting Combine.
Finally, only five days before the first round of the draft,
Dennard was arrested for allegedly taking part in a fight in a bar
. During the melee, Dennard reportedly punched a police officer (which is a felony that potentially carries with it a five-year sentence) and had to be restrained by four members of the police.
With little time to investigate the matter deeply, most teams opted to ignore Dennard throughout the draft and he slid all the way into the seventh round, where the Patriots nabbed him.
For New England's gamble to pay off, Dennard will first, of course, have to remain a free citizen. Via a written arraignment form,
Dennard pleaded not guilty May 30
to the third degree assault charge. His next court date has not yet been scheduled.
Needless to say, if Dennard is convicted, he certainly won't be able to help the Patriots any time soon. If he isn't, however, Dennard has a chance to be a very effective and versatile defender for the Patriots. And, no, it isn't coincidence (or just poor writing) that I've used "versatile" to describe the three players I'm highest on from the Patriots' draft.
Under Belichick, the Patriots use various strategies in the secondary, but typically rely heaviest on zone concepts -- a strategy that should minimize Dennard's average height and ball skills -- and maximizes his rare physicality, instincts and toughness.
Dennard lined up strictly at cornerback for Nebraska, earning not only all-conference honors at the position after each of the past two seasons there but even being recognized as the Tatum-Woodson Big Ten Defensive Back of the Year as a senior despite missing the first three games. For the Patriots, however, Dennard might serve not only as a potential cornerback on the outside, but inside covering the slot and potentially even deep as a safety.
The crimes Dennard is accused of are serious. In drafting him, obviously the Patriots felt comfortable with his past. Considering his talent, if able to take advantage of his opportunity to play in the NFL, Dennard not only will make the Patriots' deep and talented roster, he'll develop into a starter within his first few seasons in the league. There isn't a team in the NFL that wouldn't love to say that about a seventh round pick.
The rest of the Patriots' picks:
1st Round - No. 21 overall - Chandler Jones, DE, Syracuse
1st Round - No. 25 overall - Donta Hightower, ILB, Alabama
2nd Round - No. 48 overall -
Tavon Wilson, S, Illinois
3rd Round - No. 90
overall -
Jake Bequette, DE, Arkansas
6th Round - No. 197 overall -
Nate Ebner, S, Ohio State
7th Round - No. 224 overall -
Alfonzo Dennard, CB, Nebraska
7th Round - No. 235 overall -
Jeremy Ebert, WR, Northwestern
Read more about all of the
Patriots' draft picks here.