Jamie Murray, Andy's brother, collapses after Aussie Open match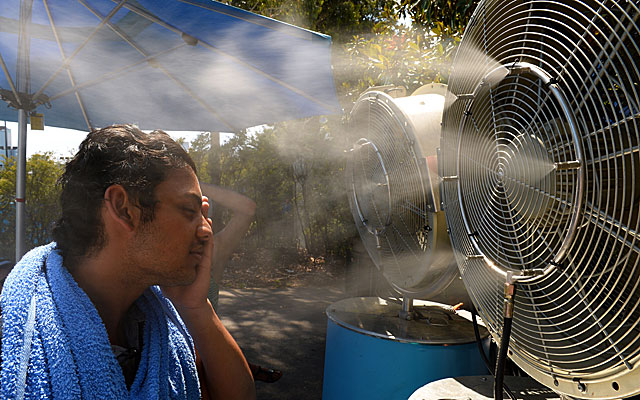 Less than an hour after winning his first round doubles match at the sweltering Australian Open, Jamie Murray – Andy Murray's brother – reportedly collapsed from heat stroke in the locker room.
According to The Guardian, Murray needed "urgent medical attention" following the fourth-straight day of searing, unrelenting heat. According to Andy, Jamie went back to the hotel early and missed his brother's evening match. On Thursday, temperatures reached as high as 109 degrees.
"It started once the match had finished," Jamie said. "I had a lot of ice treatment. I was getting big cramps in my legs. I don't know what would've happened if we had gone into a third set, but luckily that wasn't necessary. It wasn't too pleasant but it was good to get the win and I think I'll be feeling much better tomorrow," he said. Murray and partner John Peers advanced 7-6, 7-6 over Australians Matt Reid and Luke Saville.
Officials for the Australian Open finally opted to suspend play for more than four hours on the uncovered courts on Thursday, invoking the tournament's "extreme heat policy" for the first time since 2009. According to The Sydney Morning Herald, more than 1000 fans have suffered from heat exhaustion throughout the tournament thus far.
Still, the chief medical officer for the tournament defended the players' ability to withstand the temperatures.
"There will be some players who complain and no one is saying it is terribly comfortable to play out there, but from a medical perspective, we know that man is well adapted to exercising in the heat," Dr. Tim Wood said. "Whether it is humane or not is a whole other issue."
Another report from the Australian Open stated that 29-year-old Canadian Frank Dancevic collapsed during his first-round match and then claimed he saw the cartoon character Snoopy.
"I was dizzy from the middle of the first set and then I saw Snoopy, and I thought, 'Wow, Snoopy. That's weird.'"
"I couldn't keep my balance any more and I leaned over the fence and when I woke up people were all around me," Dancevic added.