Best candy? The debate continues in the CBSSports.com Candy Draft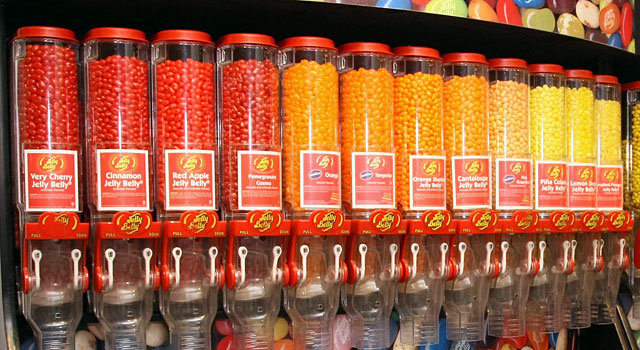 We are only days away from the NFL Draft and the debate between Jadeveon Clowney or Blake Bortles at No. 1 has been raging for months.
But who goes No. 1 in a Candy Draft? Twix? Snickers? Kit Kat?
Everybody loves candy and to have a little fun leading up the NFL Draft, eight members of the CBSSports.com staff decided to find out who could build the best "team" of candy in a five-round draft.
Grading the Candy Draft
Team
Richard
Freedman
Medvigy
Overall
Kay

B

B

A

B+

Aizer

A

A-

D

B

Irizarry

C

C+

B+

B-

Darst

D

B-

B

C+

Nelson

D

C

C

C-

Burkholder

B

F

C

C-

Coulter

D

D

B

C-

Brickley

D

D

D

D

Overall grades determined by College GPA
The draft order (chosen at random):
1. Marcus Nelson, College Basketball Producer; 2. Eric Kay, Assistant Managing Editor; 3. J. Darin Darst, College Football Producer; 4. Adam Aizer, Video Host; 5. Michael Coulter, Product Manager; 6. Randy Brickley, Assistant Managing Editor; 7. Denny Burkholder, NFL Producer; 8. Ivan Irizarry, Associate Product Manager
And of course, we needed judges.
People who KNOW food and like to eat candy.
We brought on three of the best -- Dave Richard, Senior Fantasy Writer; Michael Freedman, Supervising Producer and Jenna Medvigy, Associate Video Producer.
The results in order of final grade:
Eric Kay, Assistant Managing Editor: No. 2 overall pick -- Kit Kat, Take 5, Sour Patch Kids, Tootsie Rolls, Ring Pop. Overall Grade: B+
Judges comments
Richard: I'm not the biggest fan of Kit Kat but I respect its place in the candy hierarchy. It's easily one of the most popular candies, but Kay stole the show with Take 5, a relative newcomer to the candy universe. It's the cornucopia of candy bars. I think some people are scared of Take 5 because it's "new" but those same people are recording Matlock reruns on their VCRs. Take 5 is a delight to the palate. And look at those other picks -- Ring Pop combines lollipop with swag. Tootsie Rolls and Sour Patch Kids fulfill any chewy substance one might desire. This is a pretty solid haul.
With the 7th pick of the second round of the #CANDYDRAFT I'm adding more chocolatey goodness to the mix w Take 5 pic.twitter.com/CCzVcocx1n

— Eric Kay (@ekaycbs) April 23, 2014
Freedman: Eric Kay easily had the best three rounds of anybody. Two great chocolates and a solid sugar in his first three picks. He took a step back with his last pick though. It is just not acceptable for a male adult to enjoy a ring pop.
Medvigy: Eric Kay acquired the best variety of candy, ranging from the classic Kit Kat, to the simple but lovable Tootsie Roll, to the snazzy fifth-round Ring Pop pick. As a woman, let me just say I really dig any type of jewerly -- even the candy kind.
Adam Aizer, Video Host: No. 4 overall pick -- Reese's Peanut Butter Cups, Peanut M&Ms, Skittles, Raisinetts, Starbursts. Overall Grade: B
Judges comments
Richard: The typically boring Aizer grasped the full concept of the Candy Draft and put together a collaboration that is appealing to me both personally and professionally. Landing Peanut Butter Cups in the first round is the kind of stroke of luck the New York Giants wish they could have with their first-round picks. And while Aizer double-dips on the chocolate and peanut duo in Round 2, it's obvious to any candy eater that Peanut M&Ms and Reese's Cups are different (and delightful when frozen). Where Aizer really nails his draft is with his final three picks: Two non-chocolate favorites and a chocolate-raisin combination that brings some exclusivity to his roster. Skittles are the "in" candy for those who don't like chocolate and Starbursts appeal to almost everyone for their chewyness.
@AdamAizer Raisinets? Possibly one of the most disgusting candies ever. #RabbitTurd #TeamPeanutButterCups

— Gervs (@lasgervegas) April 25, 2014
Freedman: Adam Aizer would have run away with the best draft by a landslide in my book if it wasn't for that Raisenetts pick. Since nobody in this draft is over the age of 60, they should still be on the board. Still a very solid team with Reese's Peanut Butter Cups, Peanut M&Ms, Skittles and Starbursts. My wife says Aizer wins by a mile.
Medvigy: I desperately wanted to fail Aizer for choosing Raisinetts, an unacceptable choice for any round, but his other draft picks saved him. His second-round pick of Peanut M&Ms and fifth-round Starburst pick were decent steals.
Ivan Irizarry, Associate Product Manager: No. 8 overall pick -- Snickers, Milky Way, Gummi Bears, Hershey's Kisses, Truffles. Overall Grade: B-
Judges comments
Richard: Ivan hammers home a strong squad made up of familiar brands, though there's a very heavy focus on chocolate -- especially chocolate that's pretty much the same. The only difference between Snickers and Milky Way are about two dozen peanuts. And truffles? Is that a candy or a thing you can put on burgers? Overall, is it a passable mix of candies that I would enjoy? Of course.
Freedman: Started strong with Snickers, but got progressively worse with each ensuing pick. Gummi Bears? Hershey Kisses? Truffles? Truffles are the candies you get as a house-warming gift and let your dog eat them.
Medvigy: I liked all of Ivan's picks and think he had the highest quality of candy, but there was no risk-taking involved, no WOW factor. It was too safe for me to give him an A, but he did come in close.
J. Darin Darst, College Football Producer: No. 3 overall pick -- Butterfinger, Gummi Worms, 3 Muskateers, Tootsie Roll Pops, Fun Dip. Overall Grade: C+
Judges comments
Richard: Butterfinger happens to be one of the most polarizing candies out there. While some people really like Butterfinger, it's a sham of a first-round pick. However, Darst makes up for it by having 3 Musketeers fall into his lap in Round 3, quite possibly the biggest bargain of the draft. Tootsie Roll Pops can last on the taste buds for more than a few delicious seconds and has that snazzy Mr. Owl. But then there's Fun Dip, which is the nastiest gunk on the planet unless you're four years old.
So far the BUST of the http://t.co/iToU1EiuAS #CandyDraft is @jdarindarst taking Butterfinger #3 overall

— Adam Aizer (@AdamAizer) April 23, 2014
Freedman: Many people were not fans of the Butterfinger pick. I am not one of them, however Gummi Worms in the second round? Fun Dip with your final pick? 3 Mustketeers is a solid third-round pick.
Medvigy: Darst had one of the better drafts in general but I could not give him an A, or even a B+, due to his first round pick of peanut butter-flavored orange flakes. Darst, do better.
Marcus Nelson, College Basketball Producer: No. 1 overall pick -- Twix, Rolos, Chunky, Peppermint Patty, Spree. Overall Grade: C-
Judges comments
Richard: Marcus' first two picks show his fondness for caramel, which is obviously popular. Rolos as a second-round pick was a bit of a stretch to me when other chocolate varieties were still out there. The double dip on caramel-added treats seemed redundant. The big whiff was Chunky, probably among the least popular candies among the major national brands.
Freedman: Marcus started strong and then went downhill in a hurry. I have no issues with Twix with the No. 1 overall pick, but Chunky, Peppermint Patty and Spree to round out the team?
With the 1st pick of the 2014 #CandyDraft I select Twix. Perfect mix of chocolate, caramel and cookie. pic.twitter.com/kuZheq0sMF

— Marcus Nelson (@MNelsonCBS) April 23, 2014
Medvigy: Marcus received an average grade from me since he started out very strong in the first two rounds with the caramel chocolate candy, but fell off in the last three -- especially with the ancient Chunky pick, which was introduced in 1930 and was clearly not popular by the time I was born because I've never heard or seen it.
Michael Coulter, Product Manager: No. 5 overall pick -- Jelly Belly Jelly Beans, Flipz, Almond Joy, Airheads, Nerds. Overall Grade: C-
Judges comments
Richard: It feels like Coulter tried to get too fancy and pick up candies that were off the beaten path. Well, it worked to a degree. The jelly beans were a smart choice but were taken too soon. The Flipz also were taken too soon. Almond Joy (and its nut-less twin Mounds) appeal to a small group of eclectic tastes. Wait ... they still make Nerds?
Freedman: Way too many sugar candies on this roster and the one chocolate he goes with Almond Joy? It's a fine mix of milk chocolate, coconut and almonds, however you need something better as your first chocolate.
Medvigy: Coulter did better than average with his classic choices, and I do adore Jelly Beans, but Flipz should've been a late-round choice (if chosen at all).
Denny Burkholder, NFL Producer: No. 7 overall pick -- Reese's Pieces, Whatchamacallit, Atomic Fireballs, Krackel, Andes Thin Mints. Overall Grade: C-
Judges comments
Richard: Conceptually there's nothing wrong with Denny's group. He's got peanut butter, crisped rice, cinnamon, mint and whatever is in a Whatchamacallit. The variety is top-notch and he's got a hammerlock on cinnamon. I think the biggest negative is the lack of familiar and basic chocolate-plus-one-ingredient candies. Maybe I'm just being picky.
In the third round, give me... Atomic Fireballs. #CandyDraft pic.twitter.com/nrOGtew2UL

— Denny Burkholder (@DennyBurkholder) April 24, 2014
Freedman: This roster is all over the map with the one glaring hole being zero quality sugar candies. Whatchamacallit may have been a reach in the second, but I am more concerned with the Andes Thin Mints selection. Any candy given out for free at restaurants should not be on a team.
Medvigy: Denny's first and last rounds were a success, but he completely lost me in the middle rounds. Spicy candy is weird and I am not putting anything "atomic" in my mouth.
Randy Brickley, Assistant Managing Editor: No. 6 overall pick -- M&Ms, Smarties, Sweet Tarts, Pixy Stix, Mr. Goodbar. Overall Grade: D
Judges comments
Richard: Randy drafted not one, not two, but three different candies made up entirely of sugar and artificial colors. All basically the same candy in different incarnations, a brutal lack of diversity. Even with a safe first-round pick and an underappreciated final-round pick, Brickley's decision to go with three consecutive sugar bombs shows a lack of variety, as if the Raiders drafted three punters consecutively in the NFL Draft.
Freedman: I'm not a fan of Randy Brickley's draft at all. A lame chocolate candy with his first pick and three bad picks after that. He totally redeemed himself however with his final pick and a very underrated Mr. Goodbar.
Medvigy: Despite the abundance of pure sugar picks, Pixy Stix were a childhood favorite of mine, and sometimes I enjoy M&M Super Bowl commercials -- so no fail grade for him.