Men of the NFL remember the best advice their fathers ever gave them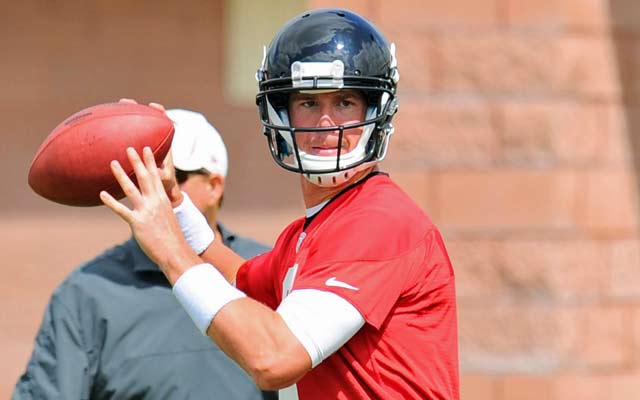 Everyone has a father, and every father has advice he offered his children that they never let go. So I went looking for it, checking in with some of the NFL's most recognizable names to discover the most memorable advice they gained from their dads and how it affected their lives. Here's what I found:
Roger Goodell, NFL commissioner: "It was in a letter that he wrote me the fall after I graduated from college where he said, 'Feel only your own pressure. Your own is sufficient. Take on the various opportunities calmly and collectedly. I wish I could help you more, but now you are on your own with lots of support.' "
Adrian Peterson, running back, Minnesota Vikings: "My father always used the saying, 'Shoot for the moon. If you fall short, you'll land among the stars. Always shoot for the moon.' So I have always pushed to be the best and make the most of each opportunity that I am given."
J.J. Watt, defensive end, Houston Texans: "Every day before I left for school, my Dad would tell me to 'act like somebody today.' And basically what that meant was don't just go through life going through the motions, trying to be average. Try to make yourself stand out. Try to be great. Do everything that you do to the best of your abilities. So every single day he would say that to me, and I would have to say it back to him before I left for school. It kind of carried me through life because every single day I'm trying to be somebody. I'm trying to prove myself and make everybody around me proud, whether it's my family, whether it's my friends or whether it's my fans. I'm trying to do everything I can that day to make them proud of me."
Rex Ryan, head coach, N.Y. Jets: "He always said be true to yourself; be who you are. You don't need to be perfect -- and I'm not by any stretch -- but that's OK. You don't have to be. But always keep competing. He never wanted us to fight, but he never wanted us to walk away a loser, either. Those are things that you always learn in life. You compete to be your very best, and you shouldn't have to worry about matching up with anyone. Even though some guy may be stronger than you in some areas, I never felt inferior to anybody in my life. I just felt I could beat them in a different way."
Haloti Ngata, defensive lineman, Baltimore Ravens: "He told me never to treat people as if they were above you or below you; to always humble yourself and treat everyone as equals. I think that was my sophomore or junior year of high school, and it not only stuck with me; I think it helped me get to where I needed to be. With me being a star athlete in high school, in college and now in the NFL, I never thought anybody was better than me, and I never thought of myself as better than anyone else. I always treated everyone as equals, and it helped me on the football field ... and, more importantly, off of it."
Matt Ryan, quarterback, Atlanta Falcons: "While I was battling with several quarterbacks at Boston College I was beaten out for the starting job on two occasions. My Dad told me that the cream rises to the top and that, if I continue to work hard, eventually I would, as well. Conversations like that with my father helped develop the work ethic that I pride myself on."
Andrew Luck, quarterback, Indianapolis Colts: "My father told me to show people respect. Give respect to people and, more often than not, you'll get it back."
Russell Wilson, quarterback, Seattle Seahawks: "I'd probably say the three Ps -- always have a great purpose, always have a great perspective and always persevere. Those three Ps have kind of always stuck with me."
Bruce Allen, general manager, Washington Redskins: "We benefited from the same lessons his players did: 'The future is now [the real definition to him]. Put every ounce of your energy and your mind into what you are doing today, and tomorrow will be better due to your efforts today.' He also kept reminding of that when he told me 'to learn the player habits.' He didn't mean how to drink beer; he meant the good work habits."
DeMarcus Ware, linebacker, Dallas Cowboys: "He told me to never give up on whatever opportunity you have just because you don't see the opportunity. That's probably the best advice I could give my kids. Whatever it is ... if it's my little son learning A-B-Cs or my little daughter playing 'two-time' ... whatever it is, never give up on what your goal is just because you don't know the outcome or what the future holds."
Ryan Tannehill, quarterback, Miami Dolphins: "My father taught me to trust in God in all I do, to work hard and never take anything for granted. I think I apply that in all areas of my life, including football, with its unique demands. It's worked for me, and, hopefully, I can keep doing that."
Patrick Willis, linebacker, San Francisco 49ers: "The best advice I got from my Dad -- and this is from my foster Dad [Chris Finley] -- is to do what makes you happy. Believe it or not, and it may sound selfish, but I truly believe you have to do what makes you happy. What I mean by that is that it's hard to make others happy if you're not. You can fake it a little bit, but, eventually, what's in the dark will come to light. You need to be truthful to yourself and do something you have a passion for. My biggest thing really is to do what makes you happy, and I feel like, in the long run, if you do that everyone around you will know the real you. At the end of the day, only you know yourself. So I believe that's the best advice: Just do what makes you happy."
Marc Trestman, coach, Chicago Bears: "The best piece of advice I got from my Dad was more through his actions than his words. He didn't do a lot of talking. He was a sociable guy in his work, but it was more about showing me about his work ethic and showing me that no matter what business you're in it's a people business. And the way to get the most out of people and allow them to grow is to build authentic relationships. My Dad was great at that. He had really good relationships with the people he managed. He ran a bar and a restaurant, and the people who worked for him worked for him a long time. In the restaurant business, it's hard to have employees for a long time, and my Dad had people there for 25 and 30 years. When I grew up, I ended up working there, bussing tables and doing all kinds of dirty work. I never realized until I was older he wasn't in the restaurant business; he was in the people business. And the people who worked for him respected him because he cared about them. I didn't realize for a lot of my football career that I was in the same kind of business, but when I did it changed my whole perspective and allowed me to be a better coach."
Philip Rivers, quarterback, San Diego Chargers: "I got a lot of great direction and fathering from my Dad. But if I could sum it up: If you're going to do something do it all the way ... and that's in everything you do. If you decide to do something -- whether it's play a sport or mow the grass or make the bed -- do it all the way ... meaning do it right and finish it the right way. That still applies to me in everything today from family to football."
Chris Long, defensive end, St. Louis Rams: "Take pride in everything you do. That makes you more competitive. You take pride in every little task, whether it's practice or preparation or working out or Game Day. They're all equally important, and they all matter in your success."
Marvin Lewis, head coach, Cincinnati Bengals: "You need to be better. Whatever the situation is, you need to be better than the people you're competing against. Growing up when he grew up in the late 40s and early 50s, as an African-American you had to be better ... and those were his words of advice."