All of us should be rooting for a winning Army football team
Army means duty, honor, country -- and maybe soon a winning football team, too. There's a renewed emphasis on improving the cadets' fortunes.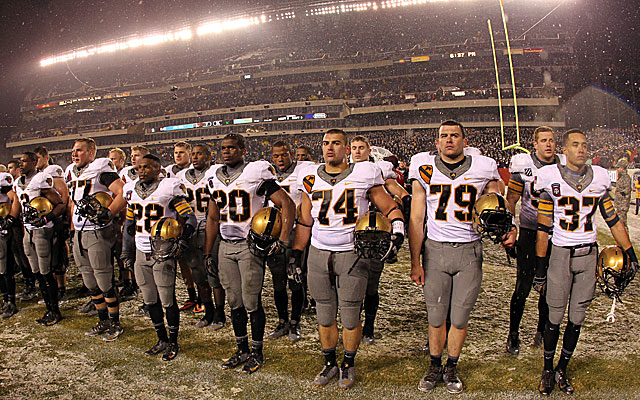 Army football should win, or Army football shouldn't bother to play the game. And since quitting isn't an option -- what kind of message would that send to cadets, recruits, the country, even the world? -- we're back to where this story began: Army football should win.
And it's about to do just that. Well, OK, I wrote that last sentence as a fan of Army football, which means I could be wrong. Fans say what they hope, not what they know, and I have no idea whether Army football is really about to win.
But I know Army football is really about to try.
It's been trying forever, of course, and it has had glorious success -- but that success came a long time ago, when America was different and kids dreamed of wearing that helmet and Doc Blanchard and Glenn Davis won back-to-back Heisman trophies in 1945 and '46 and Pete Dawkins won the Heisman in 1958 and their coach, Red Blaik, went 121-33-10 from 1941-58.
Army was a powerhouse, but America changed and college football changed and now Army is barely even competing. Nineteen times in the last 23 years, Army has had a losing record. In that time it has posted three seasons with one victory or fewer, and just one season with more than seven. Army football is bad and has been getting worse, but it's about to get better. At least, it's about to try.
And thank God for that, because Army football shouldn't be this bad. If this is corny so be it, but Army football -- like Navy and Air Force, two football programs I'm also a fan of -- should represent the best of us. That's the way it should be at all times, but at times like this, when our country is fighting battles around the world, our service academies should project a competitive image in football. Maybe that seems superficial or even silly to you. Could be corny. Whatever it is, it's how I feel, and it's what I want.
I want to be proud of Army football, not heartbroken for it. Not one single part of a US service academy should get my pity, but that's been Army football for the better part of the last quarter-century: something to be pitied.
Because they can't win at Army. Not consistently against serious football schools, and not much at all against the other service academies. Army hasn't beaten Navy in 12 years. Army has lost 22 of its last 25 games to Air Force. Make no mistake, neither Navy nor Air Force takes shortcuts to football greatness. Their student-athletes are, like the ones at Army, more student than athlete, and more soldier than anything else. It's kind of cute how the NCAA limits college athletes to 20 hours a week in their sport, seeing how the athletes at Army (and Navy and Air Force) spend at least that much time fulfilling their military-training requirements. They also spend 15 or more hours a week in class. When do they rest? They don't rest, other than the sleep they get at night. Otherwise it's go, go, go.
And at Navy and Air Force, all that going includes going onto the football field and competing with the serious football schools on the schedule. Navy has beaten Notre Dame three times in the last seven years, and lost by less than a touchdown two other times. Air Force slumped to 2-10 this season, but the Falcons averaged eight wins from 2007-12 and beat TCU, Utah, BYU, Georgia Tech and, yes, Notre Dame.
People who follow the service academies a lot closer than I do tell me it's slightly tougher to win at Army than at Navy or Air Force, a statement I'll qualify immediately with this: It's not easy to win at Navy or Air Force, either. Their student-athletes undergo mentally grueling courses in the classroom and physically grueling training outside it, and they also play football. But the training at Army is a little bit more grueling, from what people who would know have told me. At Army, for example, a soldier has to be able to run two miles in 16 minutes, 36 seconds or be kicked out. That's one reason why the Army football team is so undersized, because its linemen can't afford to balloon up to 300-plus pounds and risk failing that two-mile test.
Also at Army, the combination of football practice and military training is so taxing that its players shrink as the season goes along. As Joe Drape noted Wednesday in The New York Times, when he was reporting his book "Soldiers First: Duty, Honor, Country, and Football at West Point" in 2011 he watched "Steve Erzinger, already undersized as a 210-pound linebacker, shrink to 190 pounds." Drape also wrote the following sentence, so powerful that I'm going to ask you to read it more than once:
"Playing football is at once the easiest, most fun and least important thing they do over the course of their 47 months as an officer in training."
Winning isn't easy at Navy or Air Force, either, but those schools have dominated Army -- and the powers in charge of Army football, and the US Army as a whole, want to change that. Lt. Gen. Robert L. Caslen Jr., hired in July as the academy superintendent, fired football coach Rich Ellerson one day after the team's season-ending, 34-7 loss to Navy on Saturday. In an email to supporters, Caslen announced the firing and made a promise, according to the Times:
"Nothing short of victory is acceptable. That fundamental ethos is at the heart of this academy. It must be ingrained in every one of our athletic programs. Our core values are duty, honor, country. Winning makes them real."
Caslen has support from the chief of staff of the US Army, Ray Odierno, who attended Army in the 1970s with the hopes of playing football before suffering a knee injury. Odierno, who watched Army games this fall from the sideline, received the National Football Foundation Distinguished American Award earlier this month because of his commitment to the game, and the game's importance to him.
What does all of that mean? It means Army is about to get serious again about winning football games, and not just against the teams it was able to beat this season: Morgan State, Louisiana Tech and Eastern Michigan. Caslen and Odierno want Army football to compete at a higher level than that -- with Navy and Air Force, at a minimum -- and appear willing to spend more money on coaching and recruiting while also giving the admissions department slightly more leeway to allow better athletes into school without sacrificing the ideal of what an Army student should represent.
And what should an Army student-athlete represent? The best of us. And we're winners around here.
Show Comments
Hide Comments
Ranallo is leaving WWE after 16 months as the voice of SmackDown

Braun Strowman straight flipped an ambulance and Raw added a number of new superstars

Gotch, one half of the former NXT tag team champions, mutually agreed to part ways
Two thrilling debuts added pep to a SmackDown show that suffered from a lack of creativity

A WWE fan favorite, Angle was inducted into the Hall of Fame just three days ago

The Raw after WrestleMania is always a hot show, and Monday night certainly had its bright...