Angelique Kerber stuns Serena Williams in Australian Open final
Angelique Kerber upset Serena Williams in the Australian Open finals to win her first career Grand Slam title.
• 2 min read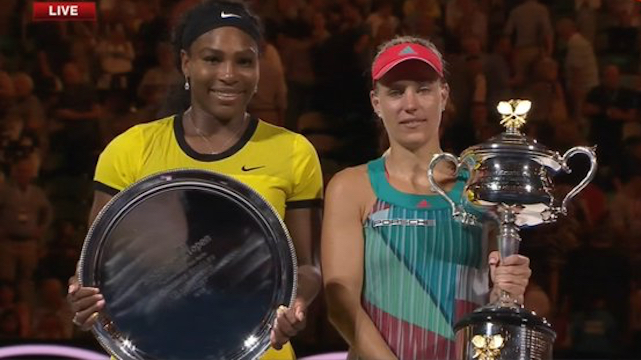 Angelique Kerber, the seventh seed, stunned world No. 1 Serena Williams in the 2016 Australian Open final, taking her first career Grand Slam title 6-4, 3-6, 6-4. Kerber's reaction to beating Williams, for only the second time in her career, and claiming her first Grand Slam title was one of pure joy and disbelief. 
Angelique Kerber wins the Australian Open and her reaction is priceless pic.twitter.com/SR2wJvNJmY

— The Cauldron (@TheCauldron) January 30, 2016
Kerber's serving was a huge key. The German won 73 percent of her first-serve points and yielded only four break points on eight opportunities. 
"Let me be the first to congratulate you," Williams said in her post-match speech. "Enjoy the moment. You truly deserve it."
Williams hit far more winners than Kerber (47 to 25) but had many more unforced errors too (46 to 13). Kerber refused to beat herself with errors. By simply keeping the ball in play she forced Serena, who looked tight from the start, to make shots which she was not able to do as consistently as usual. 
Kerber, who was playing in her first major final, had to save a match point in her first-round win over Misaki Doi and said she was "one leg in the plane for Germany," at the time.
Whether she was nervous in her attempt to match Steffi Graf's 22 major championships or just had an off night, Williams looked off from the beginning. She was pulling off on balls she would normally drive on for winners, hitting them wide or long. 
As Williams struggled with consistent groundstrokes, Kerber gained confidence and made quality plays to pull ahead. After Serena tied the match at a set apiece, it seemed as though she would regain control of the match to win her 22nd career Grand Slam and seventh Australian Open. 
So many times in the past, opponents had seen Williams fall behind by a set, only to find her rhythm and dominate the last two. Kerber was able to keep that from happening with an extremely clean third set where she hit 12 winners to only three unforced errors. 
Kerber's first Grand Slam title announces the 28-year-old's arrival at the top of the women's game, as she upset two of the pre-tournament favorites in Williams and Victoria Azarenka. Beating those two en route to the championship is an impressive feat and one that should keep any thought of this being a fluke win away. 
As for Serena, her chase of Steffi Graf will continue for at least one more major, as she again goes for No. 22 at the French Open, Wimbledon or the US Open. Williams played tremendous tennis for the first six matches, but was not right in the final. That has not always caused her to lose in the past, but the splendid play of Kerber, coupled with some shaky play by Williams, was enough to knock off the defending champion. 
Show Comments
Hide Comments
Ranallo is leaving WWE after 16 months as the voice of SmackDown

Braun Strowman straight flipped an ambulance and Raw added a number of new superstars

Gotch, one half of the former NXT tag team champions, mutually agreed to part ways
Two thrilling debuts added pep to a SmackDown show that suffered from a lack of creativity

A WWE fan favorite, Angle was inducted into the Hall of Fame just three days ago

The Raw after WrestleMania is always a hot show, and Monday night certainly had its bright...