Big Boss Man to be inducted with WWE Hall of Fame's 2016 class
Justice will be served on April 2 in Dallas when Big Boss Man officially gets inducted into the WWE Hall of Fame alongside Sting, The Fabulous Freebirds and The Godfather.
Ray Traylor Jr. was never supposed to be a professional wrestling star. An actual prison guard in Cobb County, Georgia, he decided to give the business a try in his early 20s and spent nearly half his life inside the squared circle, winning over fans worldwide as the legendary Big Boss Man. Traylor's next stop will be the WWE Hall of Fame, which CBS Sports learned Monday he will be posthumously inducted into on April 2, the night before WrestleMania 32, in Dallas.
If the best professional wrestling characters are merely an extension of their real-life selves, Boss Man's enshrinement is a long time coming. But Traylor did not simply jump from his days enforcing the law in a correctional facility into the beloved Boss Man role; he got a hand from a legend who propelled him on a path he could never have expected.
Like most wrestlers, Traylor's career began on the independent circuit where he was seen simply as a jobber, a no-name who could be thrown into matches as a squash victory for a top-level or mid-card performer. It was not until Dusty Rhodes took Traylor by the hand and molded him into a complete wrestler that Traylor eventually caught the eye of Vince McMahon, owner of what was then known as the World Wrestling Federation.
McMahon, learning of Traylor's prior job, created Big Boss Man, a blue-collar prison guard from Cobb County who wore a standard issue short sleeve blue button-down shirt and black trousers to the ring, carrying a nightstick in his right hand and a set of handcuffs in his pocket. (Those handcuffs would often be used to attach opponents to the ring ropes while Boss Man inflicted damage with his nightstick to the dismay of the crowd.)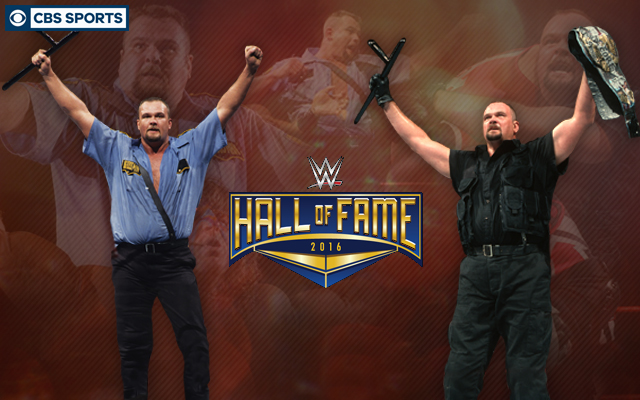 Boss Man drew crowd reaction from the start as a performer who actually spoke to the average Joe in the audience. Most likely never expected Boss Man to be more than a mid-card body; after all, a working-class prison guard with a Southern drawl, pot belly and crew cut was not the typical WWF superstar of the day. McMahon saw him as more than that.
An early feud with Hulk Hogan and Randy "Macho Man" Savage brought Boss Man right to the front of the WWF card as he saw great success at the onset of his career as a heel tag team wrestler. Under the management of Slick, Boss Man teamed up with Akeem, The African Dream, to form The Twin Towers. And though Boss Man would never capture the tag team gold, The Twin Towers feuded with and defeated some of the biggest names in the business, including The Mega Powers (Hogan/Savage), Demolition and The Rockers (Shawn Michaels/Marty Jannetty).
Boss Man was so accepted by fans that he broke out as a singles performer, going head-to-head with Hogan as a headliner in the late 1980s. The duo often competed in steel cage matches that earned critical praise and astonished fans, including one during Saturday Night's Main Event on May 27, 1989, that featured a suplex off the top of the cage that had simply not been seen before in the industry.
There was rarely a top-billed performer that did not go through Boss Man, especially when fans rallied around him as a face. He either aligned, teamed or feuded with all of the greats including Andre The Giant, Ultimate Warrior, "Hacksaw" Jim Duggan, "The Million Dollar Man" Ted DiBiase and Bobby "The Brain" Heenan, among many others.
Fans became so invested in Boss Man that McMahon saw opportunities to use his character to enhance storylines and even create backgrounds for other performers. Boss Man feuded with The Mountie (an evil member of the Royal Canadian Mounted Police), Irwin R. Schyster (an IRS agent and fellow United States government employee) and Nailz, who was billed as an ex-convict from the Cobb County jail where Boss Man worked as a prison guard.
Ultimately, Boss Man no longer being booked against the company's top wrestlers led to a lack of creative storylines; he became less of a featured performer and eventually left WWF for a five-year stint at rival World Championship Wrestling. Unable to use the Big Boss Man moniker with another company, Traylor returned to his roots and his initial ring name, Big Bubba Rogers. Though he did work some big matches, he was never seen as major draw in WCW and waited out his time with the company for an opportunity to return to working for McMahon.
Traylor's return to WWF, now known as WWE, could not have come at a better time for the Big Boss Man character, which was in need of a makeover if it was to work with the PG-13 audience WWE had captured in the late 1990s and early 2000s. Trading in his prison guard uniform for all-black riot squad gear complete with a bulletproof vest, combat boots, gloves, glasses and his signature nightstick, Boss Man returned to his role as a heel and was thrust into a storyline as McMahon's bodyguard. He was to protect McMahon from the company's biggest hell-raising stars, including "Stone Cold" Steve Austin and D-Generation X, helmed by Michaels and Triple H.
Boss Man's presence helped create the concept of The Corporation, an authority faction that was at the forefront of WWE storylines for years. It was in this role that Boss Man won his only major wrestling titles. He captured the tag team championship with Ken Shamrock and was a four-time hardcore champion, holding a ripped-up belt that could be contested 24/7 with falls counting anywhere.
The second run with WWE also afforded Boss Man another "WrestleMania moment" in a Hell in the Cell match against The Undertaker at WrestleMania XV. He even had one last opportunity to be featured in a match for the WWE's heavyweight championship, falling to The Big Show in a short feud that included one of the company's most controversial storylines of its Attitude Era.
One final glory year came in 2000 when Boss Man appeared in the Royal Rumble and once again at WrestleMania. He remained with the company until 2003 but slowly faded out of the picture as younger wrestlers were thrust into the spotlight.
Just like in your favorite sports, where athletes have short careers, coming and going without making much impact on your team, there are plenty of professional wrestlers that fail to make their mark. A combination of poorly created characters, lacking in-ring talent or an inability to connect with fans can suddenly spell doom for a performer.
Somehow, a young man from Georgia without much flash or bravado caught the eyes of legends, built a persona out of a legitimate background and held not one but two long stints in the industry's top promotion, entertaining many fans that found wrestling as children and rediscovered it as young adults during its late-90s boom.
Traylor unfortunately passed away from a heart attack on Sept. 22, 2004, at the age of 41, leaving behind his wife and two daughters. His memory does not only carry on with his family but the millions of wrestling fans who hear "Cobb County, Georgia" or reminisce about the glory days of WWF and can't help but think of the nightstick-wielding Boss Man.
Justice will be served on April 2 in Dallas when Big Boss Man officially gets inducted into the WWE Hall of Fame alongside Sting, The Fabulous Freebirds and The Godfather.
Show Comments
Hide Comments
Our Latest Stories
The first Raw-branded pay-per-view featured one new champion in Roman Reigns

Table tennis trick shots and sketch comedy ... what else do you need?

Alistair Brownlee decided that finishing with his brother was more important than winning
The main attractions in Chicago will be the heroes in a half-shell

The Woodlands engaged in a tremendous show of sportsmanship

Gordon was in disbelief after an apparent murder-suicide