Boxing business leaves Timothy Bradley fighting mad
Welterweight titleholder preps for Pacquiao rematch while knowing ultimate Mayweather showdown likely "isn't going to happen"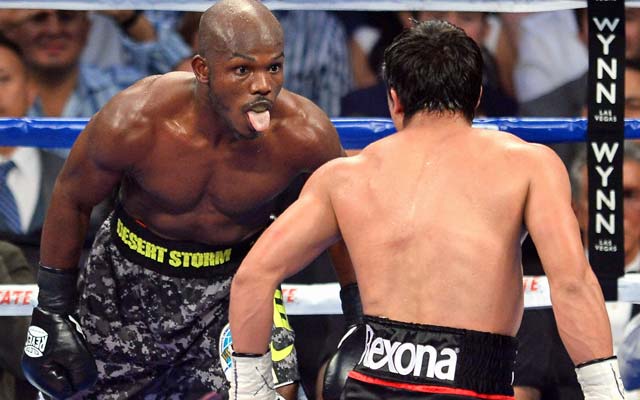 Fans, Tim Bradley hates it as much as you do.
The idea that even though he and Floyd Mayweather Jr. are unbeaten fighters with high-end pound-for-pound status and tangible claims to world welterweight supremacy, they'll probably never fight as long as existing promotional allegiances remain as they are.
Bradley signed a contract extension with Bob Arum's Top Rank Boxing organization while securing a lucrative April rematch with Manny Pacquiao in Las Vegas, while Mayweather is a promotional free agent and former Top Rank client whose enmity for Arum these days is hardly a secret.
"It sucks. Honestly, it sucks. It really does," Bradley said. "The business is changing. It used to be everybody working together. Everybody would work together and say 'Let's make these fights. Let's make this money. Let's do this and let's do that.' Now you've got promoters trying to monopolize the whole game. Now everybody wants to be Dana White.
"I want to fight the best, and right now the best guy in the business is Mayweather."
Bradley defeated Pacquiao amid controversy to win his title in 2012 and defended it twice in 2013 while seeing his stock rise from "respected among the sport's hardcore fans" to "universally considered one of the best in the world." He outlasted Ruslan Provodnikov to win one of the year's top fights last March in suburban Los Angeles, then headed to Las Vegas to outpoint Juan Manuel Marquez -- who'd knocked Pacquiao cold 10 months earlier -- in October.
Still, though he's proven himself a commodity fans will pay to see, he's not quite ready to parlay that status into a make-this-fight-or-else ultimatum to the executives in the corner office. It could still get done, though, he says, if Mayweather -- whom he dubbed "the Michael Jordan of boxing" -- wanted it.
"I can probably never go and stick the gun up to Bob and say 'I want that fight,'" Bradley said. "I'm not going to mess up my business doing a foolish move like that. But Floyd says over and over and over and over, 'I'm my own boss. I do what I want to do.' If he's his own boss and if he wants the fight, he can make the fight happen. If he wanted to fight me, he could fight me, no problem.
"But if he's not willing to work with my people, then it's not going to happen."
Meanwhile, as the boxing world's ears are collectively perked for Mayweather's disclosure of whom he actually will fight in Las Vegas on May 3, mum remains the official word for the moment.
Just a few days short of his 37th birthday, the WBA and WBC champion at 154 pounds and the WBC's title claimant at 147 pounds has as many as four fights remaining on the Showtime pay-per-view deal he inked last year. He suggested after beating Saul Alvarez at the MGM Grand last September that he'd fight twice apiece in both 2014 and 2015 before hanging up the gloves for good.
WBA welterweight champion Marcos Maidana and former 140-pound title claimant Amir Khan are the presumptive frontrunners for this spring's date with "Money," but a Golden Boy Promotions representative said this week that no firm timeframe exists for an announcement.
"That's up to Floyd," said GBP's Nicole Becerra, adding that CEO Richard Schaefer "has nothing to confirm" at this point. The company's founder, Oscar De La Hoya, also declined comment.
As for Bradley, who's begun his nine-week training camp for the Pacquiao sequel -- a cardio-heavy regimen in which he shifts to a vegan diet to help him slim down from a walk-around weight of 170 pounds -- he doesn't anticipate Mayweather struggling regardless of whom he chooses.
In fact, the only man he envisions putting up much of a fight currently reigns at 168 pounds.
"I think (WBA champion) Andre Ward gives him issues," Bradley said. "If they fought at a lower weight, that fight would be like a chess match. Andre Ward is like Kobe. You got Jordan, you got Kobe and people are all like 'Who's better?' It depends on how you rank it. Who's got more rings? Well, of course, Mayweather's got more rings. But Andre Ward is right there with him."
Weekend Watch List
ESPN -- Friday, 9 p.m. ET
"Boxcino" tournament quarterfinals -- four six-round bouts, lightweights
SHOWTIME – Friday, 10:45 p.m. ET
Angelo Santana vs. Henry Lundy -- 10 rounds, lightweights
Amir Imam vs. Jared Robinson -- eight rounds, junior welterweights
HBO – Saturday, 5 p.m. ET
Miguel Vazquez vs. Denis Shafikov -- IBF lightweight title
Zou Shiming vs. Yokthong Kokietgym -- eight rounds, flyweights
Show Comments
Hide Comments
Ranallo is leaving WWE after 16 months as the voice of SmackDown

Braun Strowman straight flipped an ambulance and Raw added a number of new superstars

Gotch, one half of the former NXT tag team champions, mutually agreed to part ways
Two thrilling debuts added pep to a SmackDown show that suffered from a lack of creativity

A WWE fan favorite, Angle was inducted into the Hall of Fame just three days ago

The Raw after WrestleMania is always a hot show, and Monday night certainly had its bright...