Even in wheelchair, former Arizona State ballplayer Hahn clears hurdles
A promising Arizona State prospect, Cory Hahn was paralyzed in a head-first slide. Adjusting to life in a wheelchair, Hahn graduates from ASU with new goals, including work in baseball.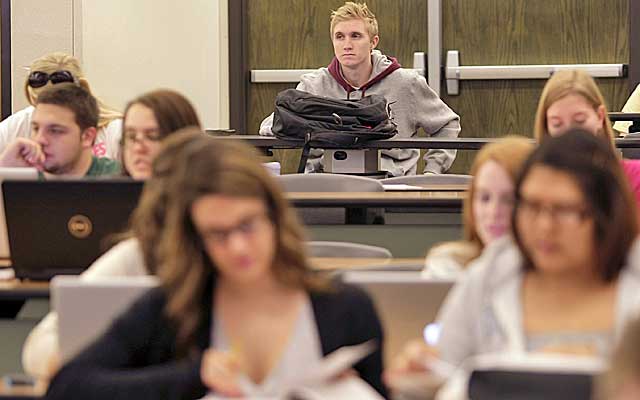 Damn right he's graduating.
This is Cory Hahn we're talking about, not some random quitter. Life is full of random quitters, and not enough Cory Hahns to show us how it's done. Hahn is graduating from Arizona State -- the ceremony is Wednesday -- and he's doing it in four years. Any idea how hard that is? Any idea how hard that is for a guy who took nearly a year off after injuring himself on the baseball field as a freshman?
When you get right down to it, given that his 2011 calendar year was pretty much an academic washout, Cory Hahn is graduating in three years. Plus he has a job lined up with the Arizona Diamondbacks. It's not the baseball job he dreamed about at Mater Dei High School in Santa Ana, Calif. -- where he pitched and played outfield and was the state player of the year and a 26th-round draft pick of the San Diego Padres -- but things happen.
Cory Hahn broke his neck.
It happened on Feb. 20, 2011, when he was trying to steal second against New Mexico. Hahn slid head-first, collided with the second baseman and suffered a burst fracture of his C5 vertebra. As paramedics cared for Hahn, ASU coach Tim Esmay told him where he was.
"You're lying on second base," Esmay said.
"I'm on the base?" Hahn asked.
"Yeah," Esmay said. "You were safe."
"Damn right I'm safe."
****
"I used my hand," Hahn tells me when I ask how him he answered my phone call, and don't I feel stupid? Of course he used his hand. Even if his hand is attached to his arm, which is attached to his shoulder, which is attached to his neck, which is broken. And his C5 vertebra didn't just break, but suffered a burst fracture. That's more like an explosion, with shards driven into the spinal cord, not far below his skull.
People who suffer a C5 burst fracture are typically compromised below the elbow, and such was the case for Hahn. He remembers getting out of the hospital in the spring of 2011 and his friends wanting to go to dinner to celebrate. "Yeah, let's go for it!" Hahn responded, but then ...
"I get to the restaurant and remember, 'Wait a minute, I can't feed myself.' I was completely embarrassed. I came home and I was depressed. It took me about three days, but I figured out how to hold a cheeseburger and hold a fork, and from there I was golden."
Eating was simple compared to learning again how to drive.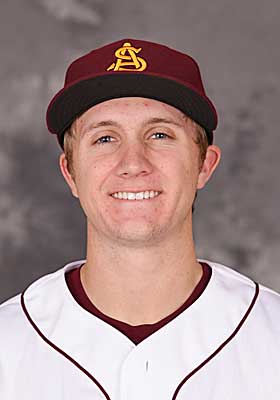 "I gave it a shot about eight months after the injury and I failed miserably," he says. "I don't know if I wasn't strong enough, but it really got me down. I was like, 'Wow, this might not ever be possible again.' It wasn't even a success at all. It was a complete failure."
I get it, I tell Hahn. It didn't work. He starts laughing.
"If you were there, you'd know," he says. "Unstable in the seat, not having the strength to turn the wheel. When you have to learn to drive [with this injury], you get adaptive equipment, go thru classes, all of it. We started in a parking lot and never got out."
Several months later he tried it again. Complete success.
"It was an exciting time," he says. "I was smiling ear to ear: OK, I got this. Now I can make the [five-hour] trip from Arizona back to California and that stuff. The freedom has been amazing, to have that independence back. When I failed I was pretty bummed, but I turned it into, 'Now it's a goal. Now it's something I need to achieve.'"
Damn right he's driving.
****
"I used my arms," Hahn tells me when I ask him how he got around campus the last three years, and don't look at me like that. By this point in the conversation I knew he could answer a phone, hold a cheeseburger, even drive a car. But get around the Arizona State campus? That place is huge. Some buildings are nearly a mile apart, and there are only 15 minutes between classes. So I asked Hahn: What kind of wheelchair did you use?
"I used my arms," he says. "I was always adamant about getting a manual chair, using my arms. I've had my fair share of days where it's raining, and I'm soaked, but on campus I'll just wheel from class to class. Couple times I've had to get all the way across campus, but I can get there in time. I'm a little out of breath but I can get there."
That wasn't the plan, not that anything about Cory Hahn's college experience has gone according to plan. But it wasn't. After he essentially took off the 2011 calendar year -- he dropped out in February and managed only nine credit hours online over the next 11 months -- Hahn returned to school in January 2012. His dad came with him, leaving his job as a sales rep in California to be with his son, and for two weeks Dale Hahn helped Cory get from class to class, waiting for him outside. One day Dale stepped away briefly to do some errands and Cory's class got out early, so he headed for his next class alone. He sent his dad a text message:
Hey, class is over, I'm going to the next one. If I make it, I make it. If I don't well I don't.
"I made it," Hahn says. "It was another moment: OK, I can do this."
That first semester back, Hahn took 21 credit hours. If you've gone to college, you know how absurd that is. A full load is 15 hours -- and Hahn took a full load, plus two more classes. After taking off most of the previous year, he knew just one way to make it up: Ratchet up the pace, and never let off the throttle. Hahn took 20 credit hours the next semester, and has taken at least 18 hours ever since.
That's how a college student graduates in basically three years. There have been victories along the way, from the cheeseburger to the car to the student-assistant coaching job on the baseball team, and there has been support. When Arizona State president Michael Crow learned Dale Hahn was living in a nearby hotel, he gave him a staff apartment on campus. And last June the Arizona Diamondbacks drafted Hahn, whose No. 34 is an inspiration around Arizona State, in the 34th round. That wasn't a media gimmick, either. The D-backs have brought Hahn to the stadium several times, had him shadow employees to learn various parts of the business, and will give him a job when he graduates. Hahn plans to meet with the team, and the human resources department, in a few days.
After that he'll work for the Diamondbacks -- and volunteer for spinal-cord research. Hahn was in California this weekend as an ambassador for the Wings For Life World Run, a global event that featured 35,000 runners and raised more than $4 million. Hahn has been following the breakthroughs in research, and says the biggest one since his injury happened last month at the University of Louisville, where electronic stimulation is being credited with helping four paralyzed men move their legs.
"It's awesome to see the steps going in the right direction," he says. "Now that they're seeing actual results, it motivates the researchers and everybody to keep working. Also it ties in with the [Wings for Life] run that just happened. The money they're raising isn't going to waste.
"It may not be tomorrow, it may not be a year from now, but it is going to happen down the road. And you have to be ready when it happens."
Damn right you do.
Show Comments
Hide Comments
Ranallo is leaving WWE after 16 months as the voice of SmackDown

Braun Strowman straight flipped an ambulance and Raw added a number of new superstars

Gotch, one half of the former NXT tag team champions, mutually agreed to part ways
Two thrilling debuts added pep to a SmackDown show that suffered from a lack of creativity

The Raw after WrestleMania is always a hot show, and Monday night certainly had its bright...

A WWE fan favorite, Angle was inducted into the Hall of Fame just three days ago