For Mike Brown, life in shadow of NFL icon father has been tough
Quietly, slowly, Mike Brown has the Bengals on the rise. But life in the shadow of an NFL icon father is tough business.
• 5 min read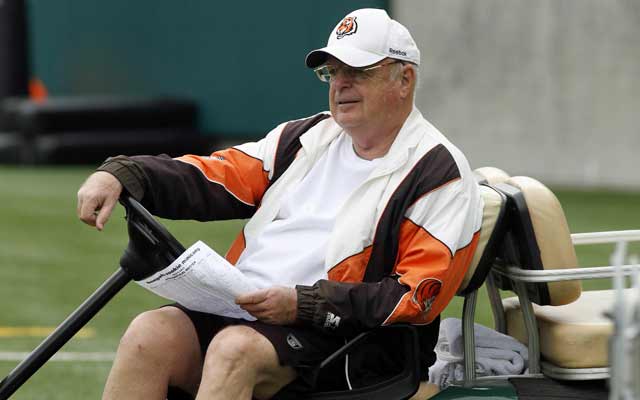 The first time Andrew O'Toole interviewed Cincinnati Bengals owner Mike Brown, Paul Brown's son didn't give him much information. Mike, you see, wasn't interested in talking about personal relationships. Not about his mother and not about his father.
The second time the two talked, Mike Brown had loosened up and he had begun to trust O'Toole a little more.
But some walls remained firmly stuck in place, unyielding and unlikely to fall under the heat of questioning or comfort.
"It was really hard to get a read on him," said O'Toole, the author of the 2008 biography, Paul Brown: The Rise and Fall and Rise Again of Football's Most Innovative Coach. "He was so hesitant to talk about anything. It was like pulling teeth. I believe he adored his father, reveres him. I think his dad taught him quite a bit about the business side. But I don't know how much Mike knows about football."
This is the view the outside world sees of Mike Brown, the son of the legendary football innovator who's thought of as one of pro football's most important coaches. Brown won titles with the Browns, and he helped bring pro football to Cincinnati. He introduced coaching, scouting and player personnel methods that are still used by coaches to this day. He is a legend.
But what has his son ever done? Well, he took over ownership of the Bengals after Paul Brown died in 1991, and since then, Cincinnati has accumulated just four winning records and four playoff appearances.
There's little doubt that Mike Brown has a strong business acumen and he seems like a nice-enough man who's overly loyal to his employees. But he's not Paul Brown, and he never will be.
That's what the outside world sees, at least. And, just like in his interview with O'Toole, Mike Brown doesn't talk much about it. It's a view Mike Brown does little to correct. As the team owner, he speaks to reporters on the record just once a year, in the days before training camp at a media luncheon. Other than that, it's rare to hear the sound of his voice (the Bengals did not respond to a CBSSports.com interview request for Brown).
It might not be fair, but Mike Brown, as it relates to the NFL, lives in the shadow of his father. But is it a shadow that imprisons Mike? Or does it keep him comfortable in the cool shade? 
"When you decide to go in the same profession as your dad and your dad is an icon in that profession and achieved as much Paul did, that's a tough shadow, man," said Dave Lapham, a 10-year NFL guard who played for Brown in Cincinnati from 1974-75 and now is the team's radio color analyst. "I'm sure Mike has felt that. It became almost a, 'Oh, he'll never be what his dad was.' That's a big hole to dig out of. No matter what he does or how much success he has, he'll never crawl out of that hole."
For most of his tenure as the team owner, though, Mike Brown seemingly has been content to grab his shovel and continue digging. The coaches the team hired (Dave Shula, Bruce Coslet, Dick LeBeau) after he fired the popular Sam Wyche were disastrous, the scouting department reportedly is smaller than most other teams in the league, Brown hasn't shown much personnel awareness in his tenure as general manager, and the team often is tone-deaf to doing right by its city.
To rip Mike Brown is fair if we're talking about the past. But the present is a different story. Suddenly, the Bengals and their owner are on a nice winning streak, putting together nice-looking drafts every season since 2009 and making back-to-back playoff appearances for the first time since 1981-1982 and for only the second time in team history.
Mike Brown is still the owner, right? Then why is the franchise suddenly looking more competent?
"They've gotten modern," said Mo Egger, a Cincinnati sports radio host who's been a Bengals fan since the 1985 season. "They're not there yet. It was a year ago when they were going to get their players iPads. I'm sure Mike was like, 'What the hell is an iPad?' I say that almost endearingly. But he understands it's something the coaches needed. They've evolved more in the past two or three years than they ever have before.
"They've become a 21st century NFL team. Mike Brown is not leading the charge, but he's at least not getting in the way."
By the time Mike Brown was old enough to observe his old man in action, Paul Brown was leading Cleveland to glory, but by the time Mike Brown entered middle age, he watched his father transform into an old-school coach. Paul Brown didn't relate to players as he once did -- and he probably didn't care. Others thought the game had passed him by.
Maybe Mike Brown saw the archived way Paul Brown ran his team while still having success and thought that was the best way to run his business after his father died.
"It was, 'Why can't we do it the way my dad it?'" Egger said. "The reality is that the lesson that Mike could have used is that Paul was an innovator. That's been the irony for me. His dad today would have been well out in front of the league."
Now, though, the Bengals are on a positive track. One reason Mike Brown has helped turn around the team's fortunes is because he trusts those around him. Another reason is because the fan base was fed up and stopped showing up for games and the Bengals realized they needed to make a change. Many of those in his inner circle are family members who eventually will take over the team after Brown, but that group also includes coach Marvin Lewis, who has survived a decade in the franchise despite a coaching record of 79-80-1.
"I think Mike still makes the final calls," Lapham said. "But I think he's listening more now and I think he realizes at this stage of his life, he's going to let other people do more. That's just a normal evolution."
No matter what, though, Mike Brown will always be his father's son. But most likely, your father isn't the legend Paul Brown was. You haven't had to live in that imprisoning, heat-deflecting shadow. You probably don't know how that feels. If you had and if you did, maybe, just maybe you'd feel some sympathy for Mike Brown. And maybe, you'd act the exact same way.
Show Comments
Hide Comments
Ranallo is leaving WWE after 16 months as the voice of SmackDown

Braun Strowman straight flipped an ambulance and Raw added a number of new superstars

Gotch, one half of the former NXT tag team champions, mutually agreed to part ways
Two thrilling debuts added pep to a SmackDown show that suffered from a lack of creativity

A WWE fan favorite, Angle was inducted into the Hall of Fame just three days ago

The Raw after WrestleMania is always a hot show, and Monday night certainly had its bright...