James Franklin the right man -- and perfect coach -- for Penn State
James Franklin took the worst job in the SEC, at Vandy, and turned the Commodores into winners. Imagine what he can do at Penn State.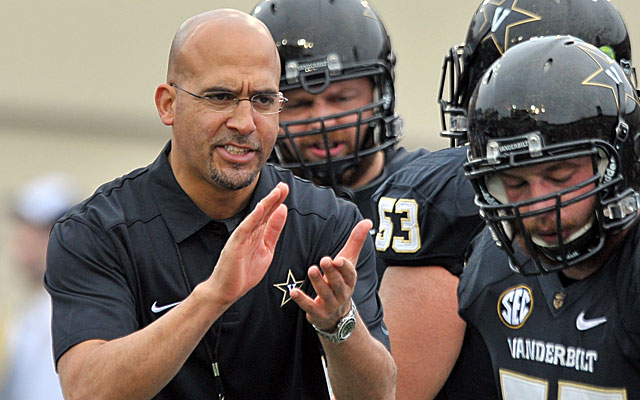 James Franklin wasn't a good hire for Penn State. A good hire, if flawed, would've been Al Golden.
James Franklin wasn't a great hire for Penn State. A great hire, if not going to happen, would've been a big-time proven winner like Mike Gundy or Mark Dantonio.
James Franklin was neither a good hire, nor a great one.
James Franklin was perfect.
Just as Bill O'Brien was the right guy at the right time to replace Joe Paterno after the Jerry Sandusky scandal, James Franklin is the right guy at this time to replace O'Brien. Major difference between the two is this: We had no idea O'Brien was the right guy two years ago. Who knew? He had never been a head coach, had actually flamed out at his last job in college -- as offensive coordinator at Duke, his teams averaged less than 17 points in 2005 and '06 -- and then had spent a few years with Bill Belichick at New England. Hey, everybody looks good under Belichick. Even Charlie Weis. So who knew O'Brien was going to be the right mixture of leadership, focus, coaching and recruiting for Penn State? Who knew he was the perfect hire in January 2012? Not me. And not you.
But James Franklin, that's different. That's obvious. We know he's perfect, although maybe some of you will beg to differ because of the rape scandal at Vanderbilt. Look, I'm not going to dismiss or gloss over what happened there. That was a tragedy, what happened at Vanderbilt, and because it involved James Franklin's football program, it involved James Franklin. And since Penn State is still recovering from the Sandusky tragedy, well, James Franklin makes no sense. Not now. That's what some will say, and I can't say they're wrong. I can say only two things:
1. Time will tell.
2. Nothing about the way James Franklin has presented himself makes me think he did anything wrong at Vanderbilt.
Believing in the infallibility of a coach is dangerous ground, as Joe Paterno so feebly demonstrated, but we can judge Franklin only on what we know right now, just as we lionized Joe Paterno on what we knew before we knew about the Sandusky tragedy. And what we know now about James Franklin is that he's a good and decent man, and so my belief -- and very clearly Penn State's belief -- is that while terrible things are alleged to have been done by some of his players at Vanderbilt, terrible voids of leadership were not done by James Franklin.
But again, see (1). Time will tell.
Meantime, as a football coach and even as a Pennsylvania native, James Franklin is perfect. Football? The guy turned Vanderbilt into a winner, and he did it when the SEC was riding high, amid a streak of seven consecutive national championships and during a timeframe when it was not uncommon to see five SEC teams ranked in the national top 10. There are few gimme wins on the SEC schedule, and for years the gimme win was Vanderbilt.
Not under James Franklin, who picked up the pieces after Vanderbilt's 2-10 season in 2010 under Robbie Caldwell -- and put together a 6-6 mark that led to a bowl game, albeit a bowl loss for a 6-7 record. That was 2011. In 2012 Vanderbilt went 9-4. In 2013 Vanderbilt went 9-4 again. In those two seasons the Commodores won more SEC games than they lost (9-7).
At Vanderbilt.
No offense, Vanderbilt. The world knows now that the football team there can be competitive in the SEC, and maybe the guy who replaces Franklin will continue to prove it. Maybe not. All we know for sure is this: Franklin did what most folks -- including me -- didn't think could be done at Vanderbilt. And then he did it again in 2013.
He has Vanderbilt poised to do it again in 2014 because he has recruited at a high level, at Vanderbilt, which doesn't recruit off the same menu as the rest of the SEC. Athletes that can get into other schools -- reasonably qualified high school recruits, from an academic standpoint -- couldn't get into Vanderbilt. It's the same as what they face at Stanford and Duke and Northwestern, which is why the coaches of those schools all deserve praise as well.
But the story here is Franklin, who won at the worst football job in the toughest football conference in the country. If he could do that there, how will he do in one of the best jobs in one of the weaker BCS leagues? He'll win even bigger. Before, he was racing the biggest boats and beating them more often than not -- despite the wind in his face. At Penn State he will have gale-force breezes blowing into his sails. He's about to go fast, and win big.
And best of all for Penn State, he's a state guy -- grew up in the Philadelphia area, played quarterback at East Stroudsburg (Pa.) University -- but not a Paterno guy.
Make no mistake, Penn State didn't need a Paterno guy. Not yet. Still too soon. Al Golden? Great coach, no doubt about it. That's why I called him a "good" hire in the first paragraph. His football acumen, even his character, are beyond reproach. But he's a Joe Paterno guy -- played under him, coached one season under him -- and Penn State doesn't need that. The Joe-Bots would beg to differ, which really ends the argument right there. If there's one thing I've learned in the last few years, it's this: If the Joe-Bots are on one side of an issue, whether it's about Penn State or Paterno or life in general, the opposite side is the right side.
Joe-Bots wanted Al Golden?
Then Penn State can do better.
And Penn State just did. James Franklin is young (41) and charming (watch this) and eminently likeable, the kind of person who will win over people in a way even the decent Bill O'Brien couldn't. Franklin is a Pennsylvania native who surely just got one of his dream jobs. Maybe he leaves for the NFL some day, but maybe not. It's not hard to imagine Franklin staying at Penn State for 25 years, winning games and influencing people -- and doing both in the right way.
Show Comments
Hide Comments
Ranallo is leaving WWE after 16 months as the voice of SmackDown

Braun Strowman straight flipped an ambulance and Raw added a number of new superstars

Gotch, one half of the former NXT tag team champions, mutually agreed to part ways
Two thrilling debuts added pep to a SmackDown show that suffered from a lack of creativity

A WWE fan favorite, Angle was inducted into the Hall of Fame just three days ago

The Raw after WrestleMania is always a hot show, and Monday night certainly had its bright...