Khan prepares for Collazo, with an eye toward Mayweather
Former 140-pound champion moves up a weight class with designs on becoming next in line for "Money" superfight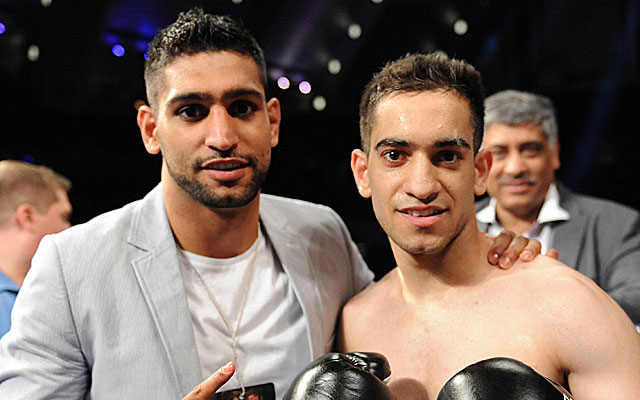 He's the 147-pound elephant in the room.

Though Amir Khan and Luis Collazo will meet in a 12-round welterweight fight in Las Vegas on May 3, it's difficult to get Khan to speak exclusively about his imminent opponent without at least some mention of divisional kingpin -- and cash cow -- Floyd Mayweather Jr.

Mayweather, who holds the World Boxing Council (WBC) championship at 147, will fight World Boxing Association (WBA) title-holder Marcos Maidana in the main event at the MGM Grand, and it's widely anticipated that his subsequent bout will be with the winner of the Khan-Collazo match.

For Khan, it'd be an opportunity he already believes he's waited for long enough.

The 27-year-old UK native was a two-belt champion at 140 pounds from 2009 to 2011 -- including a successful WBA title defense against Maidana in Las Vegas -- before he lost his championships via narrow split decision to Lamont Peterson in Washington, D.C.

He was stopped in four rounds by Danny Garcia in a bid to regain his titles seven months later and has fought just twice more since -- defeating Carlos Molina by 10th-round stoppage in December 2012 and outpointing Julio Diaz over 12 rounds in April 2013.

Still, he was reportedly near agreement last fall on a deal to meet Mayweather, before Maidana abruptly joined the conversation by violently wresting his WBA welterweight crown from Adrien Broner.

Khan won a Mayweather-orchestrated fan poll supposedly created to choose his next opponent, but "Money" nonetheless went with Maidana and left Khan to bide his time with Collazo, a Brooklyn-born southpaw who reinvented himself with a second-round erasure of Victor Ortiz in January.

Khan is ranked fourth at welterweight by the WBA and second by the WBC, while Collazo is slotted second and eighth by those two organizations, respectively, along with 17th by the International Boxing Organization (IBO) and 20th by the British-based Independent World Boxing Rankings.

"I was upset, but look, I've got someone else in front of me now, Luis Collazo, who is going to be giving 100 percent in there," Khan said. "So all of my focus is on that fight now. Whatever happened in the past I just let it go, and, you know, I'm just focusing on this next fight now. It has been tough mentally. We kind of turned that around, and we worked it toward our advantage by working in the gym."

The Collazo match will be Khan's first as a full-fledged welterweight.

He was between 134 and 139 pounds for each of his first 21 bouts, then was between 139 and 140 for eight consecutive title fights from 2009 through 2012. He weighed 139¾ for the post-championship defeat of Molina, then moved to a career-high 142 for the Diaz fight one year ago.

At a lanky 5-feet-8½, he believes making the full-time move to welter will not only put him squarely in the mix for the big names and potentially big fights that already reside there, but it'll also no longer force him to endure the strength-sapping loss of an extra seven pounds to reach 140.

Call it an addition by a lack of subtraction, if you will.

"It used to kind of make me really weak, I couldn't hold energy, the power wasn't there and I used to walk into the fight literally, very weak," Khan said. "You can always tell how your body is, how your body's feeling. I'm not going to be a small 147 fighter. I think this weight is going to be perfect for me. I'm going to be exactly where I need to be. I'm going to be nice and strong and I'm going to be nice and fresh."

The Collazo fight will be Khan's third since leaving the training tutelage of Freddie Roach, the six-time Boxing Writers Association of America trainer of the year who also works with Manny Pacquiao, the World Boxing Organization's champion at welterweight. Khan succeeded Roach with Virgil Hunter, who also works with 168-pound champion Andre Ward and 154-pound contender Alfredo Angulo.

"He is very committed to the sport, he's always exciting," said Richard Schaefer, chief executive officer of Golden Boy Promotions. "I've never seen Amir Khan in a bad fight. I mean, the guy's got balls, you know? Taking on somebody like Luis Collazo, moving up in weight, not just taking some sort of a tune up, he wants to go in the welterweight division with a bang."


Weekend Watch List

ESPN2 -- Thursday, 9 p.m.
Josesito Lopez vs. Aron Martinez -- 10 rounds, junior welterweights
Thomas Williams Jr. vs. Enrique Ornelas -- 10 rounds, light heavyweights

ESPN -- Saturday, 5 p.m.
Wladimir Klitschko vs. Alex Leapai -- IBF/IBO/WBA/WBO heavyweight titles

Showtime -- Saturday, 9:30 p.m.
Keith Thurman vs. Julio Diaz -- 12 rounds, welterweights
Lucas Matthysse vs. John Molina -- 10 rounds, junior welterweights
Omar Figueroa vs. Jerry Belmontes -- WBC lightweight title

UniMas -- Saturday, 11 p.m.
Jose Zepeda vs. Rob Frankel -- eight rounds, junior welterweights
Saul Rodriguez vs. Miguel Zamudio -- eight rounds, featherweights

Fox Sports 1 -- Monday, 9 p.m.
Michael Perez vs. Jorge Romero -- 10 rounds, junior welterweights
Show Comments
Hide Comments
Grading the final SmackDown Live before WrestleMania 33, which was as ho-hum as it gets

A match for the SmackDown women's title will be one of three kickoff show matches

Wyatt is set to main event WrestleMania 33 to conclude a captivating, months-long storylin...
The match card for WWE WrestleMania 33 is absolutely loaded, but how will it all play out?

The final Raw before WrestleMania 33 started slow but picked up the pace and closed on fir...

WWE's superstars of tomorrow compete in a fun-filled match card that could rival WrestleMania...