Live Like An Athlete: Reggie Bush on Health & Fitness
NFL star Reggie Bush is a health and fitness advocate who believes attention to wellness should begin in childhood. From his youth football camps to his partnership with Taco Bell Foundation for Teens, Reggie is spreading the good word. He joins Erin Sharoni to discuss his approach in this special episode.
Reggie Bush is no stranger to the benefits of fitness. While it's pretty safe to say that no one can broach NFL stardom without a healthy body and mind, Bush points out that attention to wellness begins at the youth level.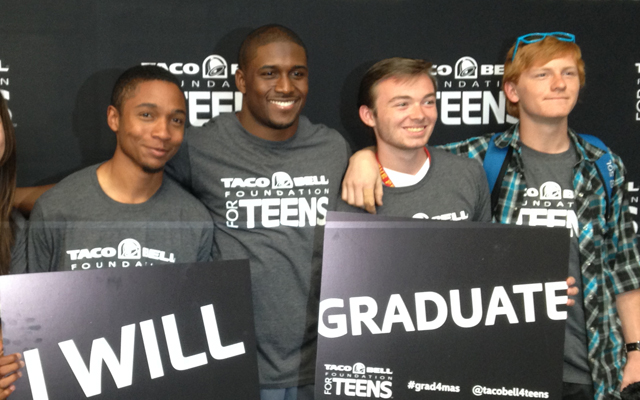 Last Friday, he surprised kids at his former high school in La Mesa, California by showing up to take over a gym class as an ambassador for the Taco Bell Foundation for Teens. Encouraging students to set goals for graduation and stressing the importance of education, Bush also acknowledges how integral health is to success:
"For me, fitness is a natural part of what I do...it's been a part of me for so long because I've been playing sports since I was 7 or 8 years old. I've always felt from [the time I was] a little kid that fitness was important, that being in shape was important...it's very important for kids to know that being healthy and in shape is just another way to put years back on your life. We all want to live long."
Wondering what Reggie Bush's take on nutrition is, or what his offseason training regimen looks like? Check out this special episode for the full scoop.
For more on Reggie Bush's partnership with the Taco Bell Foundation for Teens, head over here. For all things social, you can follow Reggie on Twitter and on Instagram, where he's just posted his first selfie.
You can download this episode here. Be sure to subscribe to us on iTunes, submit your questions for future guests at LikeAnAthlete@cbsi.com, and send a tweet to @ErinSharoni or @CBSHurc. Keep it clean. Just like your plate.
Show Comments
Hide Comments
Ranallo is leaving WWE after 16 months as the voice of SmackDown

Braun Strowman straight flipped an ambulance and Raw added a number of new superstars

Gotch, one half of the former NXT tag team champions, mutually agreed to part ways
Two thrilling debuts added pep to a SmackDown show that suffered from a lack of creativity

A WWE fan favorite, Angle was inducted into the Hall of Fame just three days ago

The Raw after WrestleMania is always a hot show, and Monday night certainly had its bright...