Maria Sharapova announces she failed a drug test at Australian Open
Maria Sharapova announced on Monday that she failed a drug test at the Australian Open for the banned substance Meldonium.
• 1 min read
Maria Sharapova announced on Monday that she received notice she failed a drug test at this year's Australian Open. 
"I wanted to let you know that, a few days ago, I received a letter from the ITF that I had failed a drug test at the Australian Open," said Sharapova during a press conference. "I did fail the test, and I take full responsibility for it."
Sharapova said she had been taking Mildronate, a medicine that contains Meldonium, for the past 10 years as prescribed by her family doctor. Meldonium was added to the World Anti-Doping Agency's list of banned substances for 2016. Sharapova said she received that list of new banned items on Dec. 22, but did not look it over and continued taking the medicine. 
The International Tennis Federation has not yet determined the length of her suspension as the two sides go through the adjudication process. Sharapova insisted that, despite her recent run of injuries, she will come back to tennis following the failed test. 
"I made a huge mistake. I don't want to end my career this way," said Sharapova. 
Sharapova cited multiple health issues as to why she began taking the drug back in 2006. 
"I was first given the substance back in 2006," Sharapova recalled. "I had several health issues going on at the time, I was getting sick very often, I had a deficiency in magnesium, I had irregular EKG results, and I had a family history of diabetes."
As to why she kept using it, she simply explained, "It made me healthy and that's why I continued to take it."
Sharapova lost in the quarterfinals of the Australian Open to Serena Williams in straight sets. More recently, she withdrew from a tournament in Palm Springs, which she explained in her press conference was due to injury and not as part of a "silent ban" due to the failed test.
You can watch Sharapova's full press conference from Monday here: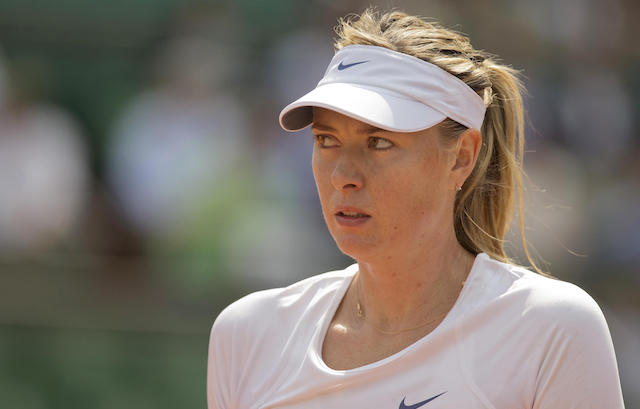 Show Comments
Hide Comments
Our Latest Stories
Table tennis trick shots and sketch comedy ... what else do you need?

Alistair Brownlee decided that finishing with his brother was more important than winning

The main attractions in Chicago will be the heroes in a half-shell
The Woodlands engaged in a tremendous show of sportsmanship

Gordon was in disbelief after an apparent murder-suicide

Travis Tarrants was not happy about being passed over for the position