Mayweather vs. Canelo Live Blog
Get live analysis and round-by-round coverage as Floyd Mayweather takes on Canelo Alvarez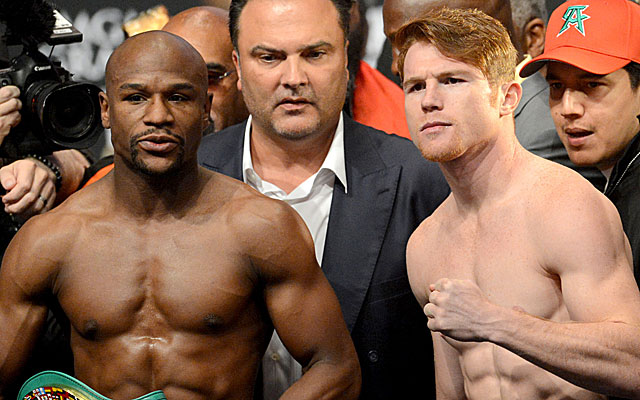 10:24 p.m. ET: For the punch-counters in the audience, it seems the final Showtime stats from the previous fight had Cano landing 273 of 681 shots over 10 rounds compared to 212 of 669 for Theophane. Cano had a better percentage of jabs landed - 33 to 23 - and a better ratio on power shots as well, 44 to 41. Alongside the paperwork, the latest big-screen intros in house go to Charles Barkley, Bernard Hopkins and Amir Khan.

10:18 p.m. ET: Main event referee Kenny Bayless is making the rounds backstage giving instructions. His appearance with Alvarez in the arena prompted another vocal reaction from what, at least so far, seems a more enthusiastic - if not more plentiful as well - fan gathering for the pound-for-pound challenger.  
10:14 p.m. ET: Round three of a tame affair begins between Smith and Molina. The challenger spent the first six minutes in relatively hot pursuit of the backpedaling champion, but Smith has begun to stand his ground and initiate exchanges. In the meantime, Canelo Alvarez made his first appearance on the in-house cameras, looking calm in a red warmup suit and a bit fuller in the face than when he scaled 152 pounds and Friday's weigh-in.
10:04 p.m. ET: The other 154-pound title fight of the night is being announced, this one for the IBF championship and involving incumbent claimant and Las Vegas native Ishe Smith against veteran Carlos Molina. Smith is the first Las Vegas born and raised fighter to win a world title and is making his first defense of the crown.
9:55 p.m. ET: Jack Nicholson in the house and gets a hearty roar from the crowd, as well as a shout-out from emcee Tattoo. Meanwhile, Jimmy Lennon reads the split-decision cards, 98-92 and 97-93 for Cano, a harder-to-fathom 96-94 for Theophane. The 97-93 card seemed the most correct of the collection. Mexico 1, London 0.
9:50 p.m. ET: Cano and Theophane enter the 10th and final round of what's become a lively affair with several ringing blows by both men. Cano has gotten the consistent better of things with a perpetual plodding aggression that slowed Theophane to a crawl compared to the early rounds.
9:41 p.m. ET: Jim Gray with Floyd Mayweather Jr. on the big screens, to little in-building acclaim. "I'm not overlooking this guy," he said. Says he's got no concern about hurt hands, but will "cross fingers and hope for the best."
9:33 p.m. ET: Moment when it's tough to be a boxer... Theophane landed a whistling right hand, right on the button as the round ended. Sweat flew from Cano's head and the crowd "ooohed," but Cano simply quick-stepped to his corner, seemingly unimpacted.
9:25 p.m. ET: Rosie Perez gets a Showtime interview on the pay-per-view broadcast and on the arena's big screens. Meanwhile, Theophane and Cano just closed round three of a so-far uneventful bout, though Cano has begun scoring well to the body - following his career M.O.
9:02 p.m. ET: Golden Boy Promotions emcee and Los Angeles radio personality Tattoo in the ring, warming up the crowd as the pay-per-view broadcast begins. Welterweights Ashley Theophane and Pablo Cesar Cano are scheduled to start it off with a 10-rounder. Arena still half-empty at best, though press row has filled nicely.
8:50 p.m. ET: All three judges gave unbeaten super middleweight Luis Arias a wide unanimous decision in his six-round super middleweight match with James Winchester. Arias, who wore a Green Bay Packers logo on his trunks and is a member of Floyd Mayweather Jr.'s "Money Team," improved to 7-0 as a pro. The pay-per-view portion of the night is next, beginning at 9 p.m.
8:30 p.m. ET: Punches have been thrown at the MGM Grand. Three fights' worth of them, as a matter of fact. The pre pay-per-view portion of the undercard began and has continued in front of a less-than-half-full building, with Chris Pearson and Lanell Bellows winning their middleweight and super middleweight bouts by first-round stoppages, followed by Ronald Gavril winning an eight-round unanimous decision over Shujaa El Amin in an eight-round super middleweight bout. Now in the ring, super middleweights Luis Arias and James Winchester for a six-rounder.
---
It's finally fight time in Las Vegas.
Super-welterweight rivals Floyd Mayweather Jr. (44-0) and Saul "Canelo" Alvarez (42-0-1) have exchanged dirty looks and incendiary words for three months, but they'll meet up Saturday night at the MGM Grand Garden Arena with an intent to transition from posing to punching.
The atmosphere around the city's signature fight arena clearly revealed a captivated fan base as early as Saturday morning, when supporters from each camp posed in rival T-shirts alongside every available fight poster in the hotel, the casino and the venue lobby. One all-in Alvarez supporter, in fact, strolled through a half-filled casino floor in full Mexican flag face paint and a rooster stuffed animal atop his head -- while blowing a makeshift horn to the tune of "Ca-Nel-O, Ca-Nel-O."
The match has already yielded a live gate in excess of $20 million, according to Golden Boy Promotions executive Richard Schaefer, and the Showtime pay-per-view broadcast is expected to at least take a symbolic run at a 6-year-old record of 2.4 million buys.
The PPV show begins at 9 p.m. ET and is available for $64.95 in standard definition and $74.95 in high definition. Gates open at 5 p.m. ET and Mayweather and Alvarez are expected in the ring well after 11 p.m. ET -- after three lead-in bouts on the broadcast.
Mayweather was still a solid betting favorite as of mid-afternoon, with sports.bovada.lv requiring a $280 wager on him to return $100. On the other side, a $100 outlay on Alvarez would return $220 if the 23-year-old springs an upset.
That's possible, but not likely, according to former welterweight championship claimant Kermit Cintron, who lost via fifth-round TKO when he faced Alvarez two years ago in Mexico City.
Cintron was 33-4-1 in an 11-year pro career when he faced Alvarez, who was then just a few months past his 21st birthday. And his pick isn't so much based on what Alvarez, now 23, isn't, but on what Mayweather -- undefeated in 44 fights at age 36 -- is.
"He can fight. He's pretty good, a lot better than what people think," Cintron said. "Speed and defense, and he's got some pop as well. I just think that Floyd will beat him to the punch with the intelligence. I'm giving Canelo four [out of 12] rounds." 
Show Comments
Hide Comments
Ranallo is leaving WWE after 16 months as the voice of SmackDown

Braun Strowman straight flipped an ambulance and Raw added a number of new superstars

Gotch, one half of the former NXT tag team champions, mutually agreed to part ways
Two thrilling debuts added pep to a SmackDown show that suffered from a lack of creativity

A WWE fan favorite, Angle was inducted into the Hall of Fame just three days ago

The Raw after WrestleMania is always a hot show, and Monday night certainly had its bright...