McDermott passes 3,000 in style, a departure for Creighton's star
Creighton's Doug McDermott deflects attention. Except for Saturday when he went off for 45 points to surpass 3,000 for a career on Senior Night.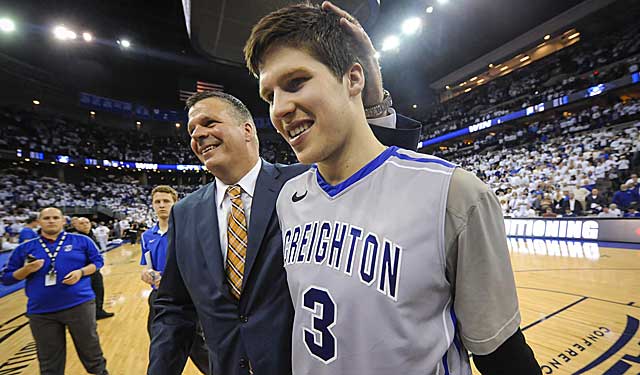 More hoops: McDermott is 8th to score 3,000 points | Latest news
OMAHA, Neb. -- It was late in the first half when Creighton's Doug McDermott made clear his intentions on Senior Night. He was going to get 3,000 points. He was going to set personal and arena scoring records. He was going to do all that, and he was going to lead Creighton to a victory against Providence, and he was going to do it in a way we've never seen from Doug McDermott.
He was going to get his.
After four years of playing a beautiful game, scoring efficiently and unselfishly and doing his damndest to deflect the attention of a basketball-watching nation away from himself and onto his teammates, McDermott made clear his intentions Saturday night with 5 minutes, 11 seconds left in the first half when he dribbled into the corner, saw 6-foot-11 teammate Will Artino alone under the basket, and ignored him.
This night wasn't about Artino. It was about McDermott, and he was on one of his hot streaks, so he launched a 25-footer in front of Providence's bench. It went in, because of course it did. McDermott had just made six shots in a row, then missed one before launching this 3-pointer that gave him 20 points well before halftime on a night he needed 34 to reach 3,000.
McDermott turned it on from there, getting to 32 with almost 12 1/2 minutes left in the game, then going out for a short rest. He came in a few seconds later, needing two points for 3,000, and quickly found himself with the ball on the wing, 24 feet from the basket. He wasn't open, so he dribbled twice -- backward -- and found himself 28 feet from the basket. The 3-pointer gave McDermott 35 points for the night and 3,001 for his career, and still he wasn't done. Creighton led Providence by 23 but there were 11 1/2 minutes left and McDermott wanted more, and he was going to get it. The CenturyLink Center Omaha single-game scoring record was 42 points, set by Cavel Witter in 2008.
Not anymore, it's not.
McDermott's career best was 44, set in 2012 against Bradley.
Not anymore, it's not.
Are you getting the picture of what happened here Saturday night? McDermott scored 45 points on Senior Night, passing Oscar Robertson and Hersey Hawkins to move into seventh place all time with 3,011. In the past few weeks he had chased down all-time NCAA greats Larry Bird (2,850), Elvin Hayes (2,884) and Danny Manning (2,951). In the first half he chased down Robertson (2,973). In the coming weeks he will chase down Keydren Clark (3,058) in sixth place and Harry "Machine Gun" Kelly (3,066) in fifth, and if Creighton goes deep enough into the Big East and NCAA tournaments, he could pass Alphonso Ford (3,156), Lionel Simmons (3,217) and Freeman Williams (3,249) for second place all time, behind only Pete Maravich's 3,667 points.
But in the second half Doug McDermott was chasing Walt Disney, because this is a movie, uplifting and family friendly and cartoonish. Fictional, you'd call it, as if it hadn't actually happened. But it did. In his final home game -- in this splendidly underrated basketball city, in front of the biggest crowd in Creighton history and playing for his father and coach, Greg McDermott -- Doug McDermott needed 34 points for 3,000 points ... and scored 45.
This can't be a surprise to anyone who saw what he did last season on Senior Night, which many assumed was his final game at Creighton. With the Missouri Valley regular-season title on the line and conference co-leader Wichita State in the building and the crowd chanting "one more year," McDermott scored 41 points. He took 18 shots and made 15, Creighton won 91-79, and then a few weeks later McDermott did something really crazy.
He said he was coming back for one more year.
They played that clip after the game Saturday night, when each of the team's four seniors -- McDermott, Ethan Wragge, Grant Gibbs and Jahenns Manigat -- was honored with a short highlight reel. All four seniors spoke, and it was Gibbs who turned his attention to McDermott and told him, "You're gonna be the greatest player I've ever played with, the greatest ever at Creighton, one of the greatest in NCAA history. The way you came with all the accolades, all the attention, and always made it about the team ... it's been special to watch."
And then we were watching McDermott's highlight reel, and in addition to a series of low-post buckets and long-range shots, the video showed him smiling into a camera and saying, "I've decided it's best for me to come back for my senior year."
He said that last year, but they showed it Saturday night and the crowd of 18,868 -- almost all of them still in the building, a half hour after the game ended, to honor the seniors -- erupted.
That was the last of so many special moments on the night. There was the pregame introduction, when the P.A. announcer said he was introducing Doug McDermott for the last time and a fan behind press row, a man of about 40, started crying.
There was the 28-footer for 3,000 points -- "No place on earth he'd rather have it happen than in this building," Greg McDermott said -- followed by a timeout called by his father so the crowd could try to love his son as much as he does. Greg walked onto the court and led the ovation, then backed away and let Doug have this moment.
Two of his fellow seniors thumped his hand or chest to celebrate the moment, and the third -- the twice-redshirted Gibbs -- walked over to whisper into his ear what defense Creighton was running. Sixth-year seniors, you know?
There was the last time Greg McDermott would remove these four seniors from a game at CenturyLink Arena, taking them out one at a time with 1:17 left -- Wragge, then Manigat, then Gibbs, then Dougie -- and hugging all of them but hugging his son longer. Greg rubbed his son's head as Doug walked down the bench, bit his lip, crossed his arms and turned around to coach the final 77 seconds of this 88-73 victory.
There was the way Doug McDermott acknowledged his parents during his postgame speech, thanking his mom for the athletic genes and calling his dad, "Coach Mac, Dad, whatever you want to call it."
But before that, there was "Sweet Caroline." They sing this song once a game in college arenas around the country, and when they sang it Saturday night with 3:47 left and Creighton leading by 15, Greg McDermott milked the moment by sending his team, his seniors, his son, onto the court for the final 60 seconds of the timeout.
The crowd kept singing. Doug McDermott was going to shoot free throws out of the timeout, so he stood at the line and listened. Finally the P.A. system turned off Neil Diamond, the referee gave McDermott the ball ... and the crowd kept singing. Distracting Doug McDermott? No. They were serenading him. He bounced the ball at the line as the crowd sang:
Reaching out ...
Touching me ...
Touching you ...
As the crowd hit that emotional crescendo, McDermott made the free throw. Because of course he did.
Show Comments
Hide Comments
Ranallo is leaving WWE after 16 months as the voice of SmackDown

Braun Strowman straight flipped an ambulance and Raw added a number of new superstars

Gotch, one half of the former NXT tag team champions, mutually agreed to part ways
Two thrilling debuts added pep to a SmackDown show that suffered from a lack of creativity

A WWE fan favorite, Angle was inducted into the Hall of Fame just three days ago

The Raw after WrestleMania is always a hot show, and Monday night certainly had its bright...