Pacers get forceful Game 7 from Stephenson, finally oust Hawks
The top-seeded Pacers avoided disaster by beating the eighth-seeded Hawks 92-80 on Saturday in Game 7 to advance to the second round of the NBA playoffs against the Wizards. Paul George had 30 points, Roy Hibbert rebounded with 13 points, and Lance Stephenson set the tone with physical enthusiasm.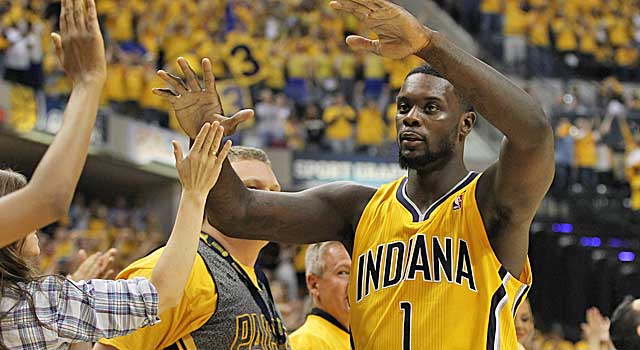 More postseason coverage: Playoff schedule, results | Latest news, notes
INDIANAPOLIS -- They wanted Roy Hibbert, who wasn't lousy for a change and was rewarded with the biggest crowd of reporters in the Indiana Pacers' locker room. They wanted David West, because the media wanted to ask the quotable veteran about Hibbert. They wanted Paul George, and because George scored 30 points and had 11 rebounds, they got him in the special room for press conferences.
The media didn't want Lance Stephenson, and that blows me away. Because along with Paul George, Lance Stephenson was the co-star of this game. George had the prettier stats, but Stephenson set the tone, a tone of effort and enthusiasm and physicality bordering on violence, a series of qualities that NBA coaches like to call "force."
Stephenson played with force, played with so much force Saturday that the Pacers were able to weather an early slump, surge to a lead and then coast to a 92-80 victory in Game 7 of their surprisingly difficult first-round series with the Atlanta Hawks. After avoiding a disastrous defeat to the eighth-seeded Hawks, the top-seeded Pacers will play the Washington Wizards in the second round.
Stephenson did this Saturday. That's my story, and I'm sticking to it. I told Stephenson as much, told him I was baffled that I had him all to myself in the locker room, and he just smiled and shrugged.
"I don't know why," was all he could say about the lack of interest in Lance Stephenson after a game in which he had 19 points (second-best on the team), 14 rebounds (led the team) and five assists (led the team). "But I don't care. All I wanted to do was win this game, and I think it showed."
It showed in some frightening ways. There was his offensive rebound late in the first quarter, the Hawks leading 23-17 and the crowd at Bankers Life Fieldhouse starting to grumble, when he jumped over Jeff Teague for George's missed 3-pointer and snatched the ball out of the air and scored all in one motion as Teague stood there, flatfooted and helpless.
There was the way Stephenson scored on an up-and-under move against Kyle Korver midway through the second quarter, only this was more like an up-and-through move, because once Korver was fooled into the air on the shot fake, Stephenson lowered his shoulder and went right through him for the bucket. Korver ended up sliding across the floor so hard that he almost took out teammate Paul Millsap, one bowling pin clattering into another. Lance Stephenson was the bowling ball.
And then in the third quarter he was something else, something magical, almost Magical, because he took the ball 75 feet from the basket, dribbled to midcourt and wasn't looking as Korver arrived from his blind side for the steal. Or maybe he was looking, because Stephenson dribbled behind his back as Korver flew by him, and now Stephenson was in the open court and attacking the rim and leaping into the air and throwing a no-look bounce pass to George Hill. Cutting along the baseline, Hill finished the play with a reverse layup -- and Stephenson cantered back for defense, slapping his thigh with his hand.
Saddle up, is what he was saying, and that's what the Pacers did. They hopped onto his back and rode him and his effort and his enthusiasm -- his force -- to a 47-36 halftime lead. The Hawks got no closer than seven the rest of the way, and only briefly, in a brutal game that had 43 fouls and left the Hawks, especially Paul Millsap, repeatedly wanting more whistles. With Hibbert and David West banging into him, Millsap missed his first nine shots and finished 6 of 21 from the floor for his 15 points.
Millsap was inefficient, and Hawks guard Jeff Teague was erased. After a decent first half -- 10 points on 4-of-7 shooting -- Teague tried to end the first half with a flourish. The score was 47-36 when he found an opening in the lane and flew in for the dunk. Pacers reserve center Ian Mahinmi was there, blocking the dunk at the rim at the buzzer, and starting Teague on a 1-for-9 shooting skid to end the game. That block drew the crowd's loudest roar of the night ...
... until it was the middle of the third quarter and Lance Stephenson drove the lane and dunked all over Millsap for the Pacers' biggest lead to date, 60-45.
"I was playing looser, more confident," Stephenson said. "I was just trying to enjoy myself more than I did earlier in the series, and that happened."
After it was over, after disaster was averted, Pacers point guard George Hill was able to spin the near-disaster into something epic and historic. He cited the 2007-08 Boston Celtics, who were pushed to a seventh game in the first round (also against the Hawks, oddly) and then again in the second round and didn't play a postseason series shorter than six games.
"And they won the title that year," Hill said, leaving us to connect the dots from the 2008 Celtics to the 2014 Pacers.
In another corner of the locker room, Hibbert was absolutely gloating about his comeback game. After going scoreless in Games 5 and 6 and having his spot in the lineup debated all over town, Hibbert had 13 points, seven rebounds and five blocked shots. After maybe his shakiest start of the series -- he "won" the opening tap by powering the ball out of bounds, was stripped by Teague for a breakaway layup on his first touch and then was involved in turnovers on consecutive passes to him that he couldn't control -- Hibbert rallied to score eight of his 13 points in the first quarter. By the end of the quarter, the crowd was on its feet every time he had the ball in the post. When he took a breather later in the game, the crowd gave him a standing ovation.
At his locker, Hibbert was happily glowering and insistent that his confidence never wavered.
"I was good," he said. "You guys wanted to talk about lineups. You guys wanted to question [coach Frank Vogel] about lineups, but Coach talked to me. I could care less what you guys were saying."
Whatever chemistry issues the Pacers may have had, whatever it was that caused their curious dissolution -- after a 46-13 start, they closed the regular season on a 10-13 slump and found themselves trailing the eighth-seeded Hawks 3-2 in this series -- there were no signs of it Saturday. Whenever an Indiana player went to the floor, teammates raced each other to help him up. Players were fist-bumping Hibbert all game to keep his confidence up, and Stephenson was exuberant from start to finish, giddying-up his make-believe pony several times and then reaching behind his back to give fans no-look high fives as the final seconds ticked down.
At the final horn, the three biggest stars of this must-win game -- George, Stephenson and Hibbert -- gathered at midcourt and held hands. They waved to their teammates and tried to get everyone there, but the rest of the team was going in different directions. David West and George Hill were doing courtside interviews. The bench was headed for the locker room. Lance Stephenson saw what was happening, waved his arms -- the hell with it -- and headed for the locker room.
Celebration over. Until next time.
Show Comments
Hide Comments
Ranallo is leaving WWE after 16 months as the voice of SmackDown

Braun Strowman straight flipped an ambulance and Raw added a number of new superstars

Gotch, one half of the former NXT tag team champions, mutually agreed to part ways
Two thrilling debuts added pep to a SmackDown show that suffered from a lack of creativity

A WWE fan favorite, Angle was inducted into the Hall of Fame just three days ago

The Raw after WrestleMania is always a hot show, and Monday night certainly had its bright...