Players union won't ruin college sports; fat cats already started that
The power brokers in the NCAA and universities want you to believe a players union will ruin college sports. Don't fall for it.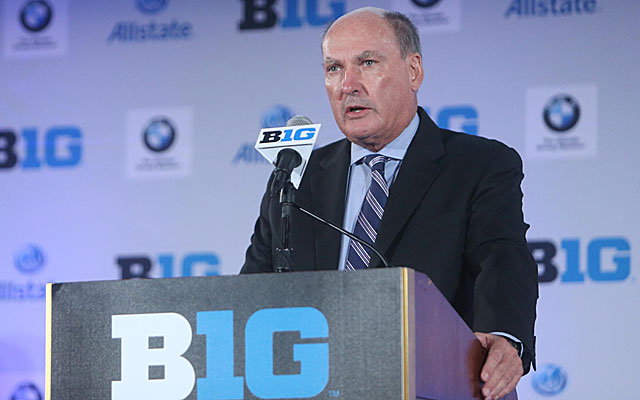 Mark Emmert is president of the NCAA. He calls a union for college athletes "a grossly inappropriate solution to the problem" that would "blow up everything about the collegiate model of athletics."
Larry Scott is commissioner of the Pac-12. He calls a union "a terrible idea" that could "destroy" college sports. Jim Delany is commissioner of the Big Ten. If college athletes unionize, he says, it would create "chaos." Bob Bowlsby is commissioner of the Big 12. He says a union would mean "we have forever lost our way."
They're united and they're steadfast, these men who run college sports, which means we should be, too:
Let's give this union idea a chance.
Maybe this is infantile logic, maybe it's not logical at all, but I'm OK with what I'm saying here. And what I'm saying is this: The more the leaders of college sports use their DEFCON 1 scare tactics on the college athletes trying to unionize and the public considering the idea, the more I'm willing to consider that maybe, just maybe, a union is exactly what college sports needs.
A terrible idea for college sports, Larry Scott? That's the arcane NCAA rule book. Chaos, Jim Delany? That's conference realignment. Lost our way, Bob Bowlsby? That was years ago.
Grossly inappropriate, Mark Emmert? That's the money-is-power NCAA under your leadership.
Blow up everything about the collegiate model of athletics?
Sounds good to me.
You can see what's happening here, this Chicken Little drumbeat of the world falling if college athletes are allowed to have a united, powerful voice in college athletics. It started in late February with Delany's warning shot across the bow of the National Labor Relations Board, which was considering whether Northwestern football players were employees of the school with the right to unionize. That shot failed when an NLRB regional director ruled in late March for the football players.
So the drumbeat got louder. On April 2 Bowlsby warned that "we have forever lost our way." Scott wrote an editorial for USA Today on April 5 calling the whole thing "a terrible idea." The next day Mark Emmert met with the media at the Final Four and used phrases like "grossly inappropriate" and "blow up ... the collegiate model of athletics."
Should we be quaking in fear? Try quivering with giggles. Because these guys don't get it. Their tone-deafness is galling but not surprising, because that's what happens when you live in an echo-chamber like these people do. They sit around mahogany tables with expensive coffee and the finest pastry, scribbling notes with their Montblanc ink pens and updating their iPads and wondering if the sun is fading their Mercedes in the valet parking lot. They listen to each other talk, bloviating about student-athletes and education and The Amateur Model and they think they're doing it right.
Look around you, gentlemen. You're doing it wrong.
If Emmert, Scott, Bowlsby and Delany -- and you too, John Swofford and Mike Slive -- wanted to unite for a good cause, they'd unite to stop schools like Marshall from jerking around college kids like Kareem Canty. After an 11-22 season, Marshall bought out basketball coach Tom Herrion on March 14. But Canty didn't come to Marshall to play for Marshall; like almost every recruit with options, he chose his school because he was choosing that coach. The school exercised its right to get rid of the coach. Canty would like to exercise his right to choose again.
Only, Canty doesn't have that right.
If Emmert, Scott, etc. were serious about the collegiate model of athletics and about grossly inappropriate actions and about forever losing their way, they would have put up a united front that schools can't jerk around kids like Kareem Canty. But they did not. They uttered not a peep, because their croissants and Montblanc pens and Mercedes don't depend on Kareem Canty being treated like an adult. Emmert and Co. were quiet, because they don't care about Kareem Canty.
They care about Emmert and Co.
Death to the BCS, know what I mean? A spectacular book by that title from Dan Wetzel, Jeff Passan and Josh Peter laid out in exhaustive detail just how corrupt, just how lost, is the current model of collegiate athletics. The same structure that was eviscerated in that book, the same structure that got rich off the grossly inappropriate BCS while people on the outside were shouting for reform, is the structure now trying to scare athletes -- and you, the public -- into believing a union for college athletes is the bogeyman that will bring down college sports.
No, Commissioner, the musical chairs of conference realignment is bringing down college sports. Scholarship athletes finishing college with their degree and their dignity and also a bill for $8,000 because it turns out the full scholarship wasn't really a full scholarship? That's bringing down college sports.
Kareem Canty can't transfer after his school got rid of his coach. Three players from Maryland transfer in part because their school over-recruited and is out of scholarships. The NCAA sells $85 jerseys designed after active players like Jadeveon Clowney, but Clowney can't sell his autograph for a cheeseburger.
All of that is grossly inappropriate.
But the danger to college sports is more power for the players, and the voices we keep hearing belong to wealthy suits like Emmert and Scott and Delany.
It's time for a new voice at the table. Because I'm tired of listening to Emmert and his cronies.
Show Comments
Hide Comments
Ranallo is leaving WWE after 16 months as the voice of SmackDown

Braun Strowman straight flipped an ambulance and Raw added a number of new superstars

Gotch, one half of the former NXT tag team champions, mutually agreed to part ways
Two thrilling debuts added pep to a SmackDown show that suffered from a lack of creativity

The Raw after WrestleMania is always a hot show, and Monday night certainly had its bright...

A WWE fan favorite, Angle was inducted into the Hall of Fame just three days ago