Reach of 'Buzz's Bunch' grows, reminds us of coach's kindness
Another reminder of the exceptional work Marquette coach Buzz Williams does for children arrives and this email, while unique in its own right, is one of many reminding us of Williams' generosity of spirit.
This is the kind of email I've been receiving for six weeks, one after another after another, from parents of sick children. The emails were triggered by my story in early February on Marquette basketball coach Buzz Williams, whose "Buzz's Bunch" foundation supports kids with medical needs.
CBS Sports on Sunday aired a report on Buzz's Bunch, which plays above. That triggered another email a few minutes later, the kind I've been receiving for six weeks, from Loren and Pamela Farr in Eugene, Ore.:
"After I read your story I sent Coach Buzz a note thanking him for his work. As parents with a son facing a potential deadly disease we have felt extremely alone and looking for a support network. The fact that Buzz was offering this kind of program through Marquette University truly impressed us. ...
"Since that initial note Coach Williams has sent us three notes and two packages. Our son has written the coach and despite trying to regain his strength Russell is pushing himself to shoot baskets and wants to learn more about the game. All this has been some of the best medicine he has received and ranks up there in terms of help with what the medical specialists have provided.
"After years of searching for answers we think we have won the battle for our son's life. We can see it in his face and can't thank those who helped make a difference."
This is a picture of their 11-year-old son, Russell, as he opens one of the packages from Marquette. Russell has Common Variable Immunoeficiency (CVID).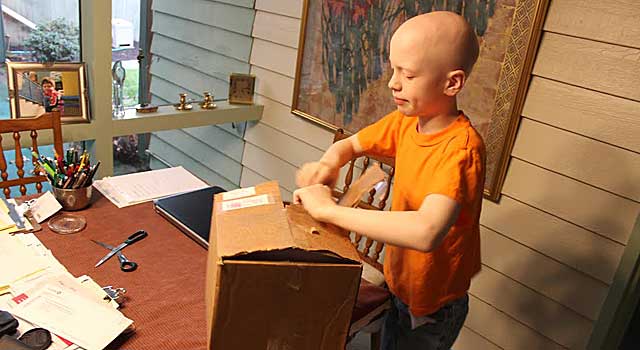 Since that initial note Coach Williams has sent us three notes and two packages ...
Emails like this one from Loren and Pamela Farr of Eugene, Ore.? I've been receiving them from parents all over America for six weeks. One after another after another, all of them saying something unique but something similar: We have a sick child. We contacted Buzz Williams. He contacted us back, sent us stuff, stayed in touch.
Marquette won't play in the NCAA Tournament this year, but Buzz Williams has had a great year. One of the greatest years I've ever seen from a coach.
And he does it every year.
Show Comments
Hide Comments
Our Latest Stories
The Road to WrestleMania 33 will be impacted by the results of Fastlane on Sunday

Match predictions, rumors and all the information you need heading into WrestleMania 33 in...

WWE Raw featured a fun moment early in its broadcast on Monday
Busch took the lead on the final lap as Chase Elliott and Kyle Larson ran out of gas

Find out how to watch the Daytona 500 on Sunday, including live streaming options on mobil...

The Great American Race is set to kick off on Sunday in Daytona, beginning NASCAR's 2017 s...