Return of Canelo Alvarez has Showtime future-focused
Alvarez headlining Saturday night pay-per-view card at MGM Grand in first ring appearance since record-breaking Mayweather loss in September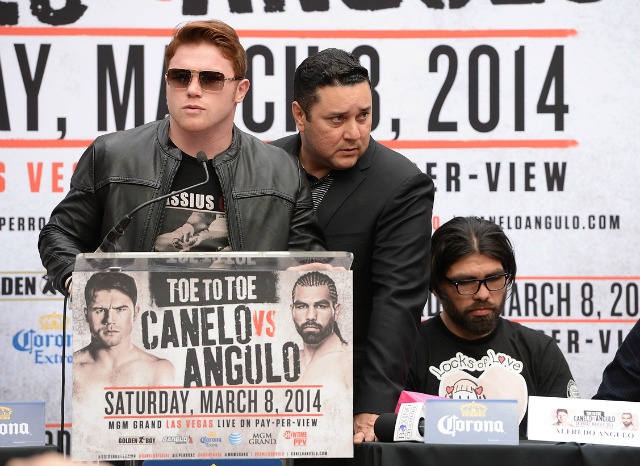 Though oddsmakers suggest he's as much as a 16-to-1 favorite, red-headed phenom Saul "Canelo" Alvarez won't exactly have a soft touch in front of him when he returns to the ring this weekend in Las Vegas, opposite veteran tough guy and Mexican countryman Alfredo Angulo.
And that's just fine with Showtime boxing executive Stephen Espinoza, who's counting on the 23-year-old to begin a quick climb back toward the top of the pay-per-view mountain he scaled late last summer while dropping a record-smashing 12-round decision to Floyd Mayweather Jr.
Showtime will air the Alvarez-Angulo main event as part of a four-bout PPV card from the MGM Grand, where Alvarez was last seen losing a majority verdict on Sept. 14. That fight drew 2.2 million PPV buys and amassed a gross revenue of $150 million, surpassing a six-year-old watermark.
Saturday's fight is $49.95 for standard definition and $59.95 for high definition.
"We're thrilled," Espinoza said. "The Mayweather fight might not have gone the way Canelo would have wanted, but from every indication we've seen he has benefited from the exposure and his fan base is continuing to grow exponentially. We're still seeing massive traffic as far as he's concerned."
While a six-month sabbatical for some fighters would yield an easy mark in a comeback fight, the rugged Angulo is anything but. He has 18 knockouts in 22 career victories, has lost just three times since turning pro in 2005 and is generally regarded among the hardest punchers at 154 pounds.
Those very risk factors, in fact, were what sold Espinoza on the matchup.
"The No. 1 priority for Showtime as a network is to create entertaining and compelling programming," he said. "It's making the best fights. That's the criteria we applied for the Mayweather fight and for all of his previous opponents. When we looked at the range of available opponents this time, the thing that stood out was Angulo's fan-friendly, crowd-pleasing style.
"He's very aggressive and entertaining, and that style seemed like a match for Canelo. We look for entertaining fights. A fair amount of risk is a positive for us. We want that."
It's a mantra he hopes to repeat going forward as well.
Espinoza said Alvarez has "plenty of options" as he seeks to regain top status at 154 pounds, a tag he forfeited -- along with the World Boxing Association's title belt – in the loss to Mayweather.
The ex-champ is ranked among the top three contenders in the weight class by three of five significant sanctioning bodies, including first by the International Boxing Organization, second by the World Boxing Council and third by the aforementioned WBA. The International Boxing Federation has him 12th and he's unranked by the World Boxing Organization.
Angulo, incidentally, is ranked 14th by the IBO and seventh by the WBA.
"There are plenty of options for (Alvarez) in the weight class," Espinoza said. "Making 154 is no problem. It's where he feels comfortable and there's no reason to rush. Having said that, the results of other fights could make some great matches possible at 160 pounds."
Front and center at 160 is a WBC title match scheduled for June 7 in New York between Sergio Martinez and Miguel Cotto, each of whom is a former kingpin at 154 and who would not pose a David-vs.-Goliath threat in terms of size. Martinez is just an inch taller than Alvarez and fought at 154 as recently as 2009, while Cotto is two inches shorter and was the WBA champ at 154 from 2010-12.
"Martinez, or Cotto if he wins, would be a great matchup," Espinoza says.
A rapid return to the throne room could also prompt a reunion with old friend Mayweather, who's scheduled to fight Marcos Maidana on May 3 and will have as many as three fights remaining on the contract he signed with Showtime early in 2013. If Alvarez were to add a middleweight championship to his resume, a return bout could have some viability in spite of the one-sidedness of the first result.
"In the long run, I think we may see a rematch if circumstances warrant," Espinoza says. "Stylistically, it may make sense to put them in the ring again, if there's a chance the result could change."

Weekend Watch List 3/7-9
ESPN -- Friday, 9 p.m. ET
Rustam Nugaev vs. Marvin Quintero -- 10 rounds, lightweights
Roman Morales vs. Khabir Suleymanov -- eight rounds, bantamweights
Dusty Hernandez Harrison vs. Michael Balasi -– eight rounds, welterweights
SHOWTIME PPV -- Saturday, 9 p.m. ET
Saul Alvarez vs. Alfredo Angulo -- 12 rounds, junior middleweights
Leo Santa Cruz vs. Christian Mijares -- WBC super bantamweight title
Carlos Molina vs. Jermall Charlo -- IBF junior middleweight title
Jorge Linares vs. Nihito Arakawa -- 10 rounds, lightweights
UNIMAS -- Sunday, 12 a.m. ET
Jorge Arce vs. Aldimar Santos -- 10 rounds, featherweights
Show Comments
Hide Comments
Ranallo is leaving WWE after 16 months as the voice of SmackDown

Braun Strowman straight flipped an ambulance and Raw added a number of new superstars

Gotch, one half of the former NXT tag team champions, mutually agreed to part ways
Two thrilling debuts added pep to a SmackDown show that suffered from a lack of creativity

A WWE fan favorite, Angle was inducted into the Hall of Fame just three days ago

The Raw after WrestleMania is always a hot show, and Monday night certainly had its bright...