Rice's 4-foot-9 tailback sensation has a big future ahead of him
Jayson Carter, Rice's 4-foot-9 walk-on tailback, is an internet star because of his tiny stature, but there's nothing undersized about Carter's physical and mental strength.
Jayson Carter is more than a short video clip, but let's be honest: The video's enough. It makes a mockery of the idea of physical limitations, and it demonstrates human perseverance. The video lasts just 57 seconds, but it does that.
Some of you have seen it. Millions have, whether here at CBSSports.com or televised by ESPN or at YouTube or any of the blogs and mainstream media websites that had to put those 57 seconds online, because those 57 seconds are startling and uplifting and a little bit hard to reconcile.
Those 57 seconds show the Rice football team lined up at the UTEP 41-yard line. It's late in a blowout, Rice leading 45-7 with less than 6 1/2 minutes to play, and Rice quarterback Guy Billups is in the shotgun formation. It looks like someone is standing next to him, but maybe not. Billups hunches over before the snap, and what do you know? There is someone standing next to him.
Someone tiny.
You know those videos you see from time to time of a college team letting a kid play during its spring game? This looked like that, only this wasn't a spring game. This was Rice vs. UTEP, and now Billups is handing the ball to the little guy, and he's running right at the UTEP defensive front, and he's being wrapped up by 240-pound UTEP linebacker Horace Miller.
And the little guy is falling forward. Pulling the linebacker with him.
That's Jayson Carter, a tailback at Rice. He's 4-foot-9. He weighs 130 pounds. Miller helps him up and Carter trots off the field, and you can see this isn't a kid. Jayson Carter is a man, stocky and muscular and bouncing off the field like the Division I athlete he is, and when he reaches the sideline and stands next to 6-2, 230-pound teammate Turner Petersen he disappears from view. The clip ends there, but the story of Jayson Carter doesn't end with it.
The story gets better.
****
Genetically speaking, Jayson Carter is different from most of us. He's superior to most of us, is what I'm saying. He comes from a father (Jerome) who graduated seventh in a class of 389 from Houston's Booker T. Washington High and played defensive back at Cal where he earned a degree in economics, and from a mother (Sharon) who was a double-major at Houston in information systems technology and training/development.
Jayson Carter isn't very tall, and while he has been described by various media as having a genetic disorder, Carter and his parents asked me not to follow suit. His father is 6-1 and his mother is 5-6, but one of her brothers is about the same height as Jayson, and Jayson's older brother, Michael, is 5-1. They say it runs in the family.
So does some other stuff. Like his dad, Jayson Carter is athletic enough to have excelled at three sports -- football, baseball, track -- at KIPP Charter School in Houston. He can bench press 315 pounds. He runs the 40-yard dash in 4.5 seconds. He has a 30-inch vertical leap.
His IQ is 169.
Any idea what that IQ means? Me neither. Too high to grasp. The 315-pound bench press is more easily understood because it's nearly 2 1/2 times his body weight. A linebacker who weighs 250 would have to bench nearly 625 pounds to match Carter on pound-for-pound strength.
Carter's strongest muscle appears to be his brain. He has that off-the-charts IQ score, but he worked at it, too. His parents emphasized education, home-schooling him for several years when the neighborhood Montessori school closed down. Jerome Carter tells me about the time he pulled Jayson away from school work to practice bunting in the back yard. There was a game that day, and Jayson was the cleanup hitter and starting catcher. When his mother got to the field before the first inning she removed him from the dugout and took him home to finish his school work. He was back in time for the fourth inning, and he hit a home run, but that's not what Jerome Carter remembers most. He remembers his wife marching Jayson home to finish his class work.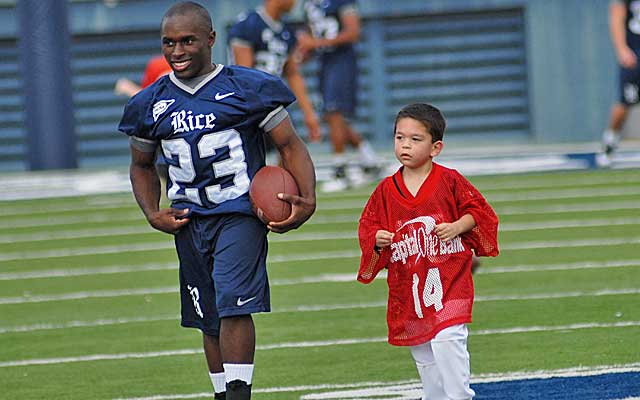 "She's the one who enrolled him in Little League," Jerome says, setting himself for a good-natured punch line, "but lacks a sense of humor."
School matters. Jayson Carter graduated as valedictorian at KIPP, got into one of the best private schools in the country at Rice, and is majoring in computer science. After video of his play against UTEP made him an internet sensation, Carter celebrated this week by staying up all night twice ... to work on two school projects. One is in Digital Logic, which is computer architecture. Or maybe it's not. Carter tried to explain it to me, something about zeroes and ones and SR latches and ALU's, but he giggled when I sighed, and then he said, "Sorry, I'm speaking another language."
"I'll be a software engineer somewhere," he said. "Internship-wise, I applied to Google, GM and some other places. Hopefully I'll be working for one of those companies this summer."
Hopefully? When he was 18 years old he walked into Rice football coach David Bailiff's office and said he wanted to walk on. He just made it happen. So when he says hopefully he'll be interning this summer at Google or GM, I bet he meant probably. I bet he meant definitely.
****
All this stuff with Jayson Carter -- this achieving, this overachieving, whatever you want to call it -- started when he was a baby. Literally, seconds old, lying there on a table, a hospital nurse using those scissors to cut the umbilical cord, Jayson Carter did something those nurses had never seen.
"He grabbed the scissors!" Jayson's mom screams at me, then dissolves into laughter. "I couldn't walk through the hospital without somebody telling me, 'You know what your son did? He grabbed the scissors!' They thought it was phenomenal. The staff, nurses, anyone in hospital, they were saying, 'That's the kid who was able to lift his head and turn it to the side within hours of being born.'"
Jayson was smaller than other kids, then stopped growing at about 12. By then he was a windshield-wrecking terror in Little League, blasting so many home runs at Bayland Park that parents stopped parking behind the outfield fence. He was running track, winning sprints at 100 meters. And he was playing football.
About the football ...
I asked Jayson's dad, the former Cal defensive back, what it was like to watch his son play football. At that size, you know. Was it hard? We were communicating by email, because Jerome Carter was in Malaysia on business -- he has a precious-metal trading company, with offices in the United States and affiliates in Indonesia, Dubai and Tanzania, and another opening soon in Kuala Lumpur -- and this is what his dad wrote back to that question:
"Dear sir," he tells me, "Jayson Jerome Carter punished would-be tacklers."
The young man isn't much for talking, though. Here's a short story a local TV station did in 2011 when it heard about the 4-9 walk-on at Rice. There's a highlight of Carter catching a pass out of the backfield, and there's a few comments from the Rice head coach -- Bailiff memorably calls Carter "a dime in a jar full of nickels" -- but check the exchange at the 15-second mark. The reporter asks Carter a question and Carter answers it concisely, then smiles and stares. Your turn.
That's how Carter is with everyone. This is how he told his father, in Malaysia, that after three years on the scout team he had finally played in a game -- and carried the ball -- against UTEP. He sent an email:
"Check any search engine for Jayson Carter."
"End of email," says Jerome.
End of email, end of video, end of story. No, wait -- there's more to come from the Jayson Carter story. It hasn't even gotten good yet.
Ten drivers have already secured their chance at a Monster Energy NASCAR Cup Series title

New Zealand won 7-1 in a series of routs that established them as a sailing superpower

Adam Stevens, Busch's crew chief, is already serving a four-race suspension
Dale Earnhardt Jr. finished sixth in his final race at Sonoma

Stenhouse done for the day; Patrick finished 17th

Both drivers were able to stay in the race