Rose's exile makes no sense while cheaters have shot at Cooperstown
Baseball's big lie -- that what Pete Rose did was worse than what Ryan Braun and Alex Rodriguez are doing -- doesn't hold water anymore.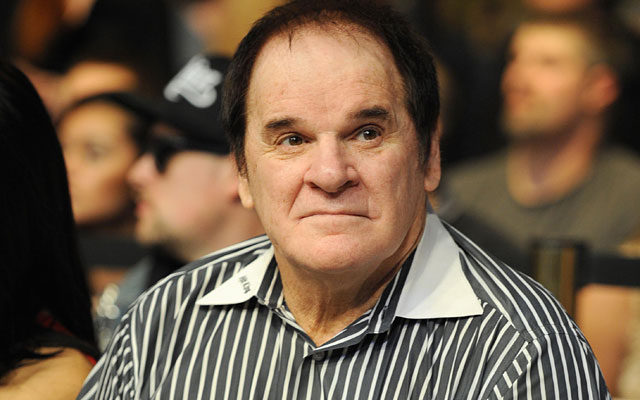 Pete Rose was in Cooperstown this weekend, like he is every year on the weekend of the Baseball Hall of Fame induction ceremony. He's not part of the festivities, not even part of the game officially, but he comes every year and sits at a booth and signs baseballs for $60. Poses for pictures and signs them for $75. Sells little pieces of himself, two blocks from the shrine that shuns him.
It's pathetic.
It has always been pathetic, but now it's taking on a different hue. Now it's starting to look unfair.
This is about Ryan Braun. And Alex Rodriguez. And Mark McGwire, come to think of it.
This is about the one crime that baseball labels unforgivable, and the other crimes that baseball stares at angrily and gives a stern lecture -- "never do that again, young man" -- before giving the offending player a sly wink, patting him on the rump and sending him back into the clubhouse.
Back into the club.
Meanwhile Pete Rose is on the outside looking in, perhaps forever, perhaps until he's dead, neither of which seems fair to me. For years I was on board with baseball's punishment of Rose, but things have changed. When things change we're allowed to reconsider our position, and I've reconsidered my position on Pete Rose -- thanks to Braun and A-Rod and McGwire.
Basically, I've decided to stop drinking baseball's Kool-Aid. Know why people like me have written for years that Pete Rose is an abomination and deserves his punishment? Because baseball told us what to think. Baseball said betting on the game is the worst thing one of these guys can do, and by golly since baseball said so, OK then: Betting on the game is the worst thing one of these guys can do.
Baseball told me to jump, to which I had but one reply: "How high?" But not anymore. If baseball is going to act like a fool when it comes to Braun and A-Rod, then I'm done following baseball's orders. Jump? Me? Don't even.
Because if you ask me, what Braun and A-Rod have done is as bad as what Rose did. Rose bet on the game, and we all know you can't do that. There are signs in every clubhouse, warning against it. I covered the Marlins in 1996 and '97. I walked past that sign every day.
Rose screwed up. Badly.
But to me, Braun and A-Rod screwed up just as badly. That's not what baseball tells you to think, so I'm asking you to think for yourself. Think about how bad it is for a player like Ryan Braun or a player like Alex Rodriguez to cheat by pumping performance-enhancing drugs into his body, and then to get caught -- and then to do it again.
They did it again.
A one-time cheater can get some slack. Lots of cheaters in baseball, you know. A player thinks everyone else is doing it, so he cheats as a way of keeping up? I'll cut that guy some slack. Forgive him his mistake.
But to do it again? To cheat, to obtain a competitive advantage and to use that advantage as Braun did and as A-Rod did to post monster stats and earn monster contracts -- and to affect the stats (and contracts) of opposing pitchers, some of whom no doubt were competing cleanly?
And then to do it again?
That, I cannot forgive. Not a second time.
But baseball does, which brings me back to my point: If baseball can forgive Braun, as it did by giving this two-time cheater a 65-game timeout, and if baseball can be even more spineless and forgive a decade-long lout like A-Rod -- it appears he'll get a long suspension but not a lifetime ban, though we don't know for sure -- how can baseball not forgive Pete Rose?
Rose earned his 4,256 hits. He gambled on the game, I know -- and has paid enormously for that. He has been banned from baseball for 24 years, spending nearly a quarter of a century as a warning to everyone else in baseball. He has been humiliated, ostracized, prevented from earning a handsome living as a manager or front-office executive.
Rose has been reduced to writing books about his gambling -- not hiding from his status as a pariah, but using it to move product -- and showing up at Cooperstown every year to make a few bucks off his humiliation. He has been in this purgatory for 24 years, though purgatory, as ugly a word as that is, doesn't do justice to where Rose has been. He has been exiled.
Meanwhile, Mark McGwire has been a big-league batting coach since 2010. Same guy who made a mockery of Maris and Ruth. Same guy who lied for years about his steroid use until the evidence was just too mountainous to lie anymore. He's back in the game. Hell, he never had to leave. He's the hitting coach for the Dodgers now, and every year he's on the ballot for the Hall of Fame. So is Barry Bonds. Rafael Palmeiro. Roger Clemens. Sammy Sosa. In a few years, A-Rod will be on that ballot. Ryan Braun, too.
They won't make it in, but that's not the point. They'll have the chance.
Pete Rose won't have that chance. For years, that made sense to me.
It doesn't make sense any more.
Adam Stevens, Busch's crew chief, is already serving a four-race suspension

Dale Earnhardt Jr. finished sixth in his final race at Sonoma

Stenhouse done for the day; Patrick finished 17th
Both drivers were able to stay in the race

Series leader Elliott Sadler finished eighth in his 800th career start

Dale Earnhardt Jr. starts 10th in his final race at Sonoma as he seeks his first-career win...