Russ Smith does what he does, and in the nick of time for Louisville
Russ Smith is unpredictable. Often it's great, as a national title last season attests. Other times it's not, like the first 38:30 Saturday vs. Cincinnati attests. But in the final 90 second, he pays off.
More hoops: Smith hits winner vs. Cincinnati | Latest news
CINCINNATI -- Russ Smith gonna Russ Smith. It won't be pretty all the time, and in fact it'll be pretty damn ugly a lot of the time, but Russ Smith is going to do what he's going to do, for better or worse, and last year what he did was lead Louisville to the national championship, and on Saturday what he did was lead No. 11 Louisville to a gritty road win against No. 7 Cincinnati, 58-57 in front of a sold-out crowd of 13,176 at Fifth Third Arena.
"Today just wasn't my day," Smith said outside the Louisville locker room, and for most of the game it wasn't. But for just enough of the game it was, because it was Smith who hit a 15-footer with 2.2 seconds left for the winning points, the culmination of 90 final seconds when Smith was just brilliant enough to overcome what had conspired in the first 38 1/2 minutes.
"Couldn't hit anything," he said. "Didn't really turn it over, but couldn't make a shot."
He couldn't make his crazy forays into the lane. Couldn't make mid-range jumpers. Couldn't even hit the rim on his final 3-point attempt of the game, when he air-balled an open jumper in rhythm with 6:17 left and the Cardinals leading 47-40.
Cincinnati rallied behind Sean Kilpatrick, who entered the game needing 10 points to join Oscar Robertson -- sitting courtside -- as the only Bearcats with 2,000 career points. It took him almost 25 minutes to get that 10th point, but after that Kilpatrick was unstoppable. He scored 18 points in the final 15 minutes to help turn a 10-point deficit into a one-possession game.
Then came the final 90-second sequence, which began in the most Russ Smith way possible -- with him attacking the rim despite the presence of four Cincinnati defenders between him and it, and dribbling the ball off his foot. It rolled between two or three Bearcats, all the way out of bounds, and possession was initially given to Louisville. Officials studied the replay and reversed themselves, giving it to Cincinnati, but as the game was about to resume they headed back to the scorer's table for yet another review. And overruled themselves again, giving it (correctly) to Louisville.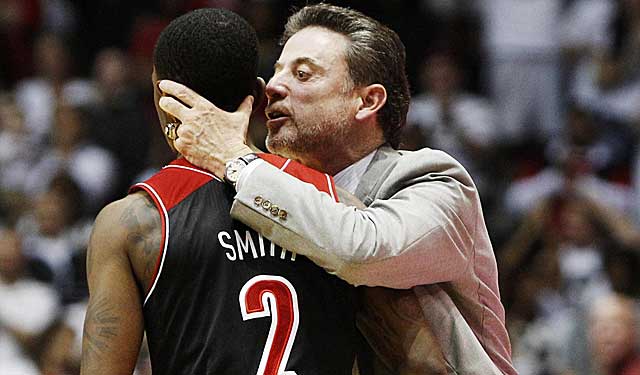 "I don't understand," Kilpatrick said of the reversal of the reversal. "That's unheard of."
But it happened, and on this day it wasn't all that surprising. The referees were horrible Saturday, losing control of this game from the outset by letting both teams play so physically that Cincinnati coach Mick Cronin tried to call it "a hard-fought game," then amended his statement.
"Better described as a bloodbath," he said.
And it was. Because the referees freaked out after calling two touch fouls early on Cincinnati center Justin Jackson -- sending the Bearcats' best interior player to the bench for the final 18 minutes of the first half -- they stopped calling anything but the most egregious fouls. Both teams recognized what was happening and responded by fouling on every defensive possession. Most went uncalled.
How does the No. 7 team in the country, playing at home, miss 21 of its first 24 shots? Good defense by Louisville was only part of it. Horrible officiating was another, and it was horrible on both ends. Louisville was 8 for 30 in the first half (26.7 percent), missing open shots, but also Louisville was grabbed and clawed by the Cincinnati defense and got only three free throws in the first half outside of eight attempts by Montrezl Harrell, a 47.2-percent foul shooter whom Cincinnati fouled repeatedly and egregiously as part of Cronin's game plan.
So this emotional game between two longtime regional rivals, which could be their last meeting in years now that Louisville is leaving for the ACC, got ugly and stayed ugly. Neither coach was happy and neither team looked all that good, and Russ Smith was gonna Russ Smith regardless and now there were 90 seconds left in a two-point game and Smith was fouled away from the ball. He hit only 1 of 2 free throws, because that's what Russ Smith does. Even as he helps you, he hurts you. And vice versa.
But his single free throw cut the Cincinnati lead to 53-52, and on Louisville's next two possessions Smith attacked the rim again, found himself at a size and manpower disadvantage, and found a way to get the ball to the best finisher on his team. Harrell turned both passes from Smith into a pair of easy baskets -- one dunk, one layup -- and now the Cardinals had a 56-55 lead with 26 seconds left and Cronin said that's where the game was lost.
"We let a guy hit two point-blank shots without touching him when he shoots [47] percent from the line," Cronin said.
Cincinnati reclaimed the lead on two Troy Caupain free throws with 11.8 seconds left, but that gave Louisville plenty of time to find an open shot -- and Louisville found two. Terry Rozier was open on one wing, but he saw Russ Smith not just open but alone on the other. He swung the ball to Smith, and Smith buried a high-arcing 15-footer with 2.2 seconds left that was the difference after Cincinnati was unable to inbounds the ball cleanly.
And that was how it ended, with Russ Smith entering the final 90 seconds with just seven points and three assists but finishing with 10-and-5.
"I didn't get hot, I just got smart," he said. "I made the right basketball plays at the right time."
Strange how he does that so rarely. And yet so often.
Show Comments
Hide Comments
Ranallo is leaving WWE after 16 months as the voice of SmackDown

Braun Strowman straight flipped an ambulance and Raw added a number of new superstars

Gotch, one half of the former NXT tag team champions, mutually agreed to part ways
Two thrilling debuts added pep to a SmackDown show that suffered from a lack of creativity

The Raw after WrestleMania is always a hot show, and Monday night certainly had its bright...

A WWE fan favorite, Angle was inducted into the Hall of Fame just three days ago