Stupid question to John Wall leads to -- surprise! -- stupid answer
John Wall says he's the best point guard in the NBA. Who's delusional? The guy who asked the question. And us, for laughing at John Wall.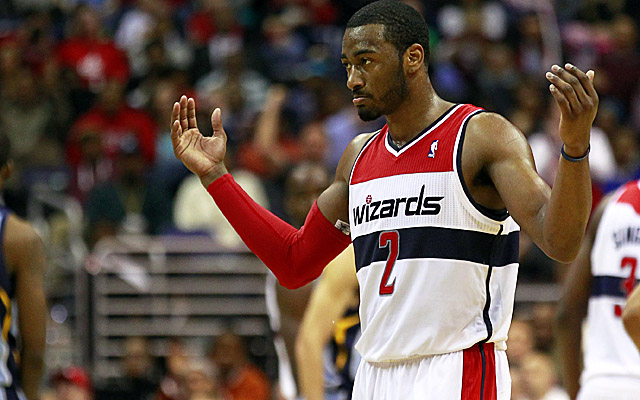 Now it's John Wall's turn to be asked The Question, which inevitably leads to The Answer, which inevitably leads to people laughing at John Wall.
Last week it was Derrick Rose being asked by CNN's Pedro Pinto to name the best player in the NBA. Given that there are only two active MVP winners still in their prime, Rose had roughly two choices. One of those choices, thanks to his NBA award in 2011, was Derrick Rose.
So what did Pinto think Rose was going to say?
This week, John Wall's turn. He was asked by Sports Illustrated's Chris Mannix (on the Dan Patrick Show): "Where do you rank yourself among NBA point guards?"
John Wall is a former No. 1 overall pick. He just signed a max contract. For his career he averages 17 points and eight assists per game. He's only 22 years old.
What did Chris Mannix think Wall was going to say?
Nothing against Chris Mannix, who wears great shoes -- wingtips -- every time I see him. Nothing against Pedro Pinto, who might have great shoes, though I don't know. Never seen him. But the question is a bad question, much like asking Jim Boeheim if he's resigning within seconds of a Final Four loss or asking an athletics director about the school's struggling coach during a downward spiral.
Of course you're going to be given the "vote of confidence" quote.
What else is the AD supposed to say? "Well, as soon as I finish this interview, I'm going to fire that loser and light his desk on fire."
What is Derrick Rose going to say? What is John Wall going to say? Do we expect honesty, or even honest self-analysis?
Never mind. We all have a role to play, and tape is rolling. Mannix played his role and asked The Question. Wall did his part and gave The Answer.
Now it's your turn to laugh at John Wall. Unless you want to break from the script and have an honest thought of your own.
Show Comments
Hide Comments
The 40-year-old Japanese driver earned his second career victory

Dixon ran into the back of Jay Howard and somehow walked away from the wreck

Here is everything you need to know ahead of Sunday's Monster Energy NASCAR Cup Series rac...
Sebastian Vettel ends Ferrari's 16-year Monaco drought

Here's all the info you need to watch Sunday's Indianapolis 500

Micah Roberts, who helped popularize betting on auto racing, breaks down the 2017 Indy fie...