Ten insane things said at the Conor McGregor-Nate Diaz press conference
Conor McGregor has a new opponent for UFC 196 in Nate Diaz. The two have no problem with throwing verbal jabs, including some stuff that will dig deep.
When the UFC announced on Tuesday that Nate Diaz would replace Rafael dos Anjos and face Conor McGregor at UFC 196, we knew one thing was for certain: These two guys can talk. McGregor verbally obliterated dos Anjos at the first press conference for this event and Wednesday's proceedings with Diaz certainly did not disappoint.
Diaz is known for his brashness, and it showed during the press conference, which was held at the UFC Gym in Torrance, California. 
Here are the 10 best quotes from the verbal sparring between McGregor and Diaz; the two will clash March 5. 
1. McGregor on Nate Diaz brother, Nick: "He makes gang signs with his right hand and animal balloons with his left hand."
2. Diaz: "F--- you, and f--- your belt."
3. Diaz: "Everybody does steroids. The whole UFC. Everybody." McGregor: "I'm not on steroids. ... I'm just an animal."
4. McGregor: "Nate, congratulations. You're rich now." Diaz: "Congratulations, to you. I'm the show."
5. McGregor: "I'm gonna create my own division. I don't care about weight. It makes no difference. As long as there's an opponent and a date, I'll be there."
6. McGregor: "[After] a man fights me, they need to take 10 months to a year off."
7. Diaz: "You fight midgets. I got a 145-pound homeboy that will beat your ass."
8. McGregor: "I should create my own belt. I am, in myself, my own belt. It doesn't matter if its featherweight, lightweight, welterweight. It's the McGregor belt. That's it, I'm fighting for my own belt."
9. McGregor: "I don't care about the belt. All I care about is my checks and my checks are super heavy." McGregor, later: "I'm motivated by movement and money ... and the movement of money."
10. Diaz: "This is America." McGregor: " I run the West Coast. I run the East Coast."
OK here's one more ...
11. Diaz: "I train to kill."
Yeah, it didn't take much more to get me ready for this fight.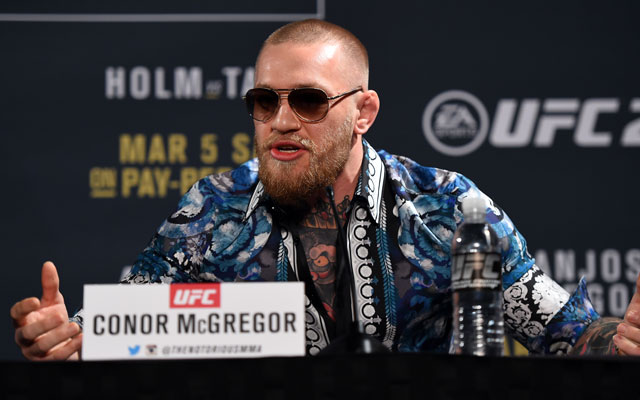 Show Comments
Hide Comments
Our Latest Stories
NXT and WWE's Performance Center are creating the WrestleMania stars of tomorrow

Glenn Jacobs, also known as 'The Big Red Machine,' filed paperwork in Knox County

WrestleMania 33 is just over a week away, but WWE has struggled to ignite fans with uneven...
Hogan's heroic attempt to catch pickpocket is ultimately, hilariously, ineffective

Match predictions, rumors and all the information you need heading into WrestleMania 33 in...

Rob Gronkowski has to compete in WWE one day, right? Right?!