There's more about the man behind the Skip Prosser Classic
Skip Prosser was a teacher as much as he was a basketball coach at Xavier and Wake Forest. And, at age 56, he was taken away far too soon.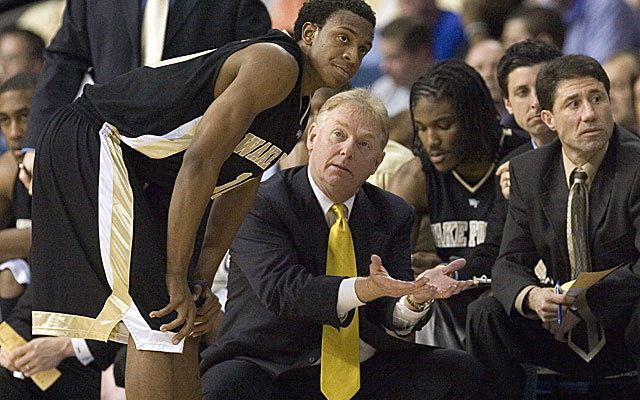 In a few days she will attend the game with his name on it, but first she will go to the cemetery and see the tombstone bearing hers. Nancy Prosser isn't going to see her own name, of course. She's going to see Skip. She goes every month to Spring Grove Cemetery in Cincinnati, has gone every month for more than six years, and it doesn't get easier. Skip Prosser died of a heart attack in 2007 at age 56, and for Nancy Prosser it doesn't get easier.
"I still can't believe that happened to Skip," Nancy told me Thursday morning, crying softly on the phone. "It's hard to put into words. I thought he was healthy. I'm a nurse and I know things like that happen, but you never think it would happen to him. I give myself little talks: It is what it is, and we never know. We're in God's hands."
Nancy put that final sentence on Skip Prosser's tombstone. It's a joint tombstone, room for his name and hers, because someday she will be buried next to her husband. The stone has his name on it, and it has her name on it, and it has a sentence she picked out, "something I put on there that I felt."
You're in God's hands but my heart.
Nancy Prosser was planning to go to the cemetery later Thursday, to see Skip before the game Saturday. It's called the Skip Prosser Classic, and it's a game between the two schools he coached with success and honor from 1995-2007, Xavier (1995-2001) and Wake Forest (2001-07). This is the fourth edition of the Skip Prosser Classic, and it's the first time I've written about Skip Prosser since he died, and why more than six years have passed without a word from me about this man, I cannot tell you. But I live in Cincinnati and I saw a notice in the local paper a few days ago about the Skip Prosser Classic, and this is what occurred to me:
Skip Prosser is more than a name on a game.
• • •
She'll be there Saturday at Xavier, but the Wake Forest game Jo Prosser really hopes to attend is Feb. 1 against Georgia Tech, a home game where the Deacons will recognize the local fourth-grade winners of the Skip Prosser Literacy Program.
Jo Prosser's son did love to read.
"He always had a book in his briefcase," says Jo Prosser, 85. "I know sometimes when he and Nancy would go someplace, he might go to the antique store to look around, but after a while he would sit there and read. And he read widely. He loved the Irish books."
Spend much time with Skip Prosser and you'd hear him quote James Joyce or Ralph Waldo Emerson. That's the way his mind worked, and it's the way he saw the world, not like a basketball coach but like the teacher he was earlier in his life, and the teacher I suspect he was going to be again had he lived long enough to retire with time on his hands.
We'll never know, but Prosser's love for reading was widely known and celebrated by Wake Forest and the Winston-Salem/Forsyth County School District, who encourage fourth-graders to read as many books as possible in a two-month period. Those who read 20 books get a free ticket to the Georgia Tech-Wake Forest game on Feb. 1. Jo Prosser really wants to see those kids.
"Feb. 1, that's the literacy game," she says. "If I can get there, if my daughter's able to take me, I'll make. There are a lot of men in our church who've said they think they'll be able to take me down, too."
Skip Prosser is more than a name on a game, and he's more than a name on a literacy program. But we're getting closer.
• • •
There has been a Skip Prosser Tournament and a Skip Prosser Man of the Year Award -- given to a coach who "achieves success on the court and displays moral integrity off of it" -- and a Skip Prosser Foundation to raise money for the American Heart Association and other causes.
Live your life the way Skip Prosser lived it, and people want to honor it. The honors come in the form of attaching his name to various things -- to a game, a literacy program, a Skip Prosser coaching clinic in Scotland and the Skip Prosser Award given annually to the top scholar-athlete in the ACC.
It also comes in smaller ways, like the phone call Jo Prosser received earlier this week from one of Skip's classmates at the U.S. Merchant Marine Academy. Jo Prosser also gets regular visits from Skip's elementary school friends, and on his birthday she received flowers from a high school classmate now living in Arizona. People remember Skip Prosser, and they want to honor him however they can.
Jo Prosser is a basketball fan who watches Xavier games when they're on cable and reads the local newspaper hoping for reports on Wake Forest and Winthrop -- where Skip's son, Mark, is an assistant to Pat Kelsey, who played for Prosser and coached for Prosser and "has been part of our family all these years," Jo Prosser says.
Jo Prosser also keeps up with Wheeling (West Va.) Central High, where Skip was a history teacher and state title-winning basketball coach in the early 1980s. When Wheeling Central has a big tournament, Jo Prosser finds a ride across the river from St. Clairsville to watch games. That's where she'll be Jan. 3 for the Cancer Research Classic.
"I'll sit there from 11:30 in the morning to 10:30 at night and watch games," she says.
Also she'll visit with college coaches who come for recruiting purposes but are happy to pay their respects to Skip Prosser's mom. Over the years she has visited with Kentucky's John Calipari and Pittsburgh's Jamie Dixon, but her favorite memory was the time she saw her son's arch-rival from his days at Xavier, former Cincinnati coach Bob Huggins, at a game at Wheeling.
"I never really knew Bob Huggins, but Skipper and he had a good relationship, and so when he was there I went over and all the little kids of course wanted his autograph because he's the coach at West Virginia," Jo Prosser says. "I told him, 'I really don't want an autograph, but you can give me a hug.' And he did."
The Skip Prosser Hug? Now we're getting somewhere.
• • •
Quick personal story, because this is the only time I'll have to tell it. Maybe this is why I never wrote about Skip Prosser until today -- too uncomfortable for me, in my own small way. Because the last time I wrote about him, it wasn't nice. Well, it wasn't mean, but it wasn't nice. It was January 2006, and Prosser was a favorite among Cincinnati fans to replace Huggins (and interim coach Andy Kennedy) after the season. And that should tell you just how incredibly wonderful Skip Prosser was, that the fans of Cincinnati were hoping to hire the former Xavier coach.
Anyway, in January 2006 I wrote that Wake Forest was on the way down and maybe it was time for Skip Prosser to think about coming home to Cincinnati. And he didn't like that. He didn't like my harsh description of his slumping program at Wake, and he didn't like my insinuation that he'd even consider jumping ship, and he didn't like that he had been so giving of his time when I was covering Wake Forest for the Charlotte Observer, and I was writing this?
Understand, Prosser didn't tell me he was unhappy with the story. That wasn't his way. But word got around, and it got to me, and then one day the following summer I saw Skip at the Cincinnati airport. He was going up one escalator, I was going down another. We saw each other and said hi, but we kept moving in opposite directions. And I'll never forget the look on his face. He looked -- disappointed.
A month later he was dead, and that's my last in-person memory of Skip Prosser, and it feels rotten, and I'm just a lousy sportswriter. I liked him but didn't really know him, and still the whole thing stings in a way that will never be fixed.
And so this week I decided to write about the Skip Prosser Classic because Skip Prosser is more than a name on a game, and I called his mother in St. Clairsville and his wife in Cincinnati and asked them to tell me about him.
Nancy, his wife, told me about the way they decided to leave Xavier after six years for Wake Forest following the 2000-01 season. At the time Xavier was in the Atlantic 10, a respectable conference but not the ACC. And Wake Forest -- in the ACC, on Tobacco Road -- wanted Skip Prosser to be its coach. And Skip was torn.
Nancy could tell he was torn because of her -- her job as a flight nurse in Cincinnati, her parents in nearby Louisville -- so she asked Skip a question:
"What would you do if you were single?"
Skip: "If I was single, I'd have left yesterday."
Nancy: "Then we have to go. We're leaving today."
And that's how Skip Prosser ended up at Wake Forest, where he averaged 24 wins and won six NCAA Tournament games over the next four years, and where his program hit a lull after sophomore Chris Paul turned pro in 2005, and where he returned to the office after a jog on July 26, 2007 and was found on his office couch, unresponsive and bluish. He was pronounced dead about an hour later at a local hospital.
And this is what Nancy Prosser remembers about that day. She remembers saying goodbye to her husband that morning.
"I can still picture him when he walked out the door," she says. "Never ever did I think -- well, you know. In my mind I try to decide: Did he look sick, was there some sign that I missed?
"Everybody loses people, so I'm not going through anything that people don't go through every day. But he was my husband, you know, and sometimes I wish I could see him one more time. I just wish he could come back for 24 hours."
Nancy Prosser will be at the game on Saturday. Because it's the Skip Prosser Classic, and because he was more than a name on a game. He was her husband.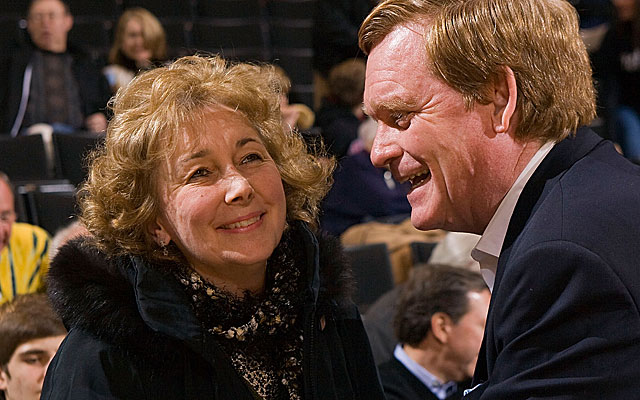 All of the information you'll need for both the Coke Zero 400 and Coca-Cola Firecracker 250...

Beshore was fined $20,000 in addition to a one-race suspension for lug nut violations at S...

Elliott's new contract runs through the 2022 season
New Jersey governor Chris Christie has been trying to offer legal betting for five years

How awesome was 1995 though?

Ten drivers have already secured their chance at a Monster Energy NASCAR Cup Series title