Too much Reggie Bush for Lions, too much Jay Cutler for Bears
The Lions beats the Bears 40-32 on Sunday because Reggie Bush and the Detroit offense are loaded -- and because Bears quarterback Jay Cutler makes the same mistakes he always has.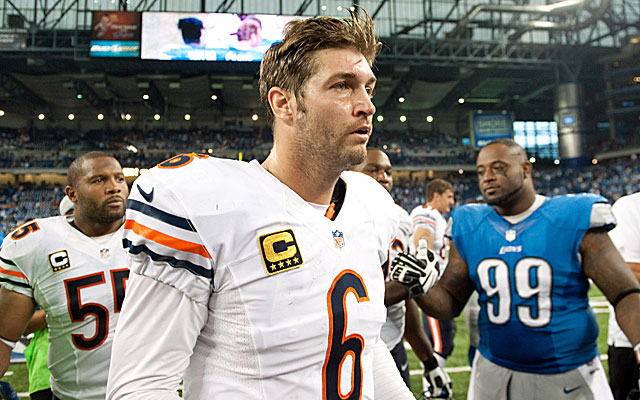 DETROIT -- The Detroit Lions handed the Chicago Bears a misleadingly close 40-32 beatdown on Sunday.
After years of teasing the Lions look absolutely for real, and I'll get to that in a minute, but that's just half the story from Sunday. The other half is the problem with the Bears. His name is Jay Cutler . He's enormously talented, so much so that he helped the Bears turn a 40-16 beatdown into a final margin that was, as I said, misleadingly close. Cutler threw for 148 of his 317 yards in the fourth quarter, and he threw for two touchdowns and a pair of two-point conversions in the final four minutes, but by then it was too late.
It was too late because of Jay Cutler. Because he's the same guy he was when he stepped into the league in Denver in 2006, the same Cutler who came to the Bears in a trade in 2009:
All the talent in the world -- and yet still too much self-confidence. Cutler is 30 years old, a smart dude who went to Vanderbilt and scored a solid 26 on the Wonderlic, but he still doesn't know what he can't do. And if he hasn't learned it yet, he probably never will. So that's what the Bears are "stuck" with -- a wildly talented quarterback whose faith in his right arm is such that he'll continue to make that magical weapon an occasional liability.
That's what happened for more than three quarters Sunday, when Cutler threw a trio of bad interceptions -- two of them from a lack of humility, one from a lack of common sense -- and fumbled deep in Chicago territory to give the Lions their final score.
For such a sharp guy, Cutler suffers from an inexplicable lack of common sense. Four times he ended a Bears drive by throwing short of the marker on third down. And I'm not counting a fifth time, technically, when he took an easy 8-yard gain on third-and-21 from the Bears 10. He was playing the field-position game there. At least, I think he was. Maybe I'm giving him too much credit.
Whatever the case, Cutler twice threw interceptions on downfield passes he had no business throwing, including one off his back foot for Brandon Marshall that was strong enough to beat the cornerback but was never, ever going to beat the safety. And safety Glover Quin returned the interception 42 yards to the Bears 2, leading to a Lions touchdown on the next play.
Cutler's third interception came on a long, late pass over the middle, the kind of throw quarterbacks are taught to avoid in high school. But that's how much Cutler believes in his arm -- he thinks he can complete passes that have been picked off for decades. He's wrong, and he still doesn't know what he doesn't know. This is what he said about his mistakes on Sunday:
"I felt good about my decision-making -- I just missed the throws," Cutler said. "They're throws I'm accustomed to making. I just have to make them."
Sigh.
Same guy he ever was, and that's a statistical fact. Cutler's passer rating was 88.5 as a rookie for six games in Denver in 2006, and it was 88.1 as a full-season starter in 2007, and it's 85.1 this season, and it's 84.1 for his career. Maybe he's not the same guy he ever was. Maybe he's slightly worse, when you look at that progression.
Reggie Bush ? Something's different about him with the Lions. Part of that is his surrounding cast, and part of that is his role. He put up career-best rushing numbers with Miami in 2011-12, but the Dolphins were lousy so Bush's impact was minimal. The Saints had more talent when he was there from 2006-10, but because of that Bush was pigeon-holed into a specialist role. So his impact in New Orleans was also muted.
Bush's impact in Detroit? Enormous. Deafening. It's the sound of the Ford Field crowd of 64,552 on Sunday chanting "Reg-gie, Reg-gie" after Bush's darting, spinning, sprinting greatness.
"That dude does special things out there, every week," Lions receiver Calvin Johnson said.
This is the Reggie Bush that brought down the Southern California football program, a guy so explosive and dangerous that agents and marketing mavens wanted to get their hooks into him (and his parents) while he was still in college. The ensuing violations cost USC its 2004 national championship, chased Pete Carroll into the NFL and -- long-term -- led USC to the bottoming out that was Saturday night, when the Trojans were demolished by Arizona State and coach Lane Kiffin was fired before he could get home on Sunday morning.
Even at age 28, Bush is the same explosive, dangerous guy he was at USC -- and Sunday he helped a suspect Bears defense bottom out, surrendering 23 first downs and 40 points. Bush's biggest play was a 37-yard scoring run when he burst through the line of scrimmage, pulled away from pursuing defensive end Cornelius Washington , hopped over safety Major Wright and then beat cornerback Charles Tillman to the end zone.
Bush did that sort of thing all game. In the fourth quarter he met Tim Jennings in the hole, then said goodbye to the Bears cornerback with a 360-degree spin en route to a 12-yard gain.
Bush finished with 139 yards on 18 carries and 34 yards on four receptions, continuing his role as the Lions' offensive sparkplug (scroll down this link for some eye-popping statistics) -- and he's just one of quarterback Matt Stafford's multitude of weapons, even after the loss of receiver Nate Burleson this week for a broken arm. Tight end Brandon Pettigrew is a possession receiver who was targeted seven times and caught all seven balls for 54 yards. Joique Bell (four targets, four catches, 30 yards) is a safety valve from the backfield, though his fumble in the fourth quarter allowed the Bears to close within eight points. And then there's Johnson, who had a quiet game (four catches for 44 yards) but scored his fourth touchdown of the season.
On defense the Lions have one of the best defensive-tackle tandems in the league, Ndamukong Suh (two sacks) and Nick Fairley (two quarterback hits), who teamed up for the Lions' final touchdown when Suh sacked Cutler and forced a fumble that Fairley returned 4 yards for a TD. Linebacker Stephen Tulloch (14 tackles, one sack) was a menace. The secondary had three interceptions -- and nearly a fourth ( Chris Houston was ruled out of bounds on his pick in the fourth quarter). And Micheal Spurlock set up a short touchdown drive with a 57-yard punt return.
The Lions hung 40 on the Bears, and Stafford was almost apologizing afterward: "We didn't play our best game, that's for sure. ... Nobody played their best game."
These aren't the bad old Lions, or even the mediocre Lions of recent years. This is a fearsome franchise.
So is Chicago, honestly -- except for the times when its gifted quarterback reminds us that he's the same old Jay Cutler.
Show Comments
Hide Comments
Dillon had just enough fuel on the final lap to win in Charlotte on Sunday

Here is everything you need to know ahead of Sunday's Monster Energy NASCAR Cup Series rac...

The 40-year-old Japanese driver earned his second career victory
Dixon ran into the back of Jay Howard and somehow walked away from the wreck

Sebastian Vettel ends Ferrari's 16-year Monaco drought

Here's all the info you need to watch Sunday's Indianapolis 500