UFC: Silva-Weidman rematch set for MGM Grand on Dec. 28
Just a week after upsetting Anderson Silva, new UFC middleweight champion Chris Weidman is already scheduled for a rematch on Dec. 28 at the MGM Grand in Las Vegas.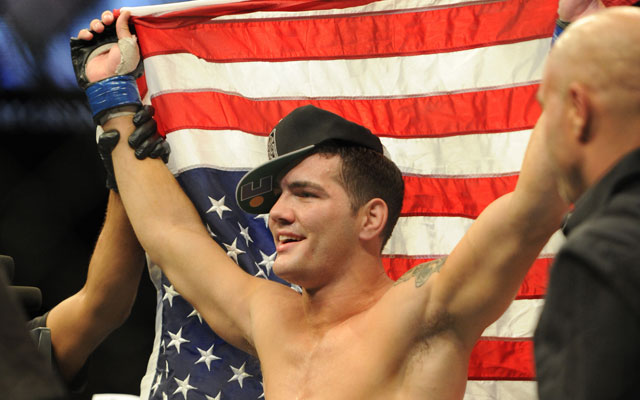 UFC fans will get their rematch. 
Just one week after Chris Weidman (10-0 MMA, 6-0 UFC) took the middleweight title from Brazilian Anderson Silva (33-5, 16-1) by way of knockout, UFC president Dana White announced the two will meet again on Dec. 28 at the MGM Grand in Las Vegas. 
Silva, 38, was initially hesitant to agree to a rematch. But according to White, the former Brazilian titleholder simply wasn't used to losing. After all, Silva had never lost a UFC fight before and was riding a streak of 16 straight wins.  
"Silva is motivated, fired up and wants his belt back," White told ESPN on Saturday. 
In a prerecorded message, Silva said confidently, "I'm back. Trust me. I'm back." 
In the initial fight on July 6, Weidman took advantage when Silva began taunting him, leaving his face unguarded before the second-round knockout. But White said not to expect that again, in what he anticipates being the largest pay-per-view match in the sport's history. 
"I completely expect a totally different fight. I don't think he's going to come out and taunt him and do the things that he did," White said when asked about his expectations for the rematch. "When he was messing around with him, Weidman went right after him and ended up knocking him out."
Show Comments
Hide Comments
Our Latest Stories
Glenn Jacobs, also known as 'The Big Red Machine,' filed paperwork in Knox County

WrestleMania 33 is just over a week away, but WWE has struggled to ignite fans with uneven...

Hogan's heroic attempt to catch pickpocket is ultimately, hilariously, ineffective
Match predictions, rumors and all the information you need heading into WrestleMania 33 in...

Rob Gronkowski has to compete in WWE one day, right? Right?!

New tag team champions were crowned, and Shane McMahon closed the show strong