VIDEO: Red Sox honor Boston Marathon bombing victim, rescuer
Jeff Bauman and Carlos Arredondo were honored at Fenway Park before Tuesday's Phillies-Red Sox game. Bauman lost his legs in the Boston Marathon bombings, and Arredondo rescued him after the blasts. Bauman later helped identify the suspects.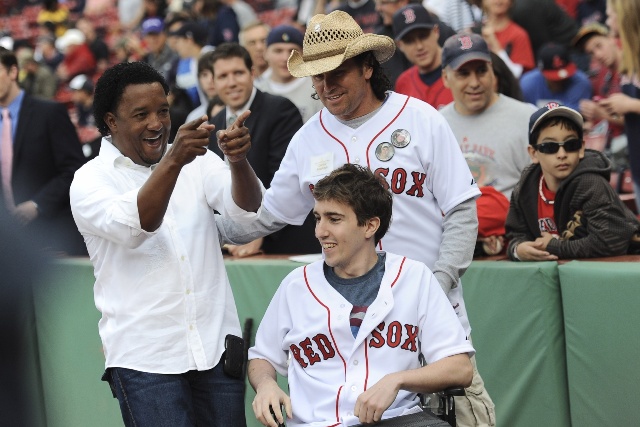 Jeff Bauman, who lost his legs in the Boston Marathon bombings, threw out the first pitch at Fenway Park before Tuesday night's Phillies-Red Sox game.
His rescuer, Carlos Arredondo, pushed Bauman out to the mound in a wheelchair.  Bauman threw to Red Sox catcher Jarrod Saltalamacchia, while Arredondo threw to designated hitter David Ortiz, according to the Associated Press.
Immediately after one of the April 15 blasts wounded Bauman, Arrendondo rushed to his side, pinched his severed artery closed and led him away from the scene. Bauman later provided key help in identifying the suspects, authorities said.
Tuesday was the first time the two could be honored together, the Red Sox told the AP.
Here's the video of the opening pitch ceremonies.
Show Comments
Hide Comments
Our Latest Stories
It was a surreal moment for many WWE fans in Los Angeles on Monday night

Match predictions, rumors and all the information you need heading into WrestleMania 33 in...

Most famous for ending Sammartino's first title reign, Koloff was a marquee villain
From Madison Heights, Michigan, to Madison Square Garden, "The Animal" excited wrestling fans...

Monday night's Raw was one to be remembered with an epic title change and massive turn

Highlights from Elimination Chamber as Bray Wyatt dominates John Cena and AJ Styles to win...