Who are you and what have you done with Dwight Howard?
Dwight Howard had a miserable night in his return to Staples Center, starting with three early fouls in a 137-118 loss to the Clippers -- but he was classy, graceful in defeat. Nicely done, sir.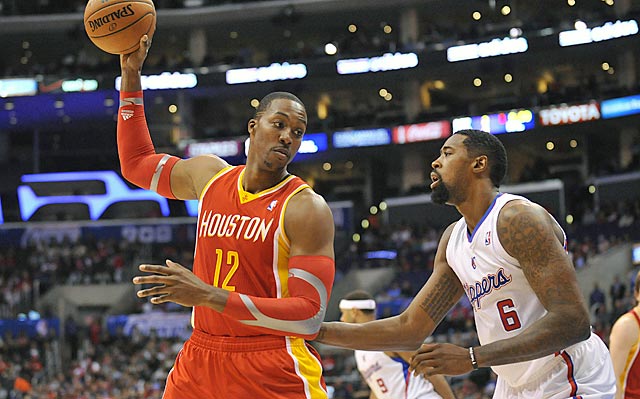 LOS ANGELES -- Dwight Howard wanted us to like him, which isn't unusual. He always wants us to like him. But this time, instead of assuming it should happen because he's Dwight Howard, he put in the requisite effort. And for that, he will get the reward.
Not with a win, no. Howard and his Rockets were demolished Monday night by the Clippers, 137-118, in Howard's return to the Staples Center (albeit against Los Angeles' other team).
But Howard was likeable, and I write that in the first person. He was likeable by me, and I've never liked Howard. Because he's never been likeable, if you look past the phony smile and the flirty banter and focus on the way he carries himself on the court.
But he was likeable on Monday night, before the game and after the game and even, most tellingly, during the game -- during a defeat in which he picked up three fouls in the first quarter, didn't play the second, never put his imprint on the action and (oh by the way) was either booed or laughed at throughout the contest.
If ever there was a game for pouting, self-pitying Dwight Howard to come out and play, this was it. But that Howard didn't show up. Maybe that Dwight Howard is gone, though surely it's too soon to say that. It's possible that the lesser expectations in Houston, combined with the best-looking supporting cast of his career, will allow Charming Dwight to squash Pouty, Woe-Is-Me Dwight once and for all. Let's hope so.
For one night, that's what I saw. And I was looking for Pouty Dwight. After every foul, I stared at him. After every missed basket, I watched him. And not once did he pout or wave his arms in frustration or choose not to play defense because playing defense is too much to ask of someone who so clearly has the world against him on the offensive end.
More than that, Howard was the mature voice of reason on his team. When Howard was called for a defensive three seconds, a technical foul, Rockets coach Kevin McHale was animated in his anger at the official until Howard walked offer, patted McHale on the chest and said something along the lines of, "It's OK."
When Rockets small forward Chandler Parsons was whistled for a five-seconds call on an inbounds play, resulting in a turnover and some jeering from the crowd, it was Howard who got Parsons to stop barking at center Omer Asik for Asik's lack of movement.
Twice Howard had alley-oop opportunities denied because teammates threw the lob too low, and both times Howard pointed upward, as if to say, "higher." And so when Parsons did throw one higher -- and threw it out of bounds -- Howard just giggled and clapped his hands. Better, you know?
This was a continuation of the great mood, or act, or whatever it was, Howard showed before the game. He greeted local reporters he knew, teased the ones he knew the best and introduced himself to two international reporters he had never seen. After the game, he met the media and dealt with silly questions seeking more explanations about his decision to choose Houston over Los Angeles, as if that story wasn't written enough months ago.
Howard showed patience and grace, and he showed it on a night he scored only 13 points with nine rebounds. He took nine shots from the floor, tied for fourth on the team. He missed half his 10 free throws. He lost by 19 in his return to Staples Center.
Terrible night for Dwight Howard.
And yet one of the best nights I've ever seen him have.
Show Comments
Hide Comments
Our Latest Stories
NXT and WWE's Performance Center are creating the WrestleMania stars of tomorrow

Glenn Jacobs, also known as 'The Big Red Machine,' filed paperwork in Knox County

WrestleMania 33 is just over a week away, but WWE has struggled to ignite fans with uneven...
Hogan's heroic attempt to catch pickpocket is ultimately, hilariously, ineffective

Match predictions, rumors and all the information you need heading into WrestleMania 33 in...

Rob Gronkowski has to compete in WWE one day, right? Right?!