Whoever took that Auburn football job ... sure is good at it
A year after going 3-9 overall, 0-8 in the SEC, Auburn is 9-1 (5-1) under first-year coach Gus Malzahn, a legit contender for SEC and national coach of the year.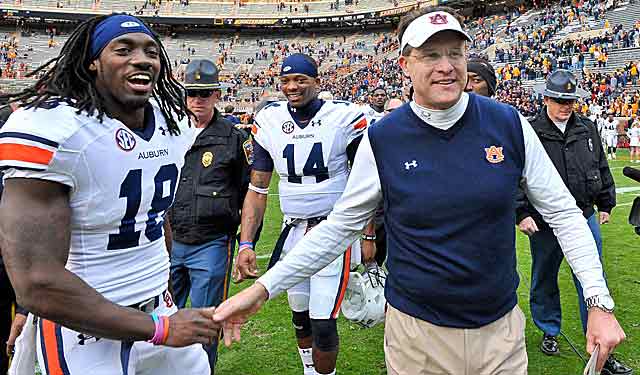 I'm a big believer in "oops." And in first-person writing, because a column in today's interactive age is about whatever I'm writing, and it's about me. And it's about you, because you're not stupid. You remember things lots of us write, especially when we write something that hits close to home, and lots of you remember what I wrote about the Auburn coaching job back in November 2012.
Oops.
Wrong is wrong, and holy cow was that wrong. Back in late November 2012, when Alabama was on the verge of winning its second consecutive national title -- its third in four years -- I said whoever takes the Auburn job is delusional. Actually, I said worse than that. I said whoever wants the Auburn job should be rejected as a candidate, because clearly that person isn't smart enough to know this is the wrong time to coach Auburn.
The dummy was me, for not understanding that there is no wrong time for Gus Malzahn.
It took him two years as offensive coordinator to help Auburn win a national title in 2010. It took him one year at Arkansas State to win the Sun Belt championship in 2012, and in that same year Auburn fell off the cliff -- going from 8-5 with Malzahn running the offense in 2011, to 3-9 without him in 2012.
In his first year as head coach at Auburn, Malzahn is 9-1 despite inheriting from Gene Chizik a program that had cratered to 0-8 in the SEC in 2012, unable to score a point in its final two league games.
Auburn is 5-1 in the SEC this season. Granted, two of its hardest league games await. Those two teams that blanked Auburn at the end of last season, Georgia and Alabama? Those are the last two teams on the schedule for Auburn.
I'm not saying Auburn will win those two games, though I feel pretty strongly that the Tigers will beat Georgia on Saturday. Point is, whoever coached Auburn wasn't supposed to do this right now. Wasn't supposed to inherit the standstill that was Auburn football in 2012 -- winless in league play, at an apparent talent deficit to the SEC elite, and (by the way) reportedly facing an NCAA investigation -- and generate so much momentum that the Tigers are ranked seventh nationally and are one bad quarter of mistakes against LSU (a lost fumble, a mishandled snap on a punt) from being in the BCS title game conversation.
Auburn probably won't beat Alabama on Nov. 30, but that's not the point. (Auburn wasn't supposed to beat Alabama this season, months after going 0-8 in the league in 2012.) The point is, Auburn wasn't supposed to have this much momentum, this much hope, this soon. But Gus Malzahn has done that, and he's done it without much of a passing game. He'll have one of those soon enough.
And what happens when he does? Not for me to say. I've already said my piece, and it's a four-letter word:
Oops.
Show Comments
Hide Comments
These young men love their WWE -- maybe a bit too much

This graphic image shows Orton's head got busted open in a very serious way by Brock Lesna...
A day after winning WWE's newest championship, Balor has been forced to give it up

SummerSlam was an up-and-down show with some surprising results and confusing decisions

SummerSlam is set for Sunday, August 21 at 7 p.m. ET live from Brooklyn. Check out the full...