Will Peyton be remembered as best ever? Not if he loses on Sunday
Will Peyton Manning be remembered as the best QB in NFL history? Not if the Broncos fall in the Super Bowl.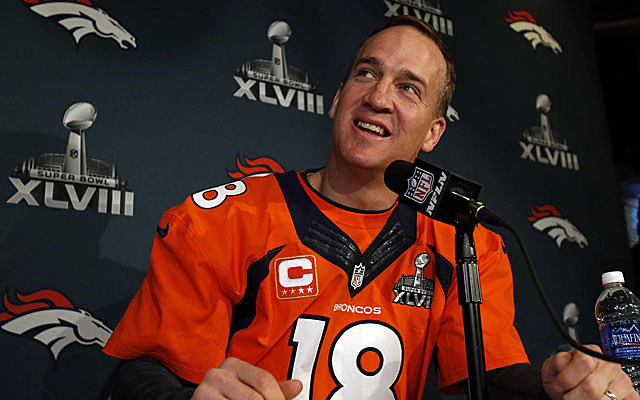 More SB coverage: XLVIII odds | Expert picks | Super Bowl news
NEW YORK -- Peyton Manning may well be the greatest quarterback of all time, but life isn't fair. So understand this: If the Broncos lose Sunday in Super Bowl XLVIII, an enormous game and yet one measly game, Manning won't be remembered as the greatest QB ever. Not with a 1-2 record in the Super Bowl.
Don't confuse the way it ought to be with the way it is.
And the way it is, for a quarterback, is clear cut: Super Bowls are an enormous weight on your legacy, in either direction. Win them and your legacy jumps up. Terry Bradshaw, for example, is in the Hall of Fame. Was Bradshaw a truly great quarterback? Nah, probably not. He made the Pro Bowl three times, which is good but not great. He threw almost as many interceptions (210) as touchdowns (212), which isn't all that good. But Terry Bradshaw was great on Super Bowl Sunday, and his team was great on those days -- 4-0 -- so he was hurried into the Hall of Fame as a first-ballot candidate in 1989.
The Super Bowl, man. It can make you, and it can break you.
It broke Ken Anderson. Hey, it did. Anderson is the most deserving, Canton-eligible quarterback in NFL history to not be in the Hall of Fame. Know why that is? Because his team lost Super Bowl XVI to the 49ers. By five points. After Anderson drove the Bengals 74 yards for a touchdown late in the fourth quarter but watched as the 49ers recovered the onside kick and ran out the clock.
Here's some neat facts for you:
Playing in the exact same era as Bradshaw, Ken Anderson had as many MVP trophies (one) and All-Pro picks (one). He had more Pro Bowl appearances (four to three) and a significantly higher passer rating (81.9 to 70.9) and completion percentage (59.3 percent to 51.9 percent). His ratio of TD to INT also is significantly better (197-160, compared to 212-210 for Bradshaw). By almost every measure, Ken Anderson was Terry Bradshaw's equal -- if not superior.
But Bradshaw had those Super Bowl titles. Anderson did not, not even one, and without a ring his legacy isn't what it should be. Bradshaw made the Hall on the first ballot. Anderson has been a finalist just twice, and not since 1998. His ship has sailed. Because of that loss in Super Bowl XVI.
So back to Peyton Manning. The guy is at a different level from Bradshaw and Anderson, clearly. The stakes are higher, so the competition is greater, all of which means the grading curve is more severe.
Manning isn't trying to get into the Hall of Fame. He's in. He's not trying to be remembered as one of the greatest ever, because he's on the short list whether he wins this game or not. But Manning has within his grasp the honor of greatest quarterback ever, and to be given that seat among the NFL immortals, he can't have a losing record in the Super Bowl.
Look, he just can't.
Not when Joe Montana, another candidate for the greatest QB ever, is 4-0 in the Super Bowl and carrying around some of the best individual statistics of his era. Not when Brett Favre owns most of the biggest career passing records -- he's first, and Manning is second, in touchdowns, yards and completions -- and has a 1-1 record in the Super Bowl. And when Tom Brady has sterling individual numbers and a 3-2 record in the Super Bowl. And when Aaron Rodgers, still in his prime, is 1-0 in the big game and first all-time (Manning is second among QBs with at least five years experience) in career passer rating.
How big a deal is the Super Bowl for a quarterback? It's like this: Brady set single-season NFL records in 2007 for touchdowns (50) and passer rating (117.2), but lost in the Super Bowl. Because of that, because of the position he plays, we consider that season a disappointment for Tom Brady.
Six years later Manning set records for passing yards (5,477) and touchdowns (55). He has had arguably the greatest season ever for a quarterback, nudging aside Tom Brady from 2007, and here he is in the Super Bowl. If the Broncos don't beat the Seahawks? We'll consider this season a disappointment for him.
Maybe that's not how it should be, but the NFL isn't so different from the NBA, where LeBron James is pretty clearly (to me) the greatest basketball player ever -- but Michael Jordan, no slouch himself, went 6-for-6 in the NBA Finals and for that reason will always be rated ahead of LeBron by lots of folks.
As for me, I'll remember Peyton Manning the way I'll remember LeBron James: Rings be damned, win or lose on Sunday, he's the greatest I've ever seen. But that opinion won't be the popular one, because I'm talking about the way it ought to be.
And legacies are a more cynical business. That's just the way it is.
Show Comments
Hide Comments
Ranallo is leaving WWE after 16 months as the voice of SmackDown

Braun Strowman straight flipped an ambulance and Raw added a number of new superstars

Gotch, one half of the former NXT tag team champions, mutually agreed to part ways
Two thrilling debuts added pep to a SmackDown show that suffered from a lack of creativity

A WWE fan favorite, Angle was inducted into the Hall of Fame just three days ago

The Raw after WrestleMania is always a hot show, and Monday night certainly had its bright...