Wolves, Bulls ganging up on Cavs to weaken Cleveland's supporting cast?
There can be only one reason why the Bulls are making trade offers for Kevin Love: to force the Cavaliers to weaken themselves by giving more to the Wolves.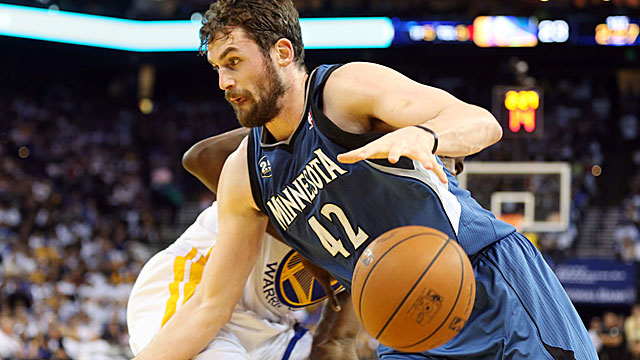 More analysis: Love trade idea Power Rankings | USA camp gives Love fest window
Turns out we've been looking at this Kevin Love deal all wrong, because to date we've been looking mostly at the Cleveland Cavaliers -- the team that would have to part with rookie Andrew Wiggins to get Love.
Should the Cavs trade Wiggins? Should they not? That's been the debate and focus, but as the days pass and clarity sets in and the Cavaliers reportedly have decided to include Wiggins in a package for Love, the focus should shift to Minnesota. That's where the story is, because the Timberwolves are one of two things, and either option is fascinating:
1. They're still the stupidest franchise in the NBA, even with the point-guard hoarder, David Kahn, long gone.
2. They're brilliant.
I'm leaning toward the latter, because like I said, David Kahn is gone and Flip Saunders is in charge of basketball operations -- and while Flip has never struck me as particularly brilliant, he's never struck me as the kind of bungler who would be fooled by what the Chicago Bulls are doing. What are the Bulls doing? Dangling more and more replaceable parts in a ridiculous, transparently futile attempt to acquire Kevin Love in a package that would be, talent-wise, pennies on the dollar.
The Bulls' latest offer is a solid veteran (Taj Gibson), a European mystery (Nikola Mirotic) and one potentially high-upside piece: rookie Doug McDermott. That's a trio of players who would help Minnesota be competitive this season, which the myopic Flip Saunders might be desperate enough to consider important, but not enough of a foundation to build its future. (Well, McDermott could be. He tore up the Summer League, and while that's not a definitive sign of future NBA stardom, it's impossible to ignore that McDermott has been the best scorer at every level of ball he's ever played. Will he be the best scorer in the NBA? No, of course not. But he could be a damn good one.)
That said, McDermott is a wild card, Gibson is replaceable and Mirotic is a complete mystery, as are most international big men who come to the NBA. Tiago Splitter had hype. So did Nene. The former has been serviceable at best. The latter, pretty good. Which description is Mirotic destined to be? And do the Wolves want to cross their fingers and find out?
The only thing that makes sense to me is that the Bulls and Wolves are ganging up on the Cavaliers to weaken Cleveland as much as possible -- Chicago by upping its offer and Minnesota by leaking to the media that it is intrigued by it, both of which have the same result the Bulls and Wolves want, if for different reasons: the Cavaliers upping their offer.
The only thing that makes sense to me, unless Flip Saunders is as delusional as David Kahn, is that the Wolves know they have to accept Andrew Wiggins and anyone else the Cavaliers are duped into including in the deal. Former No. 1 overall pick Anthony Bennett? Oh sure, Cleveland says. And a future No. 1 pick? Sigh, says Cleveland, but OK. And Dion Waiters?
Hmmm. Now it's getting interesting, because at some point the Cavaliers could be giving away too much. Question is, and this is a serious question, is "giving away too much" even possible when the return is Kevin Love, which would mean adding the best offensive power forward in the NBA (Love) to a team that already has the league's best player (LeBron James) and best young point guard (Kyrie Irving)?
Answer: Probably not. If the Wolves push for Wiggins, Bennett, a first-rounder and Waiters, and the Cavaliers are fooled into thinking it would take all of those assets to acquire Love, then the Cavaliers have to ship up all those assets, and Tristan Thompson, and a second-rounder, and maybe a few ball racks and some rolls of tape. Whatever it takes, they have to get Love. Because once you've decided to give up Wiggins, as Cleveland presumably has, everyone else is replaceable. Think about it: After you've decided that dealing Andrew Wiggins is worth it, how do you draw the line at a replaceable part like Dion Waiters? That's like selling the Maserati but hanging onto the Cadillac. I mean, a Caddy is nice. But you can always find another one.
The best way, the only way, to judge a monstrous NBA deal -- the kind involving more than two players and even more than two teams -- is the tried-and-true method of pure alpha-male dominance: Which team got the best player? That team won.
The same holds for judging trade packages: Which team is offering the best player? Then that package wins. And since Cleveland is offering Andrew Wiggins, the Cleveland offer wins. I mean, it's not even close. Wiggins is a potential top-five player in the league for a long time to come, and sooner rather than later, based on the way he performed in the Vegas Summer League. The Bulls can't offer anyone close to Wiggins; therefore, the Bulls' offer will never approach Cleveland's offer.
Unless Flip Saunders is an idiot, he knows this. And unless the Bulls are delusional, they know it, too. Which means they're doing whatever they can to drive up the Cavs' offer, hoping to weaken Cleveland's supporting cast as much as possible when Love shows up to give the Cavs the best Big Three in the league. Because Chicago is in the Eastern Conference, too, same as Cleveland. Chicago has Derrick Rose, Pau Gasol, Joakim Noah and coach Tom Thibodeau. If Rose stays healthy, the Bulls are the Cavaliers' biggest (only?) threat in the East -- and they can increase their odds by fooling Cleveland into including Thompson or Waiters or both in its offer to Minnesota.
Maybe I'm giving Minnesota too much credit for playing the Bulls against the Cavaliers, but I know how smart Chicago is. That's a franchise trying to hurt the Cavaliers. Which means the question is this:
How smart is Cleveland? And how long will it keep bidding against itself for Kevin Love?
Show Comments
Hide Comments
Here is everything you need to know ahead of Sunday's Monster Energy NASCAR Cup Series rac...

The 40-year-old Japanese driver earned his second career victory

Dixon ran into the back of Jay Howard and somehow walked away from the wreck
Sebastian Vettel ends Ferrari's 16-year Monaco drought

Here's all the info you need to watch Sunday's Indianapolis 500

Micah Roberts, who helped popularize betting on auto racing, breaks down the 2017 Indy fie...