World Cup Qualifying Live Blog: U.S. vs. Jamaica
The U.S. has already qualified for next summer's World Cup finals, but that doesn't mean Friday night's clash with Jamaica lacks intrigue.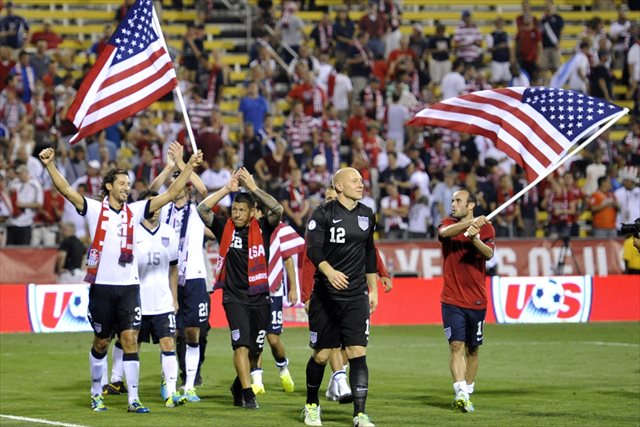 The U.S. has been all smiles during the Hexagonal. Will that continue Friday? (USATSI)
Welcome to the CBSSports.com World Cup Qualifier Liveblog. This post will update throughout the U.S.'s Friday night match vs. Jamaica. All timestamps ET.
U.S.A. lineup (4-4-2): Tim Howard; Brad Evans, Geoff Cameron, Matt Besler, DaMarcus Beasley (Edgar Castillo, 66); Alejandro Bedoya, Mix Diskerud, Jermaine Jones, Landon Donovan (Graham Zusi, 46); Aron Johannsson (Sacha Kljestan, 72), Jozy Altidore.
Final takeaway from U.S. 2, Jamaica 0: The pregame storyline (see below) was how the U.S.'s freshest faces -- Johannsson, Diskerud, Bedoya, Cameron to a lesser extent -- had the opportunity to step forward and cement their places on the final roster for Brazil. Surprise! The game ultimately belonged to a collection of substitutes that Klinsmann collectively seemed to be trying to get rid of or at least demote, in man-of-the-match Zusi (dropped to the bench for the past two qualifiers), Castillo (the team's third- or maybe even fourth-choice left back) and Kljestan, who's simply never figured prominently under Klinsmann.
The end result? After a game that was supposed to clarify the U.S. roster complexion, it seems more muddled than ever. But it was a game that also ended with the U.S. still on top of the Hexagonal with just one more game to play -- which means that Klinsmann will (rightly) call his variety of options a good problem to have.
Final player comments: Goalkeeper: Tim Howard had a wobbly first 20 minutes, then settled down as the game progressed and showed solid positioning on a handful of late Jamaican chances. But no one convinced Klinsmann should make the switch to Brad Guzan had their minds changed Friday night.
Defense: Brad Evans was outstanding at right back, putting an end for now to any drama surrounding that position. But Evans isn't much of an attacker even on his best days, meaning the U.S. needed a few positive runs from Beasley at left back; those didn't materialize until Castillo came on and terrorized the Jamaicans down the left flank. Castillo still has some ground to make up to go to Brazil, but he nonetheless gave himself a huge boost Friday.
Matt Besler and Geoff Cameron had little to do in central defense, and they did it. If Cameron's going to reclaim a starting spot here over Omar Gonzalez, he'll have to do so on the strength of his distribution -- and will be happy to point to his cutting pass that led to the U.S.'s opening goal.
Midfield: While Alejandro Bedoya had a few glimmers here and there (most notably on his assist on the first U.S. goal), the fact is that the starting U.S. midfield simply didn't get the job done in possession or attack. (Diskerud's activity in defense is duly noted, but going forward? Eeesh.) If Klinsmann had a do-over, both Zusi and Kljestan would get the start -- good for them going forward, not so much for Diskerud.
Forwards: Johannsson's potential is evident, in his first touch, in his passing vision (thwarted multiple times by timely Jamaican interventions or Altidore straying offsides), in his willingness to take defenders on. But on the basis of Friday night, he's not ready as a starter.
As for Altidore, it was simply a night to forget with the exception of his goal. But at least U.S. fans can hope that goal might help him forget it.
8:30 p.m.: Streaks extended: the U.S. still hasn't lost a home World Cup qualifier since 2002, has scored in every home qualifier since 2000, and has now won 12 straight home games. On the one hand, that tells you that a 2-0 win over Jamaica isn't some staggering accomplishment ... on the other, it's a testament to how resilient this U.S. program has been at home, even when they utterly sleepwalk through the game's first hour.
8:25 p.m.: Howard makes a save on Theo Robinson -- albeit from a difficult angle for the Jamaican -- and there's the final whistle. 2-0 USA!
8:22 p.m.: And there goes Castillo again, just tapping over on the volley after being set up by -- who else? -- Zusi. Has to be Castillo's best game in a U.S. shirt. 
8:20 p.m.: Graham Zusi has been the U.S.'s best player, even after just playing the second half, having provided the U.S. with the central midfield attacking drive that Diskerud simply wasn't able to offer. And I promise you I typed this before Ian Darke said the same thing on the broadcast.
8:15 p.m.: Major, major credit to Klinsmann here, whose substitutes -- Castillo, Zusi, and Kljestan -- have completely changed the flow of the game. Altidore's goal couldn't have been easier, with Jamaica kickstarting Castillo's breakway with a horrible giveaway ... but hey, even that can't hurt his confidence. (Altidore followed up the goal by blasting it into the net a second time. Get allllllll that frustration out, Jozy.) 
8:11 p.m.: And now Kljestan's drive is saved by Duwayne Kerr, and now Altidore gets a tap-in served to him by Castillo! GOOOOOOOAAAAAAAAALLLLL! U.S.A!
8:09 p.m.: GOOOOOOAAAAAAALLLL U.S.A! Cameron's incisive ball sparks a neat interchange between Zusi, Altidore, and Bedoya that ends with Zusi finding the left corner from 12 yards out. The best American move of the night by a factor of 100.
8:05 p.m.: Johannsson makes way for Sacha Kljestan after a performance that had its moments, but in the end didn't live up to U.S. fans' expectations and won't earn him any minutes over Eddie Johnson going forward. Meanwhile, you wouldn't have thought "what the U.S. attack really needs is Edgar Castillo," but his introduction has led to a coupel of half-chances, the latest a Diskerud shot that flashed wide.
8:01 p.m.: First legitimate chance of the second half falls to Jamaica's Mattocks, who heads straight at Howard from 7 yards. Lack of urgency from the U.S. has completely taken the K.C. crowd out of the game, who have saved most of their second-half outbursts to protest refereeing decisions.
7:59 p.m.: Edgar Castillo replaces Beasley, who was ... something. Not good. Not bad. Just out there. Like the U.S. as a whole, frankly.
7:56 p.m.: Altidore sets up Jones with a shooting chance, but it's blocked by ... Johannsson. The number of possible results for this game increasingly looks like two: 1. 0-0 2. 1-0 after a set-piece goal.
7:53 p.m.: Johannsson with a nice-looking ball to an overlapping Beasley, but Jamaica breaks it up. Give the Jamaicans credit: they've done an excellent job of tracking Evans' and Beasley's forward runs out of the back, which are a major part of the American offense in this 4-4-2. Now take that credit away: a draw eliminates them from the World Cup, and they're still bringing 8 or 9 men behind the ball. Why? 
7:47 p.m.: So which do you prefer in central midfield: Diskerud, who's plainly more active than Jones but has been, mostly, more noticeable for his repeated failures in possession? Or Jones, who's simply been invisible? U.S. fans didn't really need a reminder that Michael Bradley is the team's most indispensable player, but they've gotten one anyway. 
7:43 p.m.: Altidore has looked a little brighter to start this half, though after his first half, that's saying precious little. And Diskerud seems to have taken a step back, giving the ball away in ugly fashion and ultimately forcing Howard to make a block and give up a corner.
7:38 p.m.: Graham Zusi replaces Donovan at the start of the second half, which isn't exactly a decision that screams "we're going ALL OUT to win this game!" from Klinsmann. Appears that Bedoya has moved inside. Nice move for the U.S. breaks down when Zusi can't control a Diskerud switch. So, yeah, no change from the first half just yet.
7:25 p.m.: The halftime whistle sounds, and aside from a handful of flashes from Johannsson and Bedoya, that's a half with very little to write home about from the U.S. The back four was largely sound -- both of Jamaica's best chances stemmed mostly from Tim Howard misplays -- but they also weren't facing a lot of coordination from the Jamaican attack. You hate to say "yawn," but: yawn.
7:20 p.m.: The U.S. first half in a nutshell: Bedoya finds Donovan dashing into the box with a skillful pass, but under no pressure whatsoever the U.S.'s all-time leading goalscorer can't get the ball out from under his feet and the ball goes over the endline for a goal kick.  
7:15 p.m.: The number of people 8 months ago who thought Brad Evans -- a Seattle Sounders midfielder -- would develop into a rock-solid right back for the USMNT could be counted on one hand, and that includes Evans' family. But here he is, with a pair of inch-perfect tackles to break up Jamaican attacks. (One was called a foul for reasons known to the referee.) It would now be a shock if Evans isn't starting in Brazil next June. 
7:10 p.m.: U.S. starting to come into the game, mostly through Diskerud's fine defensive work. But Altidore is struggling, first unable to keep himself from straying offside before an excellent Johannsson ball, then with a bad giveaway when Bedoya was streaking down the right flank. A moment later he hits lazy pass back to Cameron which forces another turnover. It's still too early to call his move to Sunderland a failure, but it sure doesn't look to have done him any favors at this stage.
7:00 p.m.: Howard parries a long-distance Jamaica shot directly into the middle of the U.S. box, and needs a bail-out from his defense to prevent a rebound shot. Still only 25 minutes in, but so far Howard hasn't done anything to quiet the calls from U.S. fans for Brad Guzan.
6:55 p.m.: Johannsson settles a corner and blasts over on the volley from 12 yards or so. Then Diskerud forces a turnover to spring Johannsson, who beats the first defender and can't quite get the shot off over the tackle of the second. Chances of a goal in his first U.S. start seem high.
6:52 p.m.: And to build on that last note, Jones pounces on a nice turnover forced from Bedoya and immediately punts the ball 60 yards forward in the most general possible direction of Altidore. Sigh.
6:50 p.m.: Sloppy start to the game -- particularly from the U.S. -- as both teams press high and don't show much composure on the ball in the face of that pressure. Americans need more from the Jones-Diskerud pairing in the middle, though Donovan pinching towards the middle might help, too. 
6:45 p.m.: Jamaica swings a cross in and Tim Howard flaps at it, nearly giving away a tap-in from four yards. The last time these teams met, Howard failed to come for what looked like a claimable set-piece delivery that turned into a Jamaica goal; that play triggered some unfortunate flashbacks.
6:40 p.m.: Jermaine Jones with a giveaway, follows that up by possibly milking an injury, because hey, he's Jermaine Jones. Bedoya wins a corner with a nice bit of play. Comes to nothing, but Bedoya has impressed in France's Ligue 1 -- thus the start over Graham Zusi -- and looked confident there.
6:37 p.m.: And there's kickoff! The U.S. is a little wayward in their passes out of the back in the first 120 seconds, maybe some nerves on the part of first-time WCQ starter Diskerud.
6:30 p.m.: Teams are out for the national anthems, and the American crowd looks as lively as hoped at Kansas City's Sporting Park. Longtime U.S. fans who will remember the pro-Jamaican crowd at RFK Stadium in the buildup to the 1998 World Cup are invited to appreciatively reflect on how far the U.S.'s home-field advantage has come since then.
6 p.m.: Starting lineups have been announced:
U.S.A: Tim Howard, Brad Evans, Geoff Cameron, Matt Besler, DaMarcus Beasley, Alejandro Bedoya, Mix Diskerud, Jermaine Jones, Landon Donovan, Aron Johannsson, Jozy Altidore
Jamaica: Duwayne Kerr, Lloyd Doyley, Wes Morgan, Adrian Mariappa, Demar Phillips, Jobi McAnuff, Rodolf Austin, Marvin Watson, Deshorn Brown, Jermaine Johnson, Darren Mattocks.
For the U.S., that's a very aggressive lineup, with the more offensive-minded Diskerud chosen ahead of disruptor Kyle Beckerman, and two-way midfielder Graham Zusi left out in favor of striker Johannsson and attack-first wide midfielder Bedoya. Jurgen Klinsmann clearly has his eyes on extending the U.S.'s 11-match home winning streak rather than just settling for a result -- not that that's surprising.
-------------------------------------------
Our match preview:
Jurgen Klinsmann's first job as U.S. Soccer coach has been completed: the U.S. has qualified for the 2014 World Cup finals in Brazil with two Hexagonal games to spare. But Klinsmann would tell you that accomplishment just means it's onto the next job, one that's substantially more daunting than the first: making that World Cup appearance more than, well, just an appearance.
So even if the stakes for Friday night's match against Jamaica in Kansas City (6:30 p.m. ET, ESPN) aren't as high as they might typically be for a World Cup qualifier -- for the U.S., at least -- there's also no shortage of questions to be answered as Klinsmann continues to tinker with the U.S. roster and lineup. The biggest, broadest one is this: what starting 11 offers Klinsmann the most potential come next summer?
It's one thing to be deep, and in romping its way to the top spot in the six-team Hexagonal (and winning the midsummer Gold Cup) the U.S. has shown an unprecedented level of depth. But it's another to have the kind of upside that could allow the U.S. to play with the world's best. With several key starters missing -- Michael Bradley, Clint Dempsey, Fabian Johnson, Omar Gonzalez -- the Jamaica game offers several Yanks the chance to show not only the kind of upside that might force Klinsmann to wedge them into his first-choice lineup, but the kind that might legitimately raise the U.S.'s game in Brazil:
GK Tim Howard: Klinsmann didn't bring the 34-year-old veteran across the pond to ride the bench, but Klinsmann might have also called in Howard simply to avoid pouring any more fuel on the fire that is the U.S.'s budding goalkeeping controversy. A staunch Howard supporter, Klinsmann would deny there's any such controversy, but precious few Premier League obersvers would argue Howard has been any steadier this season (or last) for Everton than understudy Brad Guzan has been for Aston Villa. (Guzan has been impressive enough, in fact, to reportedly draw interest from an Arsenal team that's busy challenging for the BPL title.) But Howard's brilliant shot-stopping skills mean he might still be the keeper more likely to steal a match singlehandedly for the U.S. in Brazil; pulling off a few highlight-reel saves against Jamaica would help remind U.S. fans of that fact, and give Klinsmann reason to continue avoiding giving Guzan a chance to mount a real challenge.
CB Geoff Cameron: Arguably the most productive American field player in a top-flight European league this young season, Stoke's Cameron has all the size, athleticism, positioning sense and (particularly) ball skills needed to start (and thrive) for the U.S. central defense next summer. But a slow start to the Hex saw him slip behind Matt Besler, Gonzalez and even Clarence Goodson in Klinsmann's center-back pecking order. Shutting down white-hot Jamaican forward Deshorn Brown -- and offering his usual superior distribution out of the back -- might put Cameron back in the first-string mix.
MF Mix Diskerud: Diskerud has a long, long road ahead if he wants to displace Jermaine Jones as Klinsmann's second central midfielder of choice alongside the indispensable Bradley -- particularly playing his club soccer for Norwegian side Rosenborg. But the 23-year-old has already flashed a mouth-watering combination of defensive bite and attacking flair, and by the time next June rolls around, could be every bit the volatile Jones' equal as a box-to-box partner for Bradley. But that kind of push has to start Friday.
F Aron Johannsson: The 22-year-old Alabama native-by-way-of-Iceland has been pouring in the goals for Dutch club AZ this season, enough that barring injury, his place on the final World Cup roster has tilted from "longshot" to "highly likely" in a matter of weeks. Though Jozy Altidore and Dempsey seem entrenched as the U.S. starters in the two forward positions, Johannsson could leapfrog the injured Eddie Johnson as the first option off the bench with a strong performance vs. Jamaica.
And though Jamaica arrives in Kansas City dead last in the Hexagonal while the U.S. is riding an 11-match home winning streak, don't think the Jamaicans won't offer stiff resistance; even with just four points from 8 matches, Jamaica remains mathematically alive for fourth place and the World Cup playoff spot that goes with it.
It's the sort of game that the U.S. should win, and the sort of game in which players who can make the difference at the World Cup level should shine. And whether they will or won't should be all the reason U.S. fans will need to tune in.
Projected U.S. lineup (4-2-3-1): Tim Howard; DaMarcus Beasley, Geoff Cameron, Matt Besler, Brad Evans; Jermaine Jones, Kyle Beckerman; Landon Donovan, Aron Johannsson, Alejandro Bedoya; Jozy Altidore.
Prediction: U.S.A. 2, Jamaica 1
Show Comments
Hide Comments
After winning the Monster Energy NASCAR Cup Series race at Michigan, Larson dominates in sprint...

The two coaches from Tishomingo used the bus to go and buy alcohol during an out-of-town t...

The ambassador reportedly had drama with Virat Kohli
Larson took part in Tony Stewart's All Star Circuit of Champions on Monday

Nine drivers have already secured their chance at a Monster Energy NASCAR Cup Series title

The team took what started as a happy mistake and turned it into a trend